Discover more from The Pick and Roll
We're all about Aussie hoops. Independent, objective analysis and commentary. Insightful narratives built around Australian basketball. Read about our men and women in the NBA, WNBA, NCAA, Europe, national teams, NBL, WNBL, NBL1, prospects and more.
Over 2,000 subscribers
Breaking down the NBL's top ten scorers
It's time to take a look at how the league's most prolific scorers are finding success, now that a third of the NBL regular season is complete.
Play-type data for this season is available at jordanmcnbl.com - see the website for play definitions, league averages, and further details.
MITCH CREEK - 21.78 PPG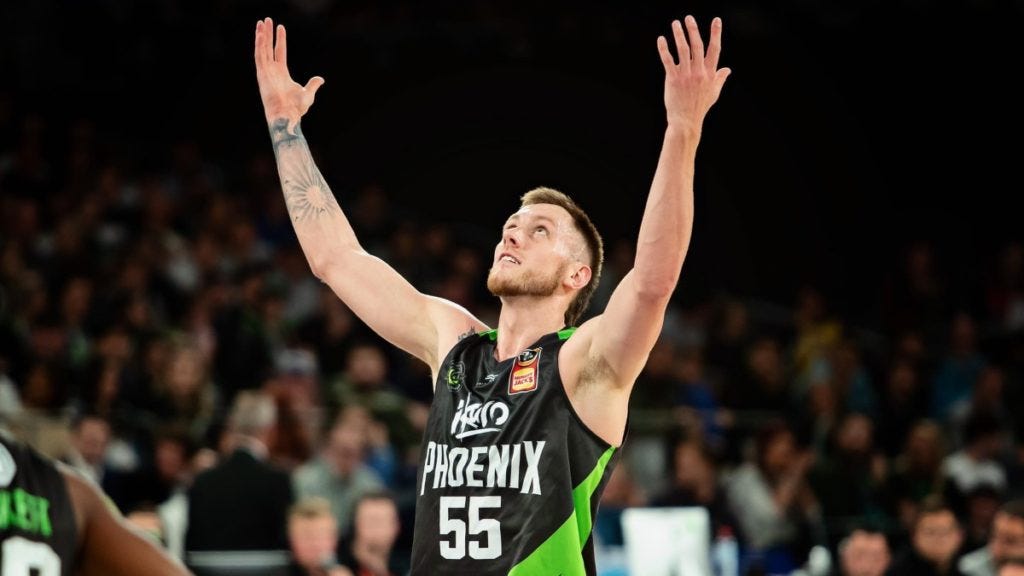 Mitch Creek | Credit: Michelle Couling Photography
Mitch Creek played within himself in terms of his scoring, in his last go-around in the NBL as he focused on his strengths to deliver elite efficiency. This season however, he's become more adventurous with a wider skillset on show, as well as a higher volume given his marquee player status and the absence of Tai Wesley.
Mitch CreekTransitionSpot UpPost UpRoll/PopCutPoints Per Play1.121.130.841.221.32Frequency23%15%14%11%8%
South East Melbourne's offence has been near the top of the league despite Wesley's absence, and it's a roster that isn't stacked with star power. Rather, it's one that has clear role definition behind Creek and star guard John Roberson.
Creek's physical strength, athleticism, and ball-handling ability means that his game is malleable to different situations, and together with his elite IQ, he finds numerous ways to get to the rim or free throw line with regularity.
Despite his height, Creek dominates at power forward and takes almost half of his shot attempts in the restricted area (a higher mark than Shawn Long for comparison). Some of this is of course due to his transition exploits which are unmatched across the league.
He's added more of a three-point shot to round out his game but, when catching the ball in a spot up situation, he's still likely to attack the closeout.
The game has seemingly slowed down for Creek and his play is less frenetic than the early days of his career as he reads the defence and puts himself in the best position to get a play at the rim.
Creek is unique to this league and perhaps only Sydney's Jae'Sean Tate, in a role with a few more touches, could score 20 points a game in the same style that Creek does.
---
MELO TRIMBLE - 21.70 PPG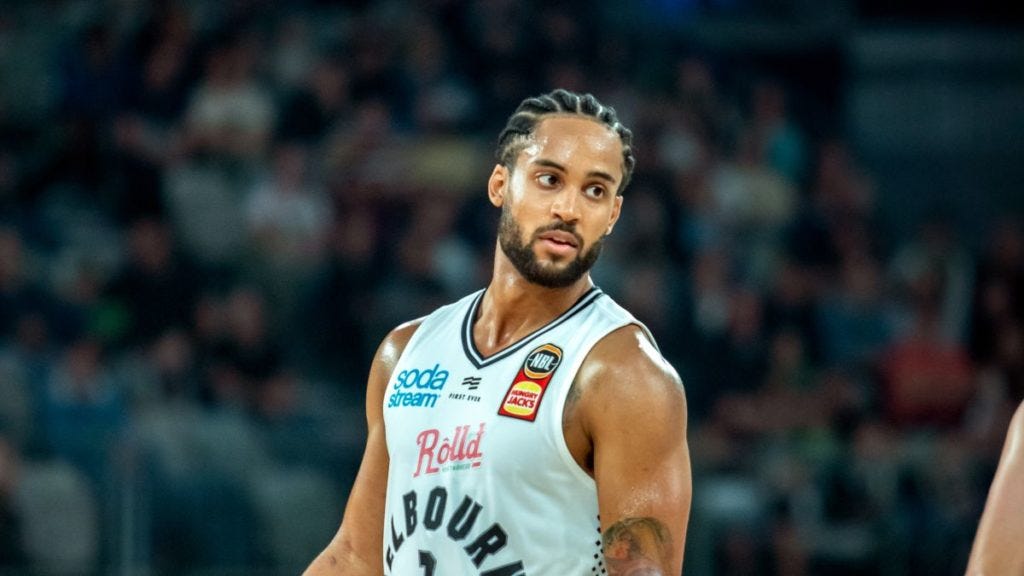 Credit: Michelle Couling Photography
Close to the most talented scorer in the league, Melo Trimble makes it look effortless at times as he's helped power the best offence in the league in Melbourne.
He's currently duking it out with Jerome Randle for the lead in total pick and roll ball-handler plays, and after starting the season turnover prone, he's been a handful for opponents of late with his ability to navigate the traffic and get to the rim or free-throw line.
Melo TrimblePick and RollTransitionSpot UpIsolationHand OffPoints Per Play0.971.171.070.800.86Frequency41%17%13%12%6%
Thanks to his shiftiness, change of pace, and body control (as well of the threat of his pull-up jumper and his teammates), he's finishing two-thirds of his attempts at the rim, an impressive rate for a point guard.
Trimble is also a big-time threat in transition with his loose open floor or one on one scoring instincts a weapon. He trails only Creek and Lamelo Ball in total transition plays.
Casey Prather's absence solidified Melo's spot dominating on the ball but his outside shooting ability is real and he should be able to slot in nicely on the wing at times for some more spot up chances as United figure out their ideal full strength mix.
---
BRYCE COTTON - 21.27 PPG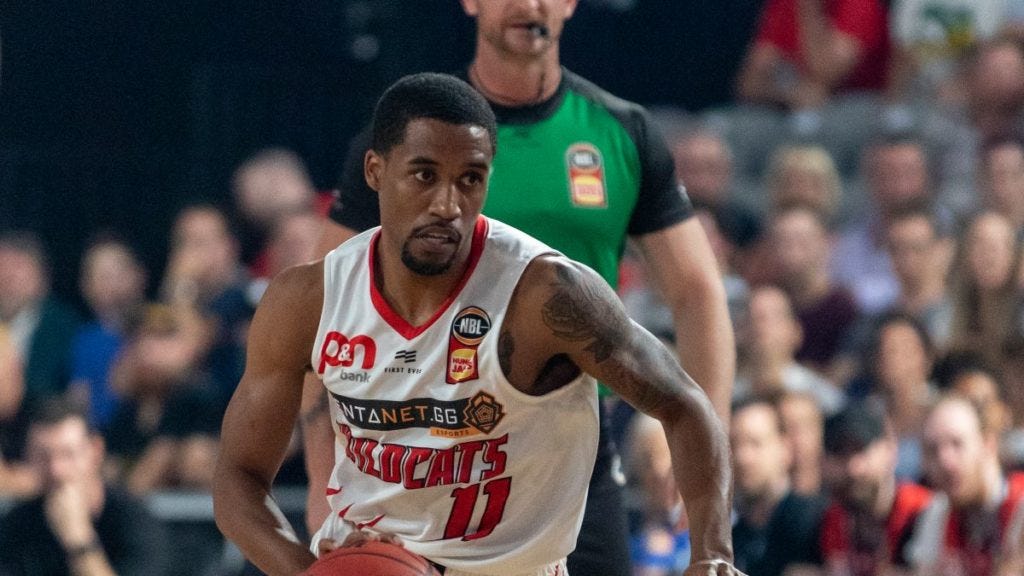 Credit: Russell Freeman Photography
We know how good Bryce Cotton is at taking and making jump shots off the bounce, often with just a slither of daylight or with a defender on an island in front of him, but it's Cotton's off the ball game which is almost as impressive.
Bryce CottonPick and RollIsolationOff ScreenTransitionSpot UpPoints Per Play0.961.011.340.910.80Frequency31%19%13%12%9%
No other high-minute player consistently sprints as hard on offence and is in constant motion as much as Cotton. He plays at maximum speed but is almost never out of control.
Cotton's the toughest cover in the league because of his ability to work his defender over both on and off the ball. Opponents need to have their head on a swivel at all times as he darts around screen after screen opening the floor up for himself and his teammates.
He's shooting 44.5% on threes, he has lightning speed, as well as the wiggle to confuse defenders when the ball is in his hand, and he posseses the athleticism to get his shot off at any moment.
---
SHAWN LONG - 20.60 PPG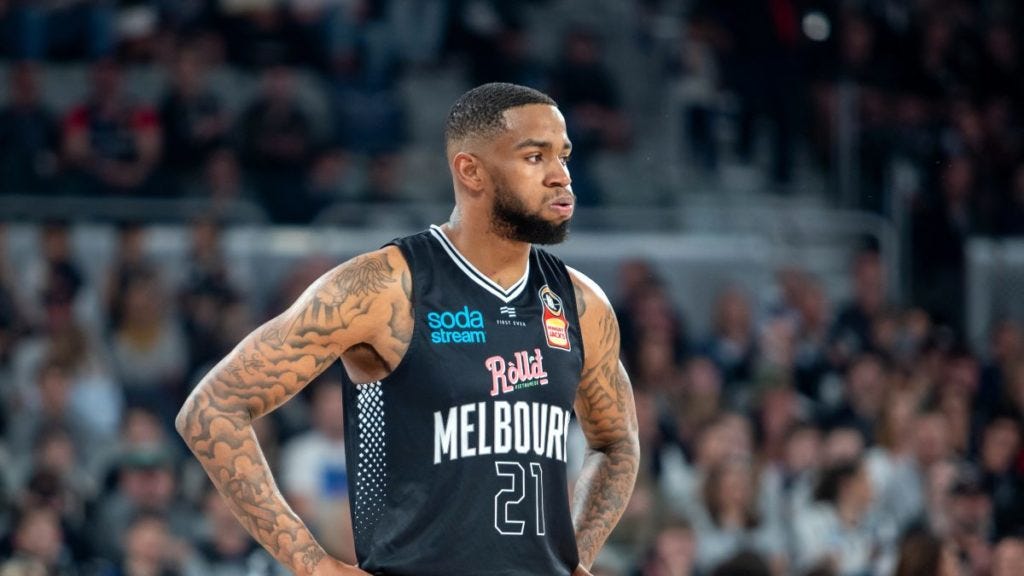 Credit: Michelle Couling
There are few players in the NBL with a similar physical profile to Shawn Long. Combine that with his offensive skill and it makes him undoubtably one of the toughest covers in the league.
Prone to the odd quiet patch, spot of foul trouble, or poor decision, Long eventually overwhelms his opponents as the game progresses. He can put together a devastating quarter to break a game open like few others.
Shawn LongPost UpPut BackRoll/PopCutTransitionPoints Per Play0.951.150.921.871.14Frequency38%21%19%6%6%
Long has more than filled the void in terms of providing Melbourne with their sought after post up threat, establishing himself as the most prolific in the league in that regard, but he also has great value elsewhere.
Offensive rebounding and his capacity to go straight back up for the put back finish is something that he is on another level to anyone else at, whilst he's also flashed some range on his jumper at times.
Together with the put backs, his ability to screen and roll, receive and finish a dump off pass from a guard, and occasionally get out in transition means that he leads the league in total dunks this season per spatialjam.com.
---
CASPER WARE - 20.30 PPG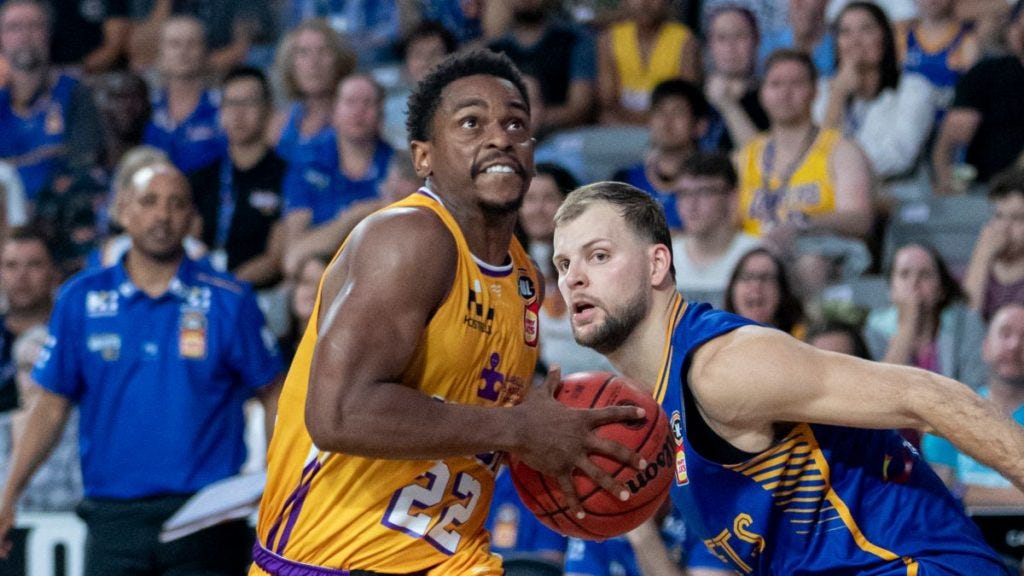 Credit: Russell Freeman Photography
Casper Ware hasn't had the efficiency of others on this list but he certainly has a well-earned reputation as a meaningful bucket getter in the NBL. Most of his issues this season have stemmed from his 25.8% three-point shooting, an area of the floor where he is high-volume from, regularly launching attempts off the dribble. His three-point success rate will improve based on past performance.
Casper WareIsolationPick and RollSpot UpHand OffCutPoints Per Play0.880.770.970.711.72Frequency25%22%14%13%6%
Ware has fared better as a shooter off the ball, and his IQ is on full display as a cutter and working off screens, especially evident in his partnership with Andrew Bogut.
Casper also cashes in and helps his efficiency out by using his strong body to get to the foul line (40% free-throw rate). These trips to the stripe also include opportunities courtesy of non-shooting fouls, e.g. late game situations where opponents are in 'must foul' situations.
Additionally, Ware only has a 10% turnover rate, a mark that is below the other point guards in this discussion.
---
CHRIS GOULDING - 20.11 PPG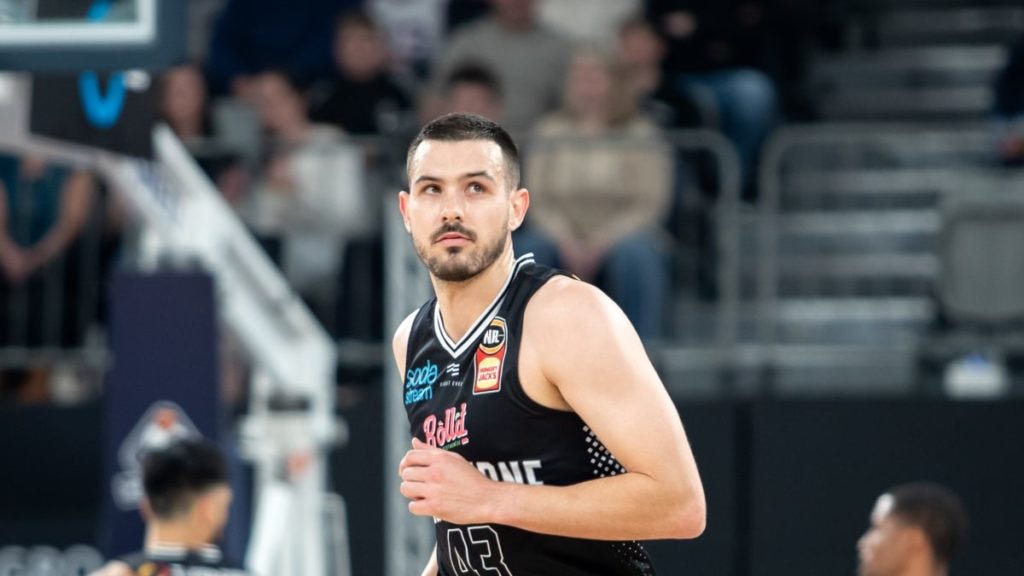 Credit: Michelle Couling
Two-thirds of Chris Goulding's shot attempts have been threes, and when factoring in field goal attempts, free throws, as well as turnovers (he turns it over very rarely), he's second among this list for scoring efficiency behind only John Roberson. He's again in the conversation for the best shooter in the league.
Chris GouldingPick and RollOff ScreenSpot UpTransitionHand OffPoints Per Play0.911.221.591.290.95Frequency23%17%14%14%12%
With Casey Prather sidelined for almost all the season thus far, Goulding's role has been more diverse than initially expected due to increased on-ball opportunities. Almost half of his offence has come from pick and roll, isolation or via hand offs, and he's had good success filling some of these 'gaps' from Prather's absence.
Off the ball, he's been fantastic as expected. He's right up there with Bryce Cotton in terms of knocking down shots coming off screens, whilst his ability to be a sniper from spot up situations or be a threat in transition has been highly valuable.
He's yet another reason why Melbourne appear destined to finish with the league's number one rated offence.
---
COREY WEBSTER - 19.78 PPG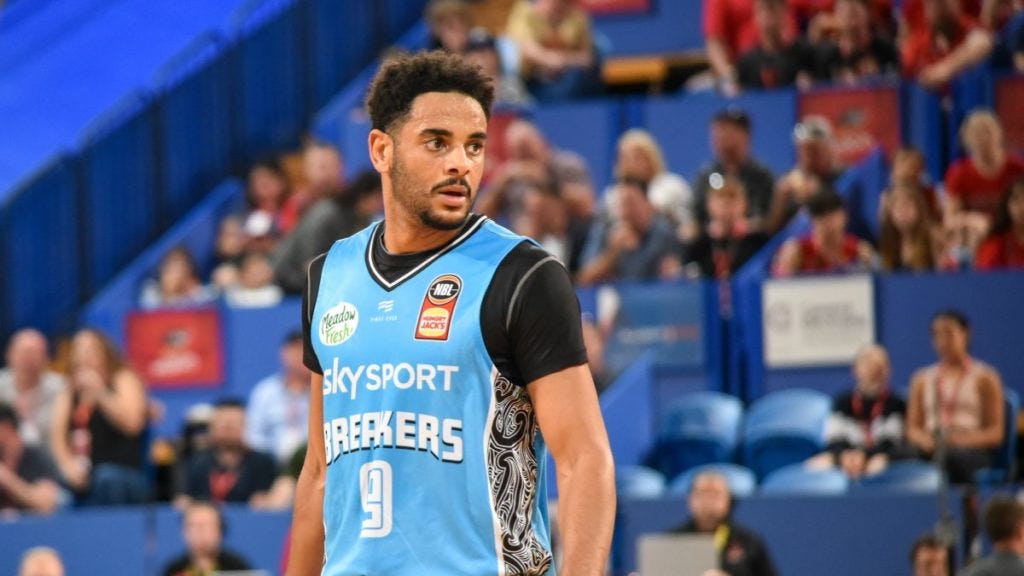 Credit: Jacob Creek Photography
Corey Webster has been one of the only constants on the Breakers this season as pieces have been moving in and out of the lineup around him. He's an example of a player having a bounce back season.
Corey WebsterPick and RollSpot UpHand OffIsolationTransitionPoints Per Play0.941.001.180.840.94Frequency39%17%14%11%10%
Corey is a tough shot-maker and great shooter who loves the ball in his hands and pulling up off the dribble. Over half of his offence comes from using screens in the pick and roll or hand off situations.
Webster is hovering just above the league's average three-point percentage but he has a lowly 10% free-throw rate, a mark that is well below his peers. He has mixed it up quite well with finding attempts in the paint but has been a below-average finisher.
---
JOHN ROBERSON - 18.89 PPG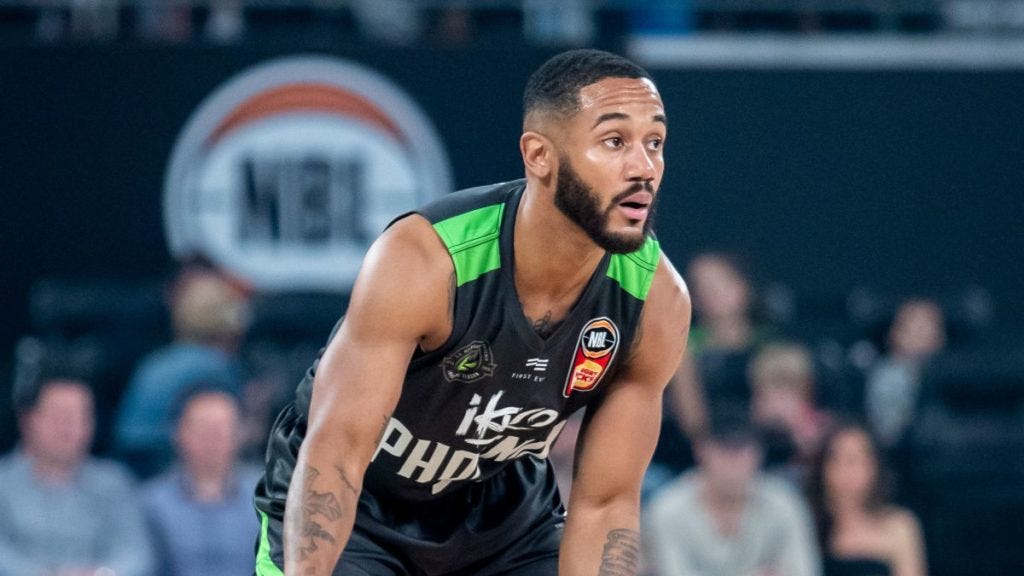 Credit: Michelle Couling Photography
John Roberson is the only newcomer to the league currently in the scoring top ten. He has delivered on his reputation as a world class shooter making over half of his threes on a huge volume.
John RobersonPick and RollHand OffSpot UpIsolationTransitionPoints Per Play0.991.241.651.121.56Frequency40%14%14%9%7%
Early in the season, Roberson's shooting off the bounce out of the pick and roll was deadly but it has forced opponents to adjust how they play him. His scoring from these situations has cooled off a little of late with a few turnovers or misses creeping in when he has been crowded.
Roberson hasn't shown the same ability as other guards to get into the paint in the half court, with just 10% of his overall shot attempts coming in the restricted area. Also noteworthy is that most of his free throw attempts have come from non-shooting situations, e.g. when opponents are over the foul limit, or there is an unsportsmanlike foul.
---
LAMAR PATTERSON - 18.78 PPG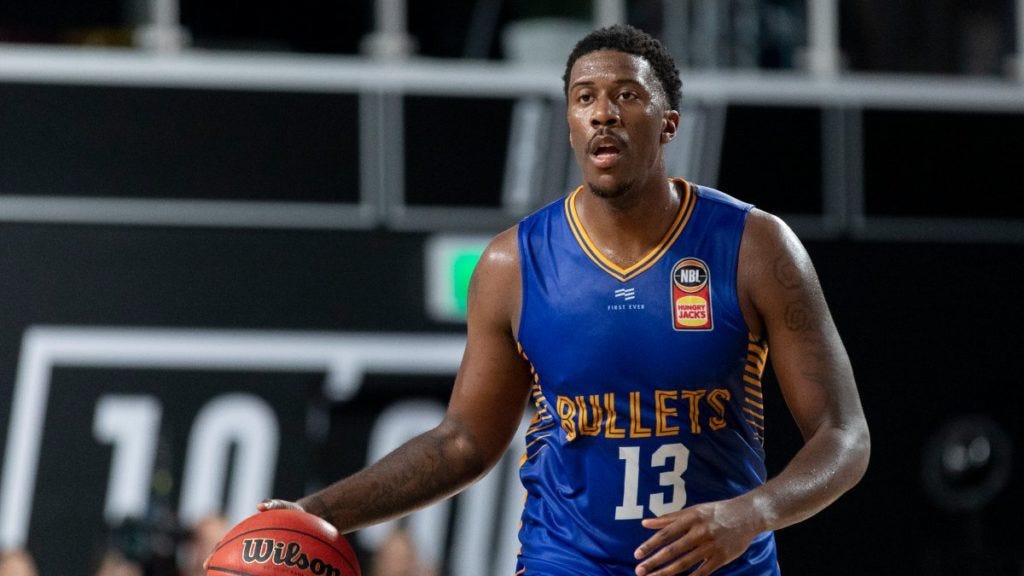 Credit: Russell Freeman
Lamar Patterson is a proven scorer and difference maker in the NBL, and he's proving to have some success with the ball in his hands making plays.
Lamar PattersonPick and RollIsolationSpot UpPost UpTransitionPoints Per Play0.980.960.570.901.10Frequency21%18%12%11%11%
Patterson is not quick, but he is one of the craftier wing scorers. He can find success attacking mismatches when isolated or posting up, and he knows how to use his frame and footwork to get to his favourite spots out of the pick and roll.
As good as he can be playing on the ball though, he hasn't found results playing off the ball with his three-point shot deserting him on spot up attempts (making just 19%), and little involvement as a roll man, cutter, or offensive rebounder, despite playing more power-forward minutes than last season.
Brisbane was built to be one of the top offensive teams in the league but have struggled in four of their past five games on that end. A bump in Lamar's efficiency would be helpful.
---
JEROME RANDLE - 18.56 PPG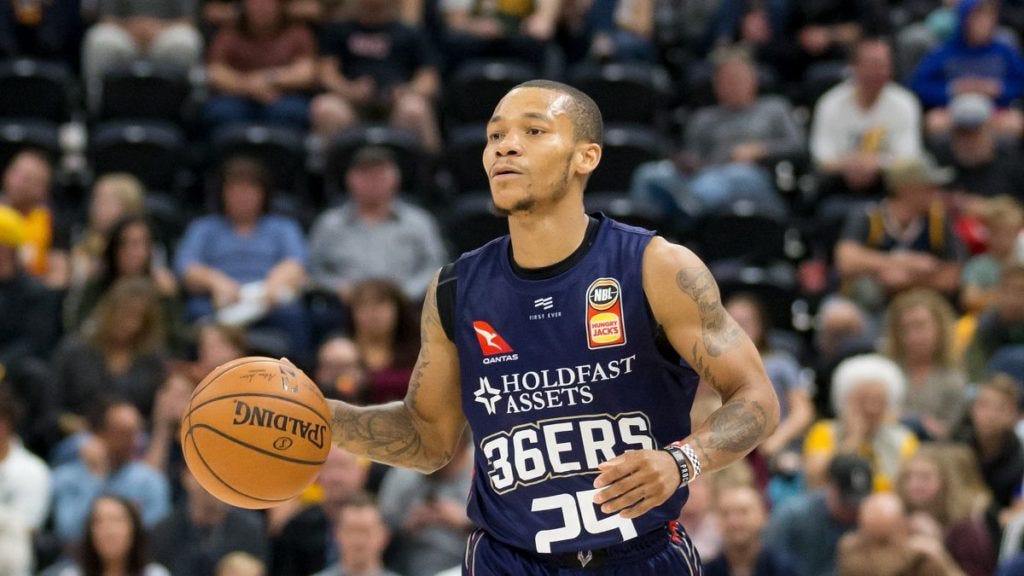 Oct 5, 2019; Salt Lake City, UT, USA; Adelaide 36ers guard Jerome Randall (25) dribbles up the court during the second half of a preseason game against the Utah Jazz at Vivant Smart Home Arena.
Russ Isabella-USA TODAY Sports
Jerome Randle is still who we know him as with his pick and roll game more prolific than any other player in the league. Over a quarter of his total shot attempts are pull-ups from mid-range.
Jerome RandlePick and RollIsolationTransitionSpot UpHand OffPoints Per Play0.950.860.742.501.60Frequency56%15%15%5%3%
Whilst he is still capable of blowing by opponents with his speed or splitting gaps in the defence to get to the rim at times, his free-throw rate has declined to 20%, perhaps a sign of slowing down a touch at the age of 32.
With less free-throws, limited success scoring in transition (so far), and only a small amount of his points coming on catch and shoot threes, he is working really hard for his shots.
Randle is in the bottom half of this group for overall efficiency on offence, but he certainly still draws a ton of attention from opponents and fans.