Discover more from The Pick and Roll
We're all about Aussie hoops. Independent, objective analysis and commentary. Insightful narratives built around Australian basketball. Read about our men and women in the NBA, WNBA, NCAA, Europe, national teams, NBL, WNBL, NBL1, prospects and more.
Over 2,000 subscribers
Boomers vs France, Part Deux: 3 things to watch on Sunday's bronze medal game
A heartbreaking, agonising slump in the closing stretch of the Australian Boomers' Friday game against Spain, concluded with a 95-88 defeat in double overtime. All isn't lost however; Australia still holds a chance for redemption in the FIBA 2019 World Cup, with the bronze medal game against France on Sunday.
"Gut-wrenching for the guys," Boomers assistant coach, Luc Longley shared following the game. "They have been so f***ing - I beg your pardon - they've been so good, and so consistent. We played so hard. I felt like they deserved to win that game. It doesn't feel... it doesn't feel like that's the right result. Obviously we cost ourselves the game in a bunch of ways, but you can't call individual plays or individual stats out of the game, and explain a win or a loss always."
It's never easy to point to one single reason for the Boomers' loss. Ref calls and Patty Mills' missed free throw aside, full credit to Spain. They were clearly the fresher team on the court, and executed better. Marc Gasol's 33 points weren't an accident; the Rubio-Gasol tag team forced switches and created mismatches, before Ricky Rubio delivered the ball right into Gasol's waiting hands in the paint, repeatedly.
The Boomers, as a team were struggling to play their brand of team basketball. Turnovers, a troubling trend all tournament, peaked at the worst possible time. There were fumbles on catches, from multiple players. Australia's fatigue caught up, and it was evident, especially late game. Matthew Dellavedova suffered from severe cramps in both legs, after the game. Despite a standout 34-point performance, Mills was clearly stifled by Spain's defence, and had problems getting to the ball on multiple possessions. Joe Ingles, who had been vital in orchestrating the Boomers' offence, had trouble finding passing lanes on his drives.
But it's time to look past regret and what could have been. The Boomers still have a chance to make history, and it comes with beating France, who lost to Argentina 66-80. The last time France and Australia met at Nanjing less than a week ago, the Boomers took a thrilling 100-98 win. Can we do it again?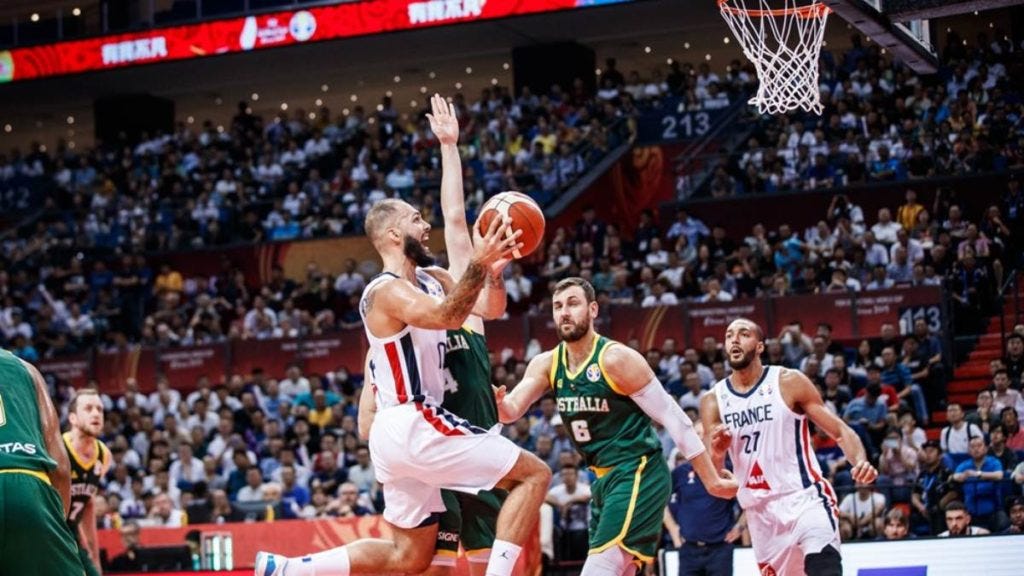 Credit: FIBA
1. Drop coverage, and the mid-range
Australia has shown its defensive strategy consistently, especially on pick and roll coverage. Instead of doubling the ball handler, the Boomers' big men would drop back, in a concerted effort to protect the rim against easy layups and help defensive rebounding (especially important against France), but exposed the mid-range underbelly.
We've all heard about the statistical inefficiencies of the mid-range shot, over layups and threes. It doesn't make the sight of French guards Evan Fournier and Nando De Colo driving right into the paint, rising up and hitting those open shots repeatedly, any easier to digest. In the last matchup, Fournier ended with 31 points, with 8 of 15 made 2-pointers. De Colo was the antithesis of Moreyball - he feasted away on everything on display, hitting 9 of 13 in the paint/mid-range. He had three attempts from the perimeter, one of them being a half-court heave.
It's very unlikely Australia's defensive scheme will change. It's hard to argue that France can do any better than how they fared in that last game - we expect statistics to play our way this time?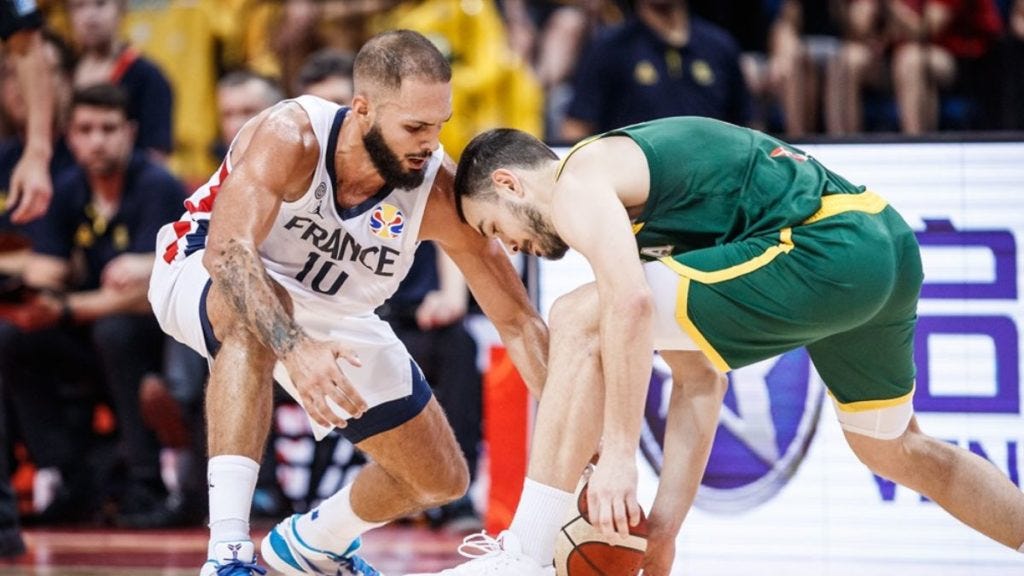 Credit: FIBA
2. Turnovers
France has been the fourth-lowest turnover team all tournament (10.6 average), behind USA, Greece and Lithuania. Against Australia, they only turned the ball over six times.
Having multiple shot creators helps minimise the number of passes needed to find a shot opportunity, something France has in abundance with its perimeter depth - capable guards who can take the ball, and generate their own opportunity as needed. Less passes also lowers the potential for an errant pass to go off-mark and end up being a lost possession.
Australia on the other hand, has a singular isolation scorer - Patty Mills. There's a heavy reliance on team chemistry, off-ball movement and multiple passes to get an open look. We've seen the Boomers at their best, when Ingles' unhurried, clinical precision picks the defence apart, and dishes the ball to an open teammate. Last game, we witnessed things on the other unspectacular end of the spectrum.
The Boomers' last game against France was a literal slugfest, with both teams going blow for blow right into the fourth quarter, until Aron Baynes' two-way performance reclaimed possessions and gave the team a chance to win. This time, it's no different. Offensive execution needs to hold up, mistakes can't be afforded.
A few careless turnovers might be all that separates the triumph of a bronze medal, from the regret of fourth place.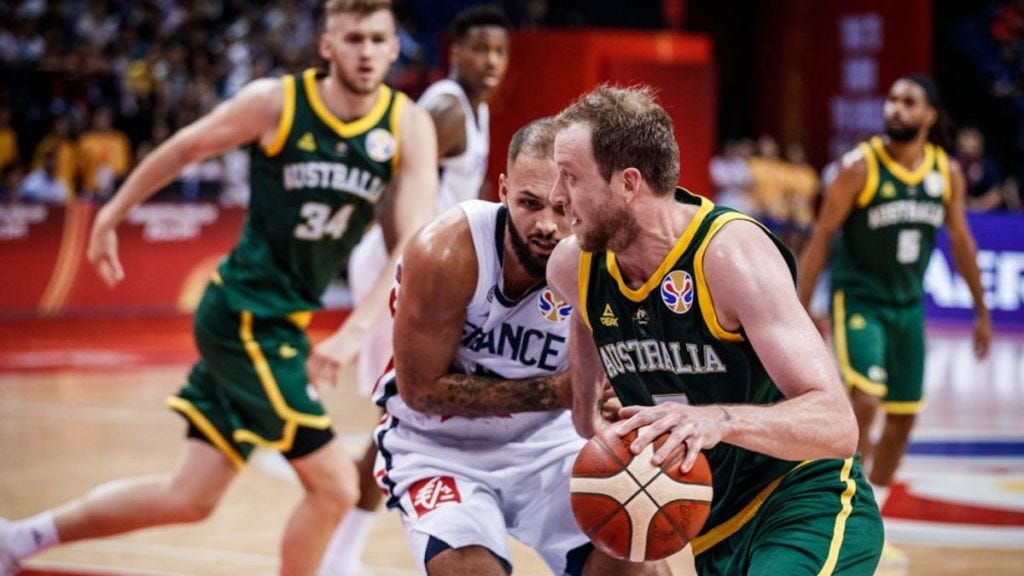 Credit: FIBA
3. Ingles needs to get Jinglin'
As mentioned earlier, the Boomers machinery have hummed when Joe Ingles is at the wheel. Matthew Dellavedova has led Australia's assists at 6.4 a game, and he's found daylight on multiple occasions, threading passes to the rolling big man off a screen and roll play, but Ingles (6.0 APG) is the playmaker that takes Australia's offence to the next level in this tournament. (Ben Simmons will completely overhaul the complexion of this team, but let's not get to Tokyo just yet.)
It's not just the playmaking either. In the Boomers' last game against France, Ingles' 23 points (8/15 FG) -- including a swished three right in the face of Jazz teammate Rudy Gobert, and a daredevil smirk while retreating on defence-- were absolutely essential to the team's scoring output. Against Spain, the swingman had a scoring slump. He ended with 4 points (1/9 FG, 0/6 3P), alongside 10 rebounds, 7 assists, and a steal.
Patty Mills will undoubtedly bring his A game on Sunday --he's currently leading the tournament on 23.9 points a game, at 49.5% on field goals, 39.6% on three-pointers-- and Aron Baynes will be more of a scoring factor than he was against Spain, but Australia needs our feisty, trash-talking forward to start Jinglin' and doing what he does best - hit threes.
Other factors include whether Rudy Gobert will be contained once again (quiet first half in the last matchup), Aron Baynes' form (will we see the sizzling, threes-dropping, charge-taking Baynes once more?), rebounding (Australia won the last time, 30-23), bench scoring (could Albicy, Goulding be the difference makers?) and fatigue (refer Spain).
"I've got three words for you," Aron Baynes after Saturday's shootaround. "Nothing else. No questions; nothing.
"Regroup. Refocus. Reinvigorate."
It's the finishing line, and if the last game was any indication, it will take everything the reinvigorated, refocused Boomers have to emerge victors.
---
The Australian Boomers play for the bronze medal on 15 September, 6pm AEST against France, at the Wukesong Sport Arena in Bejing.
Full box score can be found on the FIBA World Cup website.