Three days out from the first of two farewell series games, the Australian Boomers went head-to-head in an intra-team scrimmage. Coach Andrej Lemanis looked on as his assistants led Team Green and Team Gold.
Matthew Dellavedova, Andrew Bogut, and David Andersen did not take part, with each player being managed. Andersen, the recently crowned French League champion, had picked up a groin strain in camp.
"On the advice of the staff, they said to just relax and let it settle a bit. It's not a huge problem, it is more of just management," he said.
There were plenty of well known onlookers in the VIP crowd, with the likes Dante Exum, Jason Smith, and Andrew Gaze all in attendance.
Team Green was made up of: Patty Mills, Joe Ingles, Brad Newley, Nate Jawai, Brock Motum, Damian Martin, and Aleks Maric.
While Team Gold had: Aron Baynes, Cameron Bairstow, Ryan Broekhoff, Adam Gibson, Kevin Lisch, Chris Goulding, Daniel Kickert, and Cameron Gliddon.
The intent of Patty Mills was clear from the outset. He came out ultra aggressive, connecting well with Joe Ingles. Mills was outstanding throughout the scrimmage.
"It was very physical, it has been very physical over the past couple of days which is good. It just goes to show the type of that we like to play, that blue collar, hard, physical basketball," he said.
On the back of Patty and Ingles, Team Green took an early 13-5 lead. At that point it seemed that the scrimmage was not going to be as tightly contested as expected.
However when Team Gold began to press their opposition, the tide turned. It was highlighted by a Goulding lob to Cameron Bairstow after a steal.
After the scrimmage, Adam Gibson spoke about the pressing and full-court defense that was on show, "It's got to be our style if we want to win a gold medal".
Joe Ingles provided one of the funnier moments of the game. After he was called for an early hands foul he jokingly told the referee, "You wouldn't call that at Under-18 Nationals."
At the break, and after a good run by Team Gold, scores were tied at 16-16.
After the restart, Kevin Lisch, who was quiet in the first period, came out and nailed a pretty jumper. Patty Mills followed suit for his side, heating up from mid-range.
The stadium held their breath for a moment when Aron Baynes, who had been playing well, took a tumble. He stayed down briefly before hopping back up and shaking the knock off.
The scrimmage stayed tight, and the player's competitive juices were flowing. Every guy wanted to show the coaches what they could do.
Cameron Bairstow was good throughout, he had one passage of play that was particularly impressive.
It started with nailing a three-pointer as the shot clock wound down. He followed it with a good defensive stop down the other end of the court, before finishing again on offense, this time with a jump hook.
The presence of Bairstow and Baynes proved to be enough, as when Andrej Lemanis called for a finish after two 10-minute periods of play, Team Gold were victorious 36-31.
Brad Newley, who was at his slashing and hustling best, said, "We got up and down, it was pretty physical... everybody wants to go another quarter to keep proving what they can do, but they (the staff) know us, so we'll see what happens".
Each player had their own impressive moment in the scrimmage, whether it was hustle on the offensive boards from Ryan Broekhoff, Damian Martin chasing every loose ball, or Nate Jawai setting one of his well known screens.
Thus there is little doubt that Andrej Lemanis and his staff will have a tough time at the selection table.
During a timeout late in the second period Matthew Dellavedova made a brief appearance on court. It was to wipe the floor after one of his teammates had hit the ground.
Delly, who was rocking his new signature PEAK shoe, has to be the first NBA champion in history to wipe the floor for his team while out injured. It was this simple act that embodied the all-in spirit of this Boomers side.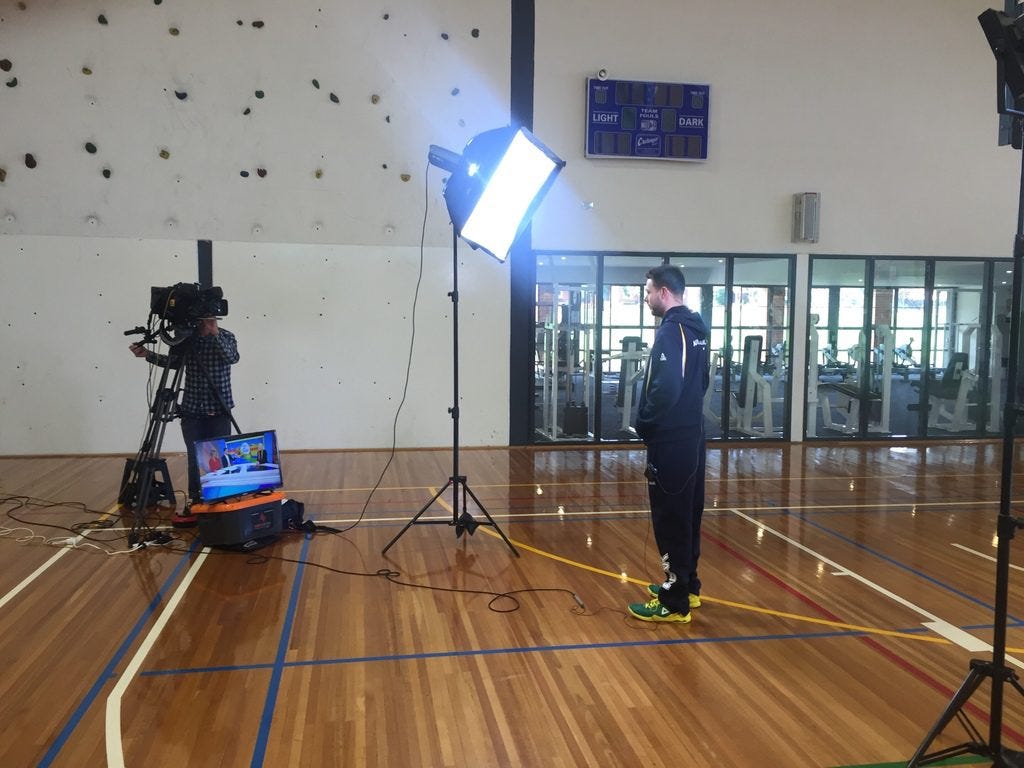 Brisbane Bullet Adam Gibson said, "Gold is our target, and everyone has bought in. Patty's leading that charge and everyone is right on it".
The man mentioned by Gibson has been regarded as the heart and soul of the Boomers, and nothing appears to have changed.
When asked about how this time around is different from years past, Mills answered with passion.
"Mindset, confidence, belief and that hunger. The hunger to want to do this, do it for ourselves and do it for Australia."
He went on to say, "People always ask what playing for Australia means to you and you rattle off an answer, but I think after being together for quite some time now and growing up together, and now that we have that belief and the calibre of players, we really know what it means to do that."
The pressure now goes to Lemanis who must decide on which 12 players will be heading to Rio. No matter who ends up making the cut, there is no doubt the team will be confident and hungry.
The Farewell Series will see the Boomers play a PAC-12 All-Star team at Hisense Arena, 7.30pm, on Tuesday and Thursday night. After that they begin to make their way towards Rio and hopefully a gold medal.