Discover more from The Pick and Roll
We're all about Aussie hoops. Independent, objective analysis and commentary. Insightful narratives built around Australian basketball. Read about our men and women in the NBA, WNBA, NCAA, Europe, national teams, NBL, WNBL, NBL1, prospects and more.
Over 2,000 subscribers
Boomers duo Joe Ingles and Chris Goulding focused on Olympic success
With the excitement surrounding the Boomers' farewell series against the Pac-12 All-Star team, and subsequently the 2016 Rio Olympic games, Joe Ingles and Chris Goulding are preparing for the Olympics with a winners mentality.
The Boomers are expected to be fielding one of the most talented teams in recent memory at Rio, as the preliminary 17-man squad includes all seven Aussies in the NBA. The Boomers could field a starting five solely consisting of NBA players, which would be a first for Australian basketball.
---
Great expectations
With great talent comes great expectations, and the Boomers understand the challenges that await in Rio. No matter how strong the competition will be, the Aussies still have one major goal.
"I wouldn't say bust, that's a pretty big word for it," Ingles said when asked whether the Boomers are entering with a medal or bust mentality.
"Our goal is obviously to go and get medal and that being gold."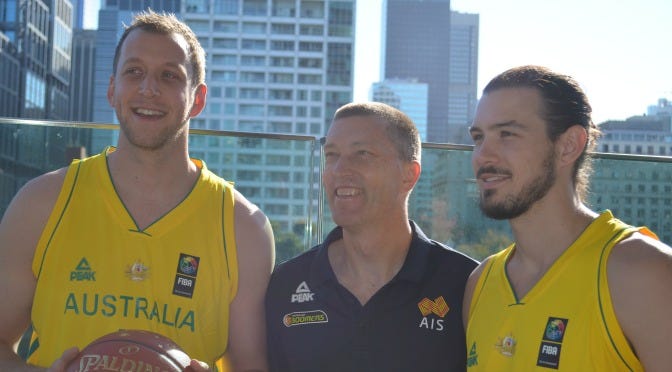 Joe Ingles, Andrej Lemanis and Chris Goulding | Credit: Damian Arsenis
"Like Andrej [Lemanis] said, we know how tough it is. We're not saying that we are going to walk in there and walk out with a medal in two weeks time. There are a lot of things that factor into it, but our goal is to go and get a medal and be that first team to get a medal."
Goulding, whose 2016 Olympic campaign will be his first, echoed his teammate's sentiment.
"Medal or bust, you don't think of the bust stuff," Goulding stated. "You just set your sights on what you want. We have been open about it. The team has been as a collective group. Why would you go to somewhere if you didn't want to win it? There's no point."
"We aren't just going there to make up the numbers. We definitely have out sights set on what we want."
---
A healthy squad
With the exception of Dante Exum, whose status for Rio is still somewhat up in the air due to his ACL injury, the Boomers are on track to enter these Olympics with one of their healthiest, most talented squads yet. In previous campaigns, Ingles, Andrew Bogut and Patty Mills have all missed international competition due to health issues, and while this year's Boomers are excited about the possibility of a 100 percent team, they aren't relying on it to deliver success.
"It's a key to getting your best performance," Goulding shared, when asked about the benefits of having a fully healthy squad heading to Rio.
"As Andrej said, we got a squad of guys that are ready to go, we've been together for quite a while, well the majority of us. Obviously, everyone wants Dante [Exum] to play. It's what's going to give us our best chance to play at the highest level. Yet at the same time, you can't hang everything on that. We have 17 guys ready to make the 12-man team, and whoever's there is going to be ready to put their best feet forward and go get that goal."
For Ingles, one of the Boomers' elder statesmen, he is relishing the opportunity to finally play with a healthy Australian team.
"Since I've been involved, I don't think we have really had our full squad at 100 percent," Ingles said. "We are hoping that it happens [being fully healthy at the Olympics], but there are so many if's or but's."
"We'll have to manage everybody to make sure, because we don't want to be 100 percent now, we want to be 100 percent going into Rio, so we'll manage that as best as possible. Getting that whole group together is really exciting. If we can get everyone healthy and playing together, it'll be awesome and something we haven't had for a while."
Staying in 'game shape' is one of the hardest things to maintain for a player during the off-season. While you want to stay in shape, you still need to manage the rest factor. For Goulding, the Olympics was one of the main reasons he played for Auxilium Torino at the immediate conclusion of the NBL season.
"It's a big part of why I decided to go to Italy," Goulding said, when talking about his preparation for the games.
"There's only so much you can get in shape and do when you're not playing games. To be able to go and play games, and stay in shape, I was lucky enough to go to a pretty decent league to be able to do it and play against some good players, so I think it'll really help."
Coming off his second full NBA season, Ingles, appreciates the rest factor a little more.
"You tip the line a little bit because you don't want the guys to go straight into it from the season, you do need to get a break," Ingles said. "Some guys will probably miss a couple of sessions and we'll monitor that on how guys are feeling."
"Obviously Bogues [Bogut] being in his early 30's and playing a couple of long seasons, he isn't going to do every single session every day. Dante [Exum], coming off the ACL, isn't going to be thrown back into full practice. So everyone will have their own individual things, but obviously, the more time we are out there together, the better it's going to be for us."
---
NBA experience
Ingles believes the seven Australians in the NBA will be both a blessing and a virtue come Olympic time.
"For the seven of us over there right now, you play against these guys so regularly, that it does help," explained Ingles. "You find tendencies that they like and don't like, and Delly obviously playing with LeBron [James] and guys that might be there, it helps us scouting wise. So, there is lots of positives that come from it but on the other side, there can also be negatives. They obviously know us and how we play as well."
With Bogut and Matthew Dellavedova facing off in the NBA Finals once again, some may believe the Boomers locker room will get a little tense. Ingles downplayed it though, as the Boomers understand they're going to Rio with one common goal.
"It doesn't factor in at all," Ingles said, when asked about the NBA guys facing one another with their respective club teams.
"We caught up during the All-Star break, all seven of us [Aussies in the NBA], and didn't really talk about basketball at all. There was a bit about the Olympics and Boomers, but it was more just to catch-up and be mates and spend time together."
"Once we get together, we know what the goal is and what the focus is and obviously with our team, and being together for such a long time, they'll be plenty of banter but we are going to do a job, we know what we are doing."
The Boomers' Olympic campaign begins on August 6.
---
2016 Australian Boomers Farewell Series
July 12, 2016: Hisense Arena, Melbourne 5:45pm: Australian Rollers vs NWBL All-Stars 7:30pm: Australian Boomers vs Pac-12 All Stars
July 14, 2016: Hisense Arena, Melbourne 5:45pm: Australian Rollers vs NWBL All-Stars 7:30pm: Australian Boomers vs Pac-12 All Stars
---
Ticketing
Tickets for the Boomers farewell series will be available to Telstra customers from 4pm Thursday, May 31 – 4pm Thursday, June 2.

For members of the Basketball Australia family, an access code will be sent to them to buy tickets from 1pm Friday, June 3 – 5pm Sunday, June 5.

Tickets to the general public will go on sale from 10am on Monday, June 6.

All tickets will be available via Ticketek.