Discover more from The Pick and Roll
We're all about Aussie hoops. Independent, objective analysis and commentary. Insightful narratives built around Australian basketball. Read about our men and women in the NBA, WNBA, NCAA, Europe, national teams, NBL, WNBL, NBL1, prospects and more.
Over 2,000 subscribers
From bleachers to press room: How Warren Yiu became Australian basketball's storyteller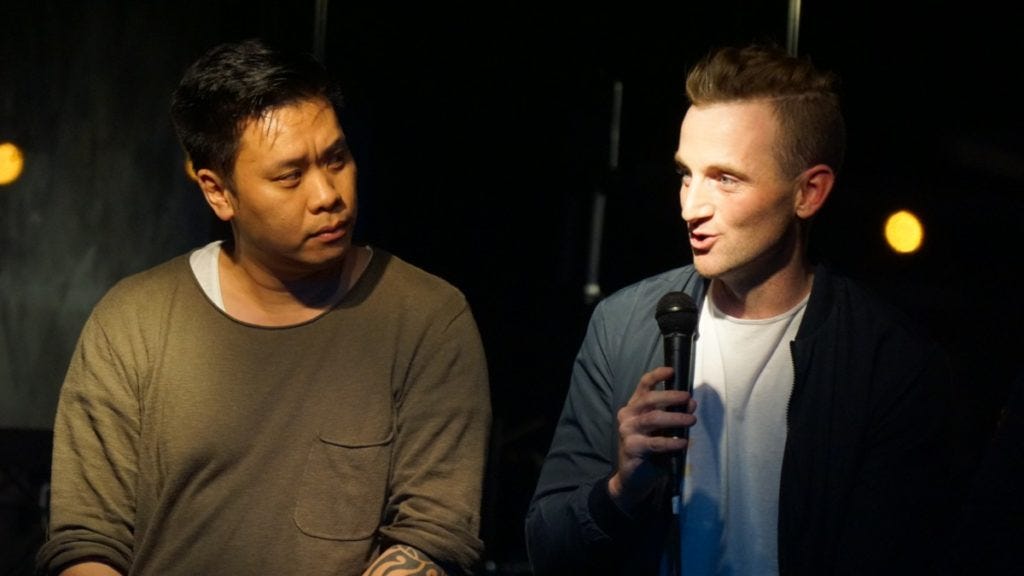 As a writer, Warren Yiu's roots are firmly planted in the NBA. After working in higher education management for six years, he found himself looking for a hobby as a release from the nine-to-five grind. A long-held passion for storytelling saw him start his own blog in 2014, one that covered his beloved San Antonio Spurs and the league as a whole.
As a basketball fan, though, Yiu's journey began much closer to home. Growing up in Sydney's outer suburbs, he was in the eye of the storm for one of the region's finest basketball hours. When the Sydney Kings won their first NBL title in 2003 he was there on the ground, albeit in the nosebleed section of the Sydney Entertainment Centre. As the team stormed to three straight championships, Yiu's passion for the game blossomed.
"I was actually more of an NBL fan before I really became a fully-fledged NBA fan," Yiu admits.
It seems fitting, then, that he's now one of Australia's most trusted basketball journalists. After toiling on his own blog and then joining The Pick and Roll, he now covers the league for ESPN Australia/New Zealand. Yiu has always poured hours upon hours into his writing, and now, he does so with a focus to make this a career, rather than a hobby on the side.
Changing dreams
The move to sportswriting wasn't the first shift in Yiu's career plans. As a university student, he had dreams of being a high school teacher and helping kids in the most fundamental way possible. Once he got to the pointy end of his studies, that vision quickly evaporated. "I got into my first prac and I realised I am so not cut out to teach people," he said with a laugh. "The idea of 'hey, I've got to be a role model 24/7' was a bit scary."
That saw him make his first professional pivot, albeit a less drastic one than what was to come. The move into higher education management came fairly naturally, and came with a lot of the same benefits as teaching. "I was still helping people, I was still helping uni kids to get in and then graduate and helping their progress," Yiu said. "It was actually really satisfying."
Still, he says there were some lingering doubts when he looked ahead to the future. "It was still fulfilling, but at the back of my mind I guess it was always nagging at me—what do I actually want to do?" he said. It was around that time that he started looking for an outlet away from work, something to fill in the gaps around his job. In the end, he didn't have to look far for inspiration. "I'd always had this passion for writing, and I'd always had this passion about basketball."
That love of hoops was born with the Sydney Kings, but it grew once Yiu latched onto the NBA's Spurs. As a kid watching the 1999 Finals, he'd actually rooted against them as they took on the New York Knicks. It wasn't until a few years down the road that he found a basketball idol wearing silver and black. "I just saw a guy like Tim Duncan and thought that he was really just a normal dude, just really tall," he said. "You're either living in an NBA city and you support them, or you like a specific player and identify with that franchise... I liked the no-frills nature of the team that came under his visage."
With NBA fandom came a growing catalogue of writers to read; he says John Hollinger and Jonathon Abrams are two of his favourites, and consuming their work paved the way for his own style. "Before you become a writer you read a lot… it just crystallised in my head that I really enjoy creating a narrative and creating a story," he said.
First steps
If writing was to be Yiu's new extracurricular, where would his work be published? Rather than look for a website to give a rookie a chance, he took matters into his own hands and started his own blog: Corporate Knowledge, named as an homage to the pragmatic Spurs machine. While it was recreational in nature, it didn't stop Yiu from diving in headfirst. Between watching games, setting up software to record videos and GIFs, taking notes and actually writing, he says a single piece would often take up an entire weekend or more.
It only takes one look at the now-defunct website to see why. It's packed full of deep-dive analysis featuring highlights, shot charts and diagrams, exactly the kind of content that hardcore NBA fans devour. Initially, though, all that effort only brought internal reward. "For me it was just a really fun outlet and it didn't really go anywhere—we're talking about pretty low readership," he said.
The one exception came in May 2015, with the All-Fun NBA First Team Awards. It was a lighthearted look at some of his favourite players to watch, and it resonated with readers to a degree that surprised even Yiu himself. "Somehow that got a lot of hits and it was shared around," he said. Still, that feeling of accomplishment immediately had him hooked. "That started to crystallise that it's really cool to be able to get to a bigger audience, even though it's just a one-hit wonder."
Finding an audience
Even after a taste of success, Yiu didn't go searching for the next step in his writing career. "I didn't really expect anything from it," he said. Instead, he found it purely by chance. The realisation that he never saw much Australian basketball content led to a Google search, to a website that you might have heard of, but one that he knew nothing about. "To be fair, I'm a bit of a social media recluse and a bit of a hermit in those domains, so I actually had never heard of The Pick and Roll before."
The website straight away appealed to Yiu as a home for his work. More than anything, he wanted to make sure he was on the right track. "It was more just a test to see if my writing would resonate with a larger readership," he said. "There's an established audience here already, is there any chance of me actually being able to contribute?"
He reached out expressing his interest, but fully knowing what could often happen in the industry. "You might talk to other places, and they'll just say yes or no or never get back to you," he said. That's what made the response he received from site editor Kein Chua such a pleasant surprise. "He actually legitimately spent the time to go through my blog and have input and insights and feedback, and you don't generally get that," Yiu said.
For Chua, it was a no-brainer to bring Yiu on board. "I knew right away he was a hidden gem," he said. "This guy's taking so much time to write really good analysis and thoughts that no one's reading. We need to get him on, period."
Accelerated learning
Starting with The Pick and Roll brought plenty of changes for Yiu - more structure, an editor's input and new kinds of content to produce. With hindsight, though, the biggest step towards his future might have been a renewed interest in his past. The NBL suffered through a turbulent period in the late 2000s, and as his Sydney Kings struggled before briefly folding in 2008 Yiu found his interest waning. Come 2015, though, the league was starting to surge once again and he decided to jump back in. "I was like 'well, it's Australian basketball, I really should look at this'," he said.
As his writing developed, Yiu found his love for the San Antonio Spurs faded as he tried to stay impartial. It was similar in the NBL-- he was no longer just a Sydney Kings fan, and he quickly became an expert on the league as a whole. "For me it's a conscious decision," he said. "You kind of have to remove yourself from that fandom."
From there, the learning curve only got steeper. He attended his first NBL game with media credentials, an experience he documented, published and now prefers not to revisit. "My first thought when you brought up that particular story was 'cringe'," he laughed. Still, it was an important first step in the professional landscape, even if he was too nervous to say a word at the post-game press conference.
Those early jitters evaporated quickly, more by necessity than anything. One-on-one interviews leave nowhere to hide, and Yiu was thrown in at the deep end; one of his first NBL pieces was a Q&A with Kings co-captain Tom Garlepp. While he did his best to prepare, it was far from a perfect science. "I don't think you ever go in thinking you know what you're doing, it's always a scary experience," he said. Early on, he leaned on the guidance of Chua, who always offered to proofread his questions before big interviews. That wasn't as simple as it sounds, as Yiu says there were always plenty of topics to be checked. "You always try to over-prepare... say I only had 30 minutes, I'm still going to prepare 30 questions."
While that philosophy still stands, he now knows that flexibility in interviews is key. "One of the big things you learn on the job is that it's okay to go on a tangent, it's okay if you have a specific angle but that doesn't work out," he said. "At the end of the day, you're trying to tell the story of that particular person or subject matter or club." As Yiu says, it's sometimes better to let the subject lead the way, as he learned when speaking with Melbourne United coach Dean Vickerman. After asking a question about guard Mitch McCarron's defence, Yiu says his phone went silent for ten, then twenty, then thirty seconds.
After a minute of nothingness, Vickerman finally spoke again. "Sorry, I was just booting up the system, I was just checking out some stats."
Yiu was genuinely blown away. "I thought, 'whoa, this is so cool'. He's taking it seriously, he's not just giving me lines that are very general, he wants to give me actual insight."
From prep to pro
Despite learning on the job, Yiu continued to show his own unique style of storytelling. "Unlike typical sports fans who aspire to be writers, there is a certain cadence you can recognise straight away," Chua said. While much of that was his obvious natural talent, Yiu says it was The Pick and Roll that helped develop him further. "You can't undersell how much you improve as a writer when you have established habits," he said.
With that improvement came a natural desire for more opportunities, especially given The Pick and Roll staff is made up entirely of volunteers. Once again, finding his next destination came largely down to chance. A self-confessed social media recluse, Yiu found himself in contact with ESPN Australia & New Zealand senior editor Andy Withers. It was, as Yiu puts it, a "random connection".
That didn't stop him from trying to make the most of it, as he reached out looking for an opportunity to write for ESPN. "I think Andy at the time was like 'nah, sorry'", Yiu said. "I bugged him for about six months, and then he finally relented and gave me a shot." Yiu hit the ground running in his new role, and while he had built something of a reputation in NBL circles, he still credits Withers for trusting him without hesitation.
The senior editor departed for ESPN Africa six months later, but later that year marked the arrival of Stuart Randall in the same role. He and Yiu developed a close working relationship, and he says the writer's value to ESPN was obvious. "I think he's the most interesting basketball writer in the country," Randall said. "Just the sheer depth that he goes into, the level of detail, some of the concepts, the language he uses." Sometimes that depth got a little out of hand - in fact, it became a running joke among the staff that a draft from Warren in their inbox meant a long night at the office with thousands of words to sub-edit.
Changing the balance
Before long, though, Yiu had become a crucial cog in the ESPN machine. "His basketball knowledge around the NBL is superior to anyone on our team," Randall said. The timing was perfect, as ESPN were looking to ramp up their NBL coverage ahead of acquiring broadcast rights for the 2019/20 season. Not only that, but there was an obvious gap in the marked waiting to be filled. "You do get that kind of snobbish barrier... there's NBA snobs out there that will look down at the NBL," Randall said. "What we want to do is we want to convert those NBA fans into NBL fans, and we want to have that kind of full, whole-of-basketball mentality in everything we cover."
For Yiu, that meant spending more time leading the network's online coverage of the league, and all while still working his full-time job. When breaking news hit, Randall was often left to marvel at the workload Yiu would shoulder. "I would ask him to do a quick turnaround piece when he was still working, and he'd say 'I'll have it for you in a couple of hours, I'm just about to finish work'," Randall said. "I think it shows you the dedication of someone, that they have that passion and they really want to do this with their ability to juggle these worlds."
Still, it got to the point where Yiu faced a crossroad. He had no doubt that writing was his real passion, but it was one simple factor that finally pushed him to pursue writing with single-minded focus. "I guess I started to believe that I could do it," he said. So he met Randall for a coffee, told him he wanted to make the change, and immediately had his editor's full support. "I've really tried to encourage him to stretch himself and push himself," Randall said. "He was talking about how he wanted to give up the corporate world and actually have a real red-hot crack at becoming a basketball writer."
Making up for lost time
If Yiu took a longer path than some to becoming a full-time writer, then he's certainly made up for it with a frenetic career to date. This past season saw him develop a weekly column featuring rankings of the best NBL players, on top of regular features and interviews with the biggest names in the game. An interview with Brisbane Bullets owner and former NBA guard Kevin Martin, in which Yiu spoke to him on-camera, gained significant media attention in the United States.
Rather than constrict him to just basketball, Randall has also looked to find opportunities for him to expand into other sports. A feature on Sydney AFL player Isaac Heeney showcases Yiu's best qualities as a writer-- analysis of Heeney's 2018 Mark of the Year flows effortlessly into his upbringing, his teammates and his personality.
While that was a softball tossed Yiu's way, an interview planned months in advance with an athlete he'd long admired, he's also been thrown a few curveballs that he's hit out of the park. When Randall asked if he knew anything about boxing, Yiu's answer was an emphatic "no, I don't know anything". When told they needed a story on an upcoming fight withing 48 hours, he says he panicked. And yet the end result, a walk down memory lane with the set of twins fighting on the card, shows no trace of those nerves.
Perhaps most exciting of all was a trip to China for last year's FIBA World Cup. While he only made it for the first week in Dongguan --where the Australian Boomers played in Group H against Canada, Senegal and Lithuania-- Yiu says the tournament was still a cut above what he was used to. "You're talking about a major tournament so the amount of media there, international media, is tenfold," he said. "The level of interest for a major tournament and the intense media scrutiny comparative to a normal NBL season, for me that was really cool."
Travelling with the ESPN cohort made any time off feel like a holiday, even if they did run into some language barriers along the way. When the group would approach a local worker or shop owner for directions, Yiu says their eyes would immediately dart to him as the presumed translator. He learned to dispel them with a small shake of his head as he approached. "They would look frightened," he said with a laugh.
Lessons learned
Yiu's journey thus far could probably fill a hefty novel, and there's no doubt it's one he would be capable of writing himself. Still, when asked for advice for aspiring writers, he's able to boil it down to a couple of big picture ideas.
"Make sure you're doing it for the right reasons," he said. "Make sure you want to do it because you want to work on the craft. I don't know what the craft is, whether it's writing or interviewing or something, but never lose sight of that and really treasure the moments where you can really work on it."
From there, he knows firsthand how much of a slog it can be. "It's hard, right? It's actually really hard to get into the industry and to be a professional sports journo, but if you persevere the rewards are immense," he said. And once the lucky few do make it? "Stay humble and be respectful at all times. In our jobs we're not subject matter experts, it's our job to actually tell the stories of subject matter experts."
On second thought, maybe this article needs a few more quotes from Warren. After all, he is the expert when it comes to the subject of writing. He could probably tell the story pretty well himself.