Discover more from The Pick and Roll
We're all about Aussie hoops. Independent, objective analysis and commentary. Insightful narratives built around Australian basketball. Read about our men and women in the NBA, WNBA, NCAA, Europe, national teams, NBL, WNBL, NBL1, prospects and more.
Over 2,000 subscribers
Ben Simmons shines as Philadelphia 76ers light up the Lakers in Tinseltown
LOS ANGELES – Ben Simmons and the Philadelphia 76ers secured a 121-105 victory over the Los Angeles Lakers today. Here are a series of notes and observations from a busy night at Staples Center.
- Philadelphia set up victory with a dominant first quarter, where they outscored the Lakers 39-20. While the Sixers deserve credit for stomping all over an inferior opponent, they were given an almighty assist from a Los Angeles side who committed nine turnovers in the opening 12 minutes.
- Fifteen first half turnovers plagued the Lakers and were a major contributor to the game high 24-point lead Philadelphia built during the first half. The Sixers leveraged the generosity, scoring a season high 26 fast break points in the first half alone. Los Angeles finished with 21 turnovers for the game. A generous spirit doomed the Lakers and their head coach acknowledged this post-game.
"We didn't recover from the first quarter," said Luke Walton. "I was really happy with how we fought in the second. The energy we brought, the compete level we were playing with. That first quarter, we didn't match their physical intensity. We were killing ourselves with turnovers. They had 21 fast break points in the first quarter, 17 off our turnovers. We didn't come out with the proper fight in the first quarter."
- Brett Brown was proud of how his team started the game, although he lamented the lapse in concentration that followed in the second quarter where Los Angeles outscored his charges 33-25. "We came out and we played good basketball," said Brown. "I thought it went south too quickly, but it's part of the NBA, with highs and lows as a coach. You start out well and we couldn't sustain it. They have a bunch of young guys that continue to play, but I though the start was good."
- Simmons, who finished with 19 points, eight rebounds and six assists, explained that his team had an enjoyable night at the office. "We had fun," Simmons said. "We played the right way and I am glad we came out with the win.
As for what playing the "right way" looks like, Simmons said this is simply a commitment sacrificing personal measures for the betterment of the team. " It's just moving the ball and trying to get the best shot we can. Not everybody is going to have 30 points or whatever the case is. Everyone is stepping up and moving the ball."
- When Philadelphia struggled tonight it came with Simmons, T.J. McConnell and Corey Brewer all sharing the floor together. The trio were in the game when Los Angeles ripped off a 16-0 run over a two minute and 49 second stretch in the second quarter. The effectiveness of a Simmons-McConnell offensive pairing is questionable by itself and inserting Brewer into the equation - who is a career 28.4% shooter from three – meant that Philadelphia was playing with three non-shooters at the same time.
During the 16-0 run, the Sixers were 0-11 from the field. Los Angeles was able to roam away from the ball and disrupt an often-cramped half-court offence. While not a factor in tonight's result, deploying any five man units featuring Simmons, McConnell and Brewer is something that could sink the Sixers against competent playoff opposition.
- Here is Brown speaking what happened during the second quarter letdown by his team. "They just went on a run. We missed a lot of shots that led to a lot of transition. I give them credit, they pushed the ball. I thought we made some foolish decisions in transition defence. I thought we were far too risky trying to make plays in the backcourt and we got punished for it. That was probably the down point of the game."
- Brown flagged pre-game that he would be experimenting with his rotation tonight, and the aforementioned Simmons, McConnell and Brewer trifecta was just one example of Brown testing out a variety of new looks.
Simmons was momentarily moved to power forward. Jimmy Butler, an All-Star swingman, saw minutes at point guard. Power forward Wilson Chandler was moved down to a small forward. Mike Muscala played center and power forward. Brewer saw time across both the shooting guard and small forward positions.
"This isn't a science project," Brown said. "These are things that are done to help us win and sort of fortify and solidify a greater level of knowledge about how we need to grow our team."
- Joel Embiid fell awkwardly at the 9:43 mark of the fourth quarter, after a failed alley-oop attempt from a Simmons lob. Embiid immediately grabbed his back and gingerly limped back to the Sixers bench. The two-time NBA All-Star has been battling a sore lower back over the past month and was held out of Philadelphia's defeat in Denver on Saturday night in an attempt to get healthy.
Embiid briefly returned as the Sixers closed the game and explained afterwards that he escaped any permanent injury. "I'm good," he said. "I felt like my back was going into hyperextensions but I put it back in place. I'm fine."
- Simmons was (again) able to make a pronounced impact on the offence glass, especially when playing without Embiid. While he only finished with three offensive rebounds, the Australian's size and physicality was an imposing force that the Lakers big men had to deal with. Tonight continued a recent trend where Simmons, who is averaging 2.8 offensive rebounds per game over the past month, has been able to generate additional possessions for his team.
- Jonah Bolden was unavailable due to right Achilles soreness. Speaking at morning shoot around, Brown said Bolden experienced discomfort following Saturday's defeat to the Denver Nuggets and the Sixers were taking a cautious approach by holding Bolden out of the line-up.
- After the game, Brown was asked whether he believes Bolden is ready to represent the Australian Boomers in FIBA basketball later this year. His response was an emphatic yes. "I think he can be a starting four internationally," Brown said of Bolden. For more of Brown's thoughts on Bolden's potential for the Australian national team, check out Kein's story here.
- Simmons was named to the 2019 Rising Stars Challenge at All-Star weekend earlier in the day. "It's cool," he said of the accolade. "I'm grateful to be in that position and play in that game. Anytime you have a chance to play in a game at All-Star weekend, it's great. I'm looking forward to it."
- Breaking news: the Lakers defence was not good tonight. Well, I'm only joking here as the poor defensive performance from Los Angeles was obvious from the tip, although their ineptitude bears repeating. The Sixers posted a 117.5 offensive rating tonight – for context, the Golden State Warriors lead the NBA with a mark of 117.2. Luke Walton could repeatedly be seen losing his temper on the sidelines and his annoyance was justified.
- Brandon Ingram scored a career high 36 points, on 16-20 shooting from the field. Remarkably, Ingram was able to play the best scoring game of his NBA life despite attempting zero threes. The fact that Ingram did his damage from mid-range isn't entirely surprising, through his shot chart is an ode to basketball from a bygone era.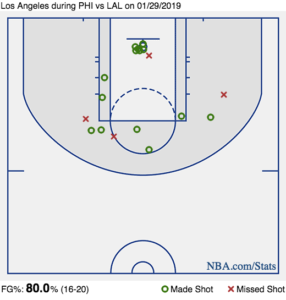 - Finally, Brown stated pre-game that Simmons should be an NBA All-Star when the full rosters are named on Thursday evening. He doubled down on this sentiment post-game.
"If you look at what he has done this year, it's banging out numbers. It's not like I call his number a bunch. He puts his imprint on the game immediately with his athleticism and his size and can rebound and run and create and get to the rim.
"He has been doing this by historic proportions. I think he is an NBA All-Star in his second year playing with me in the league. I'm proud of that and I am proud of him. He really can impact the game without somebody force feeding his play-calling and calling his number all the time.
- Simmons will find out on Thursday evening (Friday morning Australian time) whether his dream to become Australia's first NBA All-Star is fulfilled. The Pick and Roll will be in Golden State with Simmons and Sixers when the All-Star rosters are announced so stay tuned for full reactions.