Discover more from The Pick and Roll
We're all about Aussie hoops. Independent, objective analysis and commentary. Insightful narratives built around Australian basketball. Read about our men and women in the NBA, WNBA, NCAA, Europe, national teams, NBL, WNBL, NBL1, prospects and more.
Over 2,000 subscribers
Ben Simmons: To Rio, or not to Rio?
While still a little way off from having to make a final decision, Ben Simmons will eventually have to decide whether he will join the Boomers in Rio or focus on his upcoming NBA season.
Simmons has often spoken of his his desire to play in in the Olympic tournament, telling Sporting News:
Wherever I end up, hopefully I'm in a good situation to play, and I'd love to do that.

I definitely want to go and take home a medal. Hopefully I can do that in one try!
Although staying in college for another season is a possibility and would make him a virtual lock to make Rio, history tells us this is incredibly unlikely for a surefire no.1 pick.
You'd have to go all the way back to Tim Duncan's college days to find the last time a player turned down being the first pick in the draft for more college.
So safely assuming Simmons has recently been drafted into the NBA he will have a tough call to make.
So I thought we'd help Ben weigh his decision up by laying out the case for and against playing in the Olympics.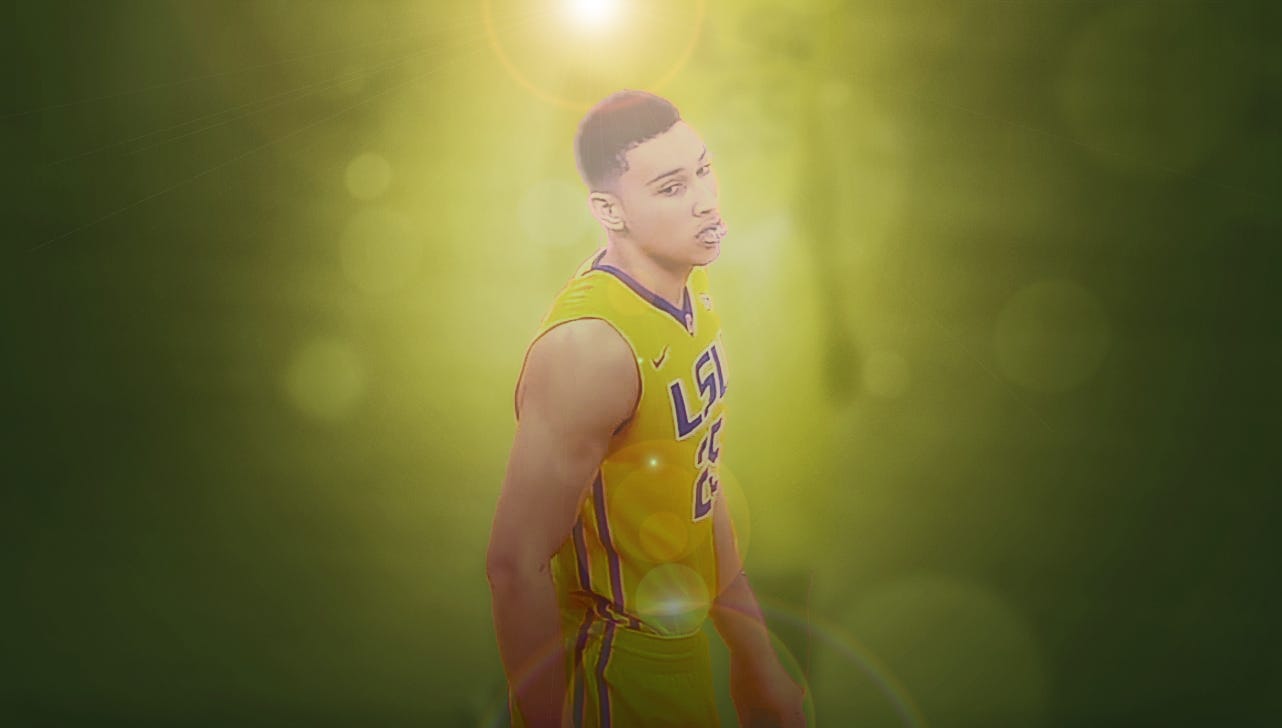 ---
THE CASE FOR
Recent precendence
Simmons won't have to look very far out his Louisiana dorm room to see the last time a high profile no.1 pick went straight from being drafted to playing in the Olympics.
In the 2012 London Olympics then newly minted first pick Anthony Davis replaced an injured Blake Griffin in the US team.
Davis missed Summer League but went on to have a very good rookie season, finishing 2nd in rookie of the year voting and has quickly established himself as one of the best players in the NBA.
Davis credited a boost in confidence entering his debut season after spending the summer learning from established NBA stars.
"A lot of them shared their perspective on the game and the whole team took me under their wings and showed me the ropes" Davis said.
Better development
Simmons is more likely to develop as a basketball player playing against seasoned players in a high stakes environment of the Olympics, rather than playing in the NBA Summer League.
Matthew Dellavedova recently spoke to AAP about the benefits he has sees in playing international tournaments.
"International basketball is different to the NBA in style of play. For most people, just playing international basketball, where every possession matters, is a good experience" he said.
"Playing international basketball definitely helped my development a lot."
Pride and Prestige
The pride in representing your country in such a prestigious event can't be topped. Delly rates playing in the Olympics as the pinnacle of his basketball career to date, ahead of playing in the NBA Finals.
"(London) was the highlight of my career so far," Dellavedova said.
"Ever since I was a little kid, I dreamed of going to an Olympics and to be able to go to one when I was 21 then, it was a great experience."
Simmons has felt the buzz of playing for Australia when he was part of an under 17 World Championship team and with the Boomers during the Oceania Championships as a 16 year old.
"Once you put that jersey on, you have your family, your team and the country backing you, so it's one of those feelings you can't really describe," Simmons tells Fairfax.
"It's an honour to represent your country and put on that green and gold jersey."
The honour will only be amplified when he can put on that jersey will playing on the grandest international sporting stage.
Ready to Roll
There might be doubts if Simmons is ready to contribute to the Boomers in a meaningful way at the Olympics at such a young age.
Basketball legend Andrew Gaze told AAP he is confident Simmons would play an important role for the Boomers in Rio.
"We've seen enough from him to say that he would be a valuable contributor to an Olympic campaign," Gaze said.
Gaze believes the Boomers should still try to add Simmons to the mix even if he skips the early stages of Olympic preparation to rest up or play Summer League.
He is so versatile, he's so skilled, that provided he could do a little bit, I would believe you would try and find a way to get him into the team because he's that good.
A talent evaluator speaking to Sporting News said he believed Simmons could have a similar impact in Rio that a 20 year old Andrew Bogut had on the Athens Olympic team.
"He would be a starter on the Australian team ... [and] will have a big impact with the Boomers".
BASKETBALL | Ben Simmons needs to play for Australia in Rio even if NBA commitment curbs preparation: @AndrewGaze10 pic.twitter.com/P050rBtKVY

— The Age Sport (@theagesport) February 3, 2016
---
THE CASE AGAINST
Team Pressure
The team that which lands Simmons lands will heavily influence the final outcome with Boomers coach Andrej Lemanis telling The Pick and Roll "we will have to wait until after the NBA Draft as his new team will likely have a say in the final decision."
NBA teams cannot stop their players playing for their country unless there are legitimate health concerns about a pre-existing injury. However, they can place varying degrees of pressure to skip the Olympics, which for a new player can be persuasive regardless of draft position.
When Simmons was asked if being a No.1 pick would give him more leverage to join the Boomers, he responded with a laughed and "I wish!"
Its understandable that a team which will be investing millions into Simmons' development and pinning much of their basketball and financial future upon his shoulders, doesn't want to risk him being injured.
Dante Exum and Paul George are recent examples of severe injuries playing for their country that would be fresh in many NBA front offices.
Simmons' Rio prospects may be improved if he was drafted by the Philadelphia 76ers. There he would be teaming with former Boomers coach Brett Brown and Team USA chairman Jerry Colangelo who are more likely to see the benefits of Simmons playing in the Olympics.
Dante Exum's ACL tear raises questions about NBA players playing in international games: http://t.co/zP00nMV4bb pic.twitter.com/NuT2dne7H0

— SB Nation NBA (@SBNationNBA) August 10, 2015
Long season ahead
Going from the the draft to playing in the Olympics, then moving straight into an NBA season is a grueling schedule.
Andrew Bogut is familiar with how exhausting the draft process can be on young players and had the following advice for Simmons.
"We want him to play, but at the same time, he might have to be a little bit selfish... if he goes through that [draft] process, it's pretty draining and it starts in May. He's going to have a lot on his plate, we want him with us, and he could be a huge part of our campaign. Right now, I think Ben needs to do what's best for Ben."
Most rookies hit the 'rookie wall' at some point during the season, with the volume of games on the NBA schedule being a total shock to their system.
So the best way for Simmons to make sure he is fresh as possible for the season ahead, is to avoid adding the travel and preparation required for Rio.
Limited preparation
Simmons could try play in both Summer League and Rio, but this will likely be met with some resistance from the Boomers and/or his NBA team.
Andrej Lemanis is trying to build a culture were players commit to campaigns fully and don't just fly in at the last minute.
He originally left out Patty Mills from last year's Olympic qualifying tournament against New Zealand, before he replaced the injured Dante Exum.
Mills is seasoned campaigner of international play and Gaze believes it would be unlikely Lemanis would change the goalposts for Simmons regardless of his talent level.
"That would make it a pretty tough call for Andrej to take Ben if he's going to be there for a very small portion of their Olympic preparation," Gaze said.
"If he can't do anything, and you're really just going to show up in Rio, then I'm not sure that would be in the team's best interests."
---
What would you do if you were in Ben Simmons' shoes?
What would you do if you were @BenSimmons25, and just drafted to #NBA? #Rio2016

— The Pick and Roll (@PickandRollAU) February 11, 2016