Discover more from The Pick and Roll
We're all about Aussie hoops. Independent, objective analysis and commentary. Insightful narratives built around Australian basketball. Read about our men and women in the NBA, WNBA, NCAA, Europe, national teams, NBL, WNBL, NBL1, prospects and more.
Over 2,000 subscribers
Ben Simmons is primed for stardom
[dropcap] T[/dropcap] here's a certain aura that's almost tangible when Ben Simmons walks into a room. Heads turn toward his 6'10 frame, and suddenly, everything goes silent.
This phenomenon, however, isn't unique to Simmons.
When I had the opportunity to cover the NBA last year, the exact same thing happened. The only difference? It was with established NBA stars - household names along the likes of Kobe Bryant, LeBron James and Stephen Curry.
Atop the pool deck of the Holiday Inn Old Sydney on a sunny Friday morning, the assembled media were waiting for their first glimpse of Ben Simmons, a return of the prodigal son to Australian soil. As the youngster entered - carrying his Phunkee Duck, to the amusement of on-lookers - that aura was evident.
The looks he got were a mixture of awe and pride. We've all heard that Ben Simmons has 'it', whatever 'it' is, but it was only at that moment that it was evident. Whatever 'it' is, Simmons has it in bucket-loads.
Ben Simmons | Photo credit: Jasper Cicero, LSU Basketball
---
[dropcap] T[/dropcap] his trait is just one of many reasons why Simmons is a projected top-3 pick for the 2016 NBA Draft. If all goes to plan, Simmons' freshman year at Louisiana State University (LSU) will be his only year, so the incentive is there to make sure that he gets as much out of the experience as possible.
His first stop? Australia.
For international student-athletes, attending college in the United States is usually a way to be among new surroundings and experience a different culture.
Not for Simmons.
Having already established a sterling reputation in the US, after spending his formative years playing high school basketball at Montverde Academy, Simmons has the unique opportunity of beginning his college stint where it all began.
I never would've thought I'd be coming back [to Australia] and playing my first college game, but I'm really excited to come back, and especially play in Melbourne and Sydney. It's exciting to go to all of the places I've grown up playing over the years, to finally be able to show everyone back home what I've been working on and how much I've developed.
Simmons returned to Newcastle on Saturday night, playing in front of a sold out crowd at Newcastle Basketball Stadium - an arena his father, Dave Simmons, was a regular, playing for the NBL's Newcastle Falcons.
Despite growing up in Newcastle, Ben Simmons actually spent his teenage years in Melbourne, Victoria, attending Box Hill Senior Secondary College. LSU will have the opportunity to play two games in Victoria, one of which will be at Melbourne's Hisense Arena - a 10,000 seat venue that hosts some of the biggest events in the country.
Playing at Hisense [Arena] will be special, kind of like when I played in Canberra for the Australia vs New Zealand game, but it'll be different just because I know a lot of people who are going.
---
Ben Simmons at Montverde Academy
[pullquote-right]"Did I know he'd be the number 1 player in the country? No, I didn't know that. But what I did do was try to gauge him in comparison to guys like Patty Mills and Matthew Dellavedova, whom I was fortunate to coach at Saint Mary's, and I thought, even though those guys were great coming out of high school, with Ben's size and athletic ability, and the base that he had, he was going to be well prepared to be a really good college player." - David Patrick, LSU assistant coach[/pullquote-right]
[dropcap] W[/dropcap] hen entering Montverde Academy in January of 2013, Ben Simmons was somewhat of an unknown. There was talk amongst those in-the-know that he may develop into an elite player, but no one would have imagined that he would become as highly touted as he is today. Even the coaches at LSU, who have had a relationship with Simmons from the first time he dribbled a basketball, weren't able to predict the extent of Simmons' stardom.
Simmons gave us glimpses of the player he might be. It began from his time in the US in 2013, helping Montverde Academy complete a national championship run, an achievement that would become something of a trend throughout the rest of his time at the school.
The rest of Simmons' time at Montverde would be a wild ride, as he quickly became a household name in the United States. Fans and scouts filled stadiums all over the country just to get a glimpse of the Australian star. Simmons was the consensus top-ranked player in the country - and arguably the world - so, along with the many accolades, he received media attention that would rival even the most established sportspeople.
High school's been crazy, I've had a lot of media since my sophomore year so I'm kind of used to the media attention. It was crazy when I had little kids waiting outside the locker room as a sophomore, and then my senior year, I used to come out of the locker room and it would just be packed. I couldn't leave for about an hour because there were so many people waiting.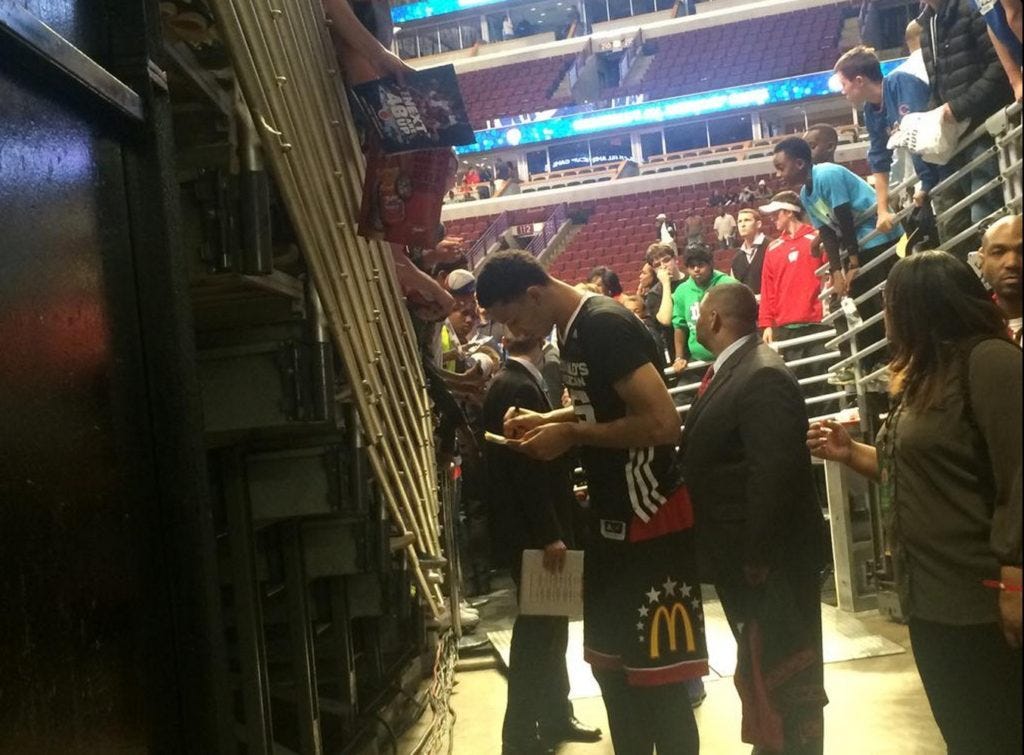 Simmons committed to LSU toward the end of 2013, which was a shocking decision. Not only because the calibre of programs that showed interest in him, but because it was unusual for such a highly ranked prospect to commit so early in his high school career. To Simmons, it felt like a perfectly logical decision.
I had no worries throughout my high school, because I knew where I was going to college. I didn't have to worry about talking to coaches, I was just focused and ready to get to LSU.
Simmons' relationship with assistant coach David Patrick has been well-documented as one of the primary reasons for his commitment to LSU. Patrick played professionally in Australia with Dave Simmons, and is Ben's godfather, often referring to Ben as his 'little brother'.
Coach [Johnny] Jones is a great coach. Dave Patrick was definitely the main reason [I committed to LSU], because he's family.
---
[dropcap] H[/dropcap] aving been on LSU's campus since the beginning of summer, Simmons is slowly getting accustomed to his new lifestyle. After a gruelling high school schedule, along with an AAU schedule that saw him travel to virtually every corner of the US, Simmons is happy to be settled into his new home, and just relax.
Rest and focus is of the utmost importance this year. With the probability of Simmons only playing one year of college basketball, he's determined to put in as much work as possible to make this upcoming season a success, already improving his body, physically, in the short time he's been on campus.
I think my strength [has improved], working with the coaches, I've definitely gotten a lot stronger over the few months I've been there. My IQ of the game has also gotten a lot higher. Playing with a lot of older, mature guys who are seniors and juniors now, I think has helped me develop and mature a bit more. I've also been working on being a consistent shooter, definitely. Pulling up off the drive, and threes.
Despite being a freshman on the team, Simmons feels as though he has the opportunity to be a great leader throughout the season. As the undoubted anchor for Montverde Academy in his last two seasons - both of which ended in a national championship - he has the ability to lead the squad, on and off the court.
I definitely think I could be a good leader for this team. I think you're either a leader or you're not. So, for me, I'm definitely a leader as soon as I step on the court.
---
Ben Simmons with his parents, Dave and Julie | Photo credit: Corey Sipkin/New York Daily news
[dropcap] O[/dropcap] ver the years, Simmons has been praised for his endeavours off the court, whether it be the work he does with his community, or simply the way he conducts himself in the public eye.
A lot of credit goes to his family - particularly his parents, Dave and Julie, who have managed to keep their son grounded - a difficult task, considering the immense hype that surrounds a player of Simmons' calibre.
My parents always bring me down when all of this stuff is happening so it's good for me to just be around them and get back to reality. I'm fine with [the spotlight], I expect certain things of myself and as long as I'm happy with that then I'm fine. I don't let pressure usually get to me, so I just go with it and take it day by day.
[pullquote-right]"I'd like to give Ben a great deal of credit, but you have to certainly talk about his parents. What a great job Julie and Dave Simmons have done with him and his family, in terms of rearing him into making sure he continues to stay grounded, and then he's someone who's hungry to get better, but very humble." Johnny Jones, LSU head coach[/pullquote-right]
As a winner of the 2015 Morgan Wootten Player of the Year award, Simmons was recognised for his contribution to the community. 'Basketball Buddies' is a program at Montverde Academy where Simmons had a chance to mentor fourth- and fifth-graders. Another important part of Simmons' service to the community was his visit to the Ronald McDonald House in Chicago during the McDonald's All American event. "Basketball is a small part of it. Off the court, it's much bigger than that. People are going through stuff that's way bigger than basketball," Simmons explained.
Ben Simmons with Brian (left) and Bradley (right) Godish at the Ronald McDonald House in Chicago
---
[dropcap] T[/dropcap] he future is practically mapped out for Simmons. After his freshman year with LSU, he'll more than likely declare for the 2016 NBA Draft where, if things remain the same, he has a chance of being the first overall pick.
Some motivation was added to his already gleaming NBA dream when D'Angelo Russell, whom Simmons was a teammate at Montverde Academy, was drafted by the Los Angles Lakers, earlier this year.
It was awesome seeing D'Angelo [Russell] get drafted, I stayed in the same room as him, the same dorm-room when he was a senior and I was a junior. So I think it's just refreshing to see somebody that put in the time and work who's actually made it. I've seen him a few times, since. In LA, I went over there for a few camps, and we speak on FaceTime every now and then.
Simmons also has his sights set on playing for the Australian Boomers again, with the 2016 Olympic Games in Rio de Janeiro being a goal for him. It's not yet confirmed that he'll be able to commit to the campaign, with a multitude of other commitments likely in his path, but it is something he expressed a lot of interest in being a part of.
I'll see if I can play [for the Boomers, next year]; hopefully I have time because it would be a perfect situation. I'd love to play in Rio and hopefully bring back a medal, but I think in the future I'll definitely be playing in a couple of [Olympic games].
---
Ben Simmons, coach Johnny Jones and Darcy Malone | Photo credit: Jasper Cicero, LSU Basketball
It's often tough to remember that Ben Simmons - colloquially known as 'Benny' - is just a tender 19 years of age.
For someone who has only recently finished high school, his achievements are innumerable.
In the midst of the Olympic qualifying campaign for the men's and women's Australian national basketball teams, an event that, to be fair, has garnered a lot of media attention, the majority of the focus has been centred elsewhere. It's been focused on this one athlete - Ben Simmons.
A star in the making? For all intents and purposes, Ben Simmons might very well already be one.