The Australian All American: Ben Simmons talks Montverde, LSU and Australian Boomers
Ben Simmons' illustrious high school career is coming to an end.
Photo credit: McDonalds
This week's McDonald's All American event in Chicago is arguably the most esteemed of the 'All-Star' events in high school basketball. As much as it is engaging and entertaining by nature, the event was a relatively insignificant stepping stone for Simmons, who's already looking ahead to what the future has in store.
The 6'10 forward out of Melbourne, Australia has accomplished more than what was expected of him: The Morgan Wootten Award, Gatorade Player of the Year award, Naismith Trophy, Nike Hoop Summit Participant, McDonald's All American, ESPN's #1 ranked player, FIBA U17 World Championship silver medalist and two-time National Champion with Montverde Academy.
Now he has the chance to finish his high school career on the ultimate high – by winning the DICK'S National Championship for an unprecedented third time in a row.
Photo credit: McDonalds
Simmons' East squad was ultimately the victor of the McDonald's All American game, defeating the West squad 111-91. Simmons posted a respectable 7 points, 10 rebounds & 3 assists.
Chicago was a hectic media storm this week, and it was fortunate that I managed a one-one-one with Simmons to talk about the McDonald's All American game, Montverde Academy, his aspirations for LSU, and lastly, his future with the Australian national team.
---
[dropcap]H[/dropcap]aving lived in the tropical climes of sunny Florida for almost three years, Simmons' first reaction on arriving in the aptly-named Windy City was exactly what one would have expected.
So far, it's been cold. It's busy though. I've been enjoying it, it's been fun.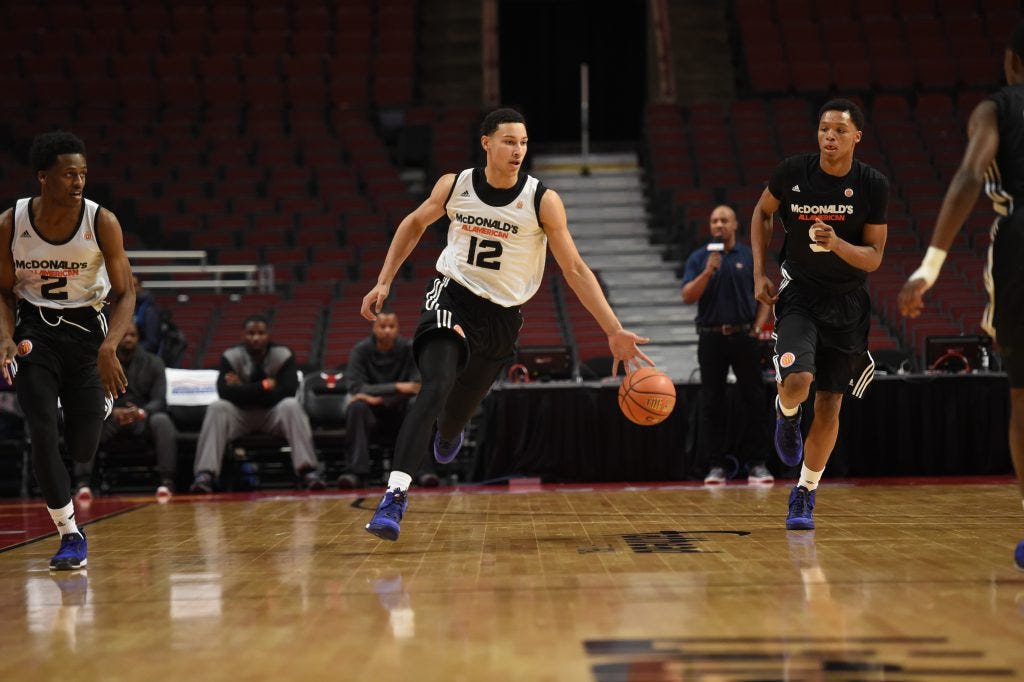 Photo credit: McDonalds
Having participated in a number of elite camps before, the 18 year old Simmons is no stranger to these events.
The 2012 adidas Nations camp was when Simmons officially broke out. Over the course of that camp, he garnered the immediate and undivided attention of every top college in the US with his impressive combination of size and athleticism.
[pullquote-left]"The experience has been different. Playing in this event has been great. I played in the Jordan Brand event as an international player but that's much different to this.[/pullquote-left]
It was January of 2013 when Simmons joined Montverde Academy, and he would increase his stock even more by participating in the Jordan Brand Classic International Game in April that same year.
Simmons mentioned how unique the McDonald's All American event was, while also playing down its significance somewhat. He also made sure to reiterate his focus toward his third and final national championship run.
My mindset going into the game is just to have fun, but at the same time I've got the national tournament coming up on Thursday so I just have to be ready for that. Stay focused. I have to stay off my feet and try to save my body, but not too much - I still have to play one game but for me it's just being in the right mindset and staying prepared.
Simmons boarded a plane to New York City at 5am on Thursday morning - the morning after the McDonald's All American game - to join his Montverde squad as they face Greensboro Day at 4pm that same day.
---
[dropcap]T[/dropcap]he first activity during the McDonald's All American event was a visit to the Ronald McDonald House near Lurie Children's Hospital in Chicago's Streeterville. It provided an opportunity for the athletes to give back to the community, while boosting the morale of the patients of the 24-hour facility, which features 13 staff members and 400 active volunteers.
Ben Simmons with Brian (left) and Bradley (right) Godish | Photo credit: McDonalds
As a winner of the Morgan Wootten Player of the Year award, Simmons was recognised for his contribution to the community. 'Basketball Buddies' is a program at Montverde Academy where Simmons has a chance to mentor fourth- and fifth-graders.
[pullquote-right]"Basketball is a small part of it. Off the court, it's much bigger than that. People are going through stuff that's way bigger than basketball so going to the Ronald McDonald House was big for me."[/pullquote-right]
The visit to the Ronald McDonald House was important for Simmons, who immediately had a connection with 4-year old Bradley Godish, who is recovering from a stem cell transplant and chemotherapy treatments that combat acute myeloid leukaemia, a disease that produces abnormal white blood cells and crowds out healthy ones.
---
[dropcap]A[/dropcap]fter an early exit from the 2015 NCAA Tournament, LSU can enter the off-season in peace. This feeling likely stems from the knowledge that they will be welcoming someone, who is the consensually agreed number 1 player in the nation.
Simmons committed to LSU toward the end of 2013, a shocking decision considering the calibre of programs that showed interest. With Jarell Martin and Jordan Mickey - two of LSU's seasoned front-court players - declaring for the 2015 NBA draft, this opens up the opportunity for Simmons to step right into a significant role on the squad - a challenge that he's looking forward to.
It just means more playing time for me. I guess I have to do more on the court now, but I'm ready for that challenge.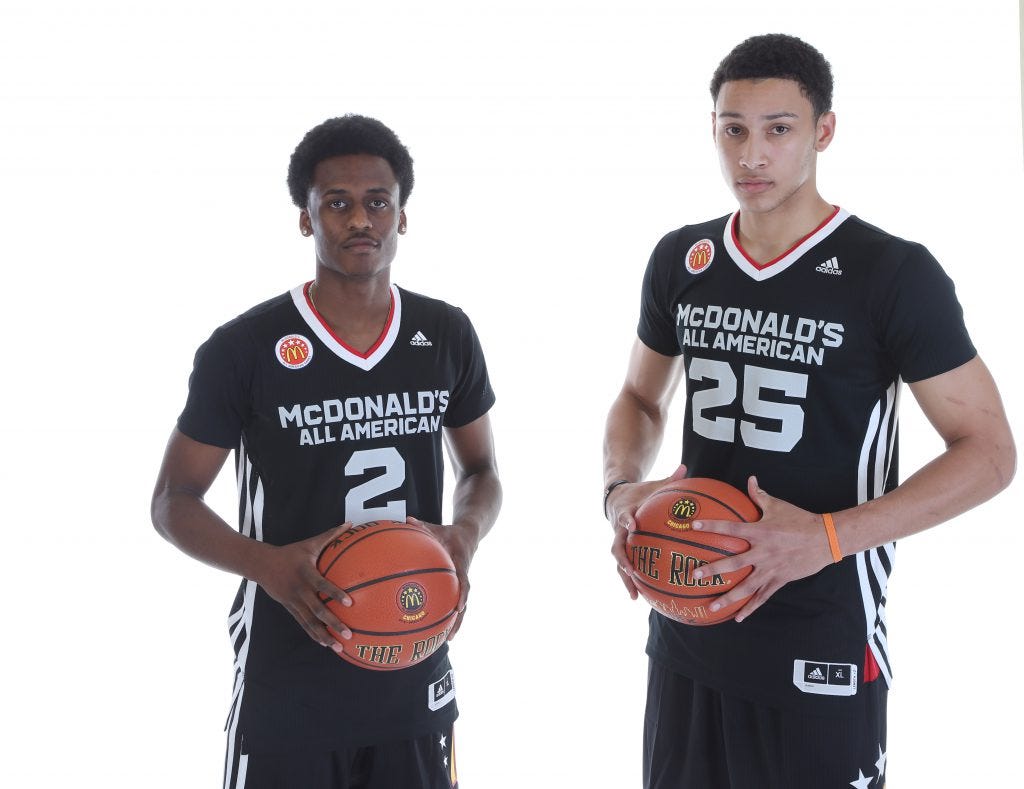 Antonio Blakeney & Ben Simmons | Photo credit: McDonalds
[pullquote-left]"Antonio's a hard worker so I think he's going to push me and I'm definitely gonna push him to get better everyday. Just to be leaders when we get there, even though we're freshmen, we'll be able to lead."[/pullquote-left]
Joining Simmons at LSU is E1T1 teammate, and fellow McDonald's All American, Antonio Blakeney. The 6'4 guard has developed a close relationship with Simmons, with both of them attending high school in Florida while competing on the same AAU team - Each One Teach One (E1T1).
Simmons noted Blakeney's work ethic as an important factor heading into LSU, with the two seemingly showing no concern with the prospect of leading the team as first-year athletes.
Another aspect of the college game that Simmons will have to adapt to is the increased physicality. For someone who has been described as 'positionless' due to his unique skill-set for his size, Simmons is looking to take full advantage of this versatility.
Definitely looking forward to the physicality. I know how to use my body in the air so I think, once I get to that level, when I have a bigger guy on me on the wing, it'll definitely be a matchup problem for them.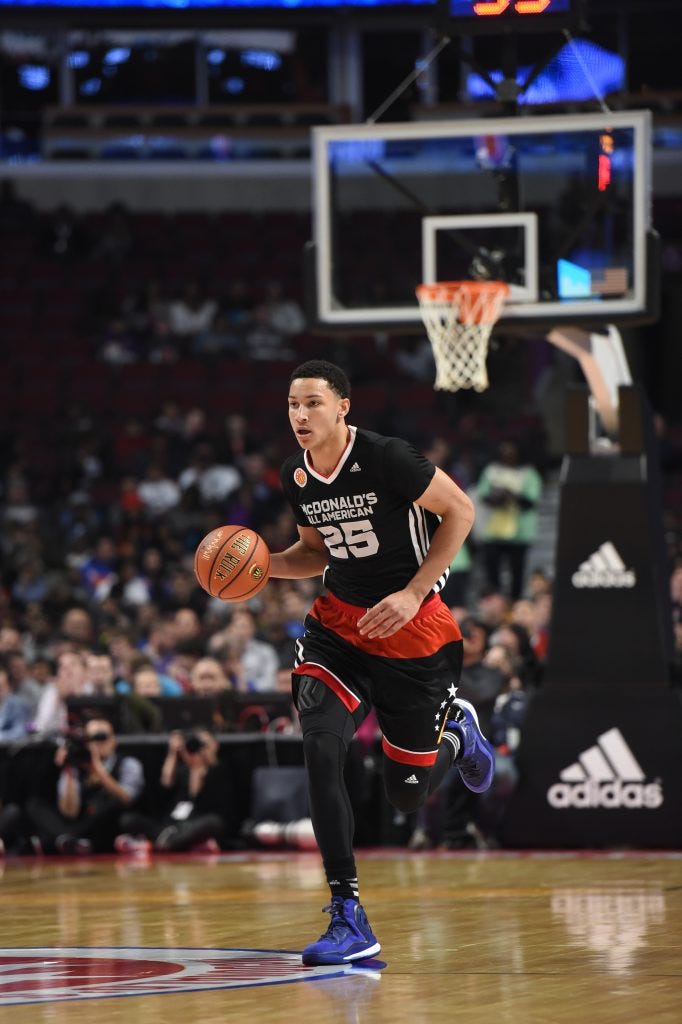 Photo credit: McDonalds
[pullquote-right]"There's no question that he has a handle. Whether he's bringing it up, like Scottie Pippen, his game will have to evolve to that, but as far as handling the ball and making plays within a half-court offence he can certainly play the point." - Coach Bruce Kelley[/pullquote-right]
In his senior year at Montverde, Simmons has excelled playing the point forward role - bringing the ball up the floor and creating plays in transition. Bruce Kelley, the head coach of the McDonald's All American East squad, mentioned this as one of Simmons' strengths and something that can evolve into an extremely effective weapon.
LSU alumnus and NBA legend Shaquille O'Neal famously proclaimed Simmons as 'best player in the world' when the Aussie signed his national letter of intent to join the Baton Rouge program. Although Simmons appeared flattered by the comment, he's adamant that he won't become complacent.
It's cool because it's not coming from me, it's coming from him. People can say what they want but, at the end, I have to bring it.
---
[dropcap]S[/dropcap]immons will be back in Australia in August while on tour with LSU - a team that will also feature fellow Australian, Darcy Malone.
Earlier this year, Simmons stated that he wouldn't be a part of the Australian U19 Emus campaign in June/July this year, opting to focus on enrolling at LSU. It still remains unclear whether Simmons will be available for the Australian Boomers' qualifying series against New Zealand, despite his plans to be in Australia during the event. When asked about participating in the event, Simmons mentioned his desire to play but that college basketball takes precedence.
It'll definitely be hard because I'll be going into college, and I think that's my main focus - school and playing. I definitely want to be a part of it but, right now, I have no idea.
Photo credit: Basketball Australia
[pullquote-left]"As soon as I'm able to put on that jersey for my country in the Olympics, I'll do it. I'll be a lot bigger and stronger. I think I can definitely be one of the main guys in that team. A gold medal will always be the goal when going to the Olympics. I'm always going in with that mindset. You never want to go in thinking you're going to be second."[/pullquote-left]
There is one thing we can be sure of. When the 2016 Olympics come around, Ben Simmons wants to be a member of the squad. More importantly, he's one who will be able to bring an impact to the team.
Changing the culture of Australian basketball is also important to Simmons. Possessed of an all-or-nothing mentality, he is not content to wallow in mediocrity, but strives to be the best.
---
[dropcap]T[/dropcap]he success that Simmons has achieved is something that is rare for any high school prospect, let alone one from Australia. When asked what the most important moment of his career was thus far, he mentioned how honoured he was to receive a multitide of individual accolades toward the end of his senior year.
Going to all of the award ceremonies: the Gatorade player of the year and the Naismith Trophy ceremony in Georgia. That was big for me.
Photo credit: McDonalds
Despite this unparalleled success, Simmons' support system is always around to make sure that he remains grounded.
It's been big for my family to be around. They always bring me down when all of this stuff is happening so it's good for me to just be around them and get back to reality.
When asked if he had any regrets over his short career, Simmons' answer was firm, and unwavering.
Definitely not. I wouldn't have done anything differently.