Discover more from The Pick and Roll
We're all about Aussie hoops. Independent, objective analysis and commentary. Insightful narratives built around Australian basketball. Read about our men and women in the NBA, WNBA, NCAA, Europe, national teams, NBL, WNBL, NBL1, prospects and more.
Over 2,000 subscribers
Ben Simmons' resurgence delivers the spark his 76ers needed
PHILADELPHIA – A steely resolve emanated from Ben Simmons, as he addressed reporters before the game tipped off.
Simmons sat down, twirled his phone in his hands, while deflecting questions from the assembled media. The Melbourne native rebuffing his ritualistic pregame interrogation is nothing new; in some ways, it has come to define his persona here in Philadelphia.
But the tone of disquiet emanating in Philadelphia these past two days? That, has been something completely foreign.
Following Saturday night's disappointing performance against the Charlotte Hornets, there was a sense of disappointment at Simmons. Maybe, frustration is the better word here. Sixers fans have long been nothing but resilient, enduring their team's arduous rebuild while chanting "Trust The Process" through seasons of mediocrity. It's unsurprising that they had expected more than a career worst-shooting display from their star point guard, when matched against a middling Eastern Conference foe.
Struggling against the Boston Celtics in the postseason is one thing. It represented an NBA rite of passage. Saturday night was different. The overworn narratives about jump shots and shooting splits had invaded the discussion. In a manner unseen during much of Simmons' professional career, the local narrative was questioning and probing, as opposed to praising the talents of this 208cm point guard.
There are a series of legitimate reasons that can explain Simmons' indifferent start to the season. The same goes for his franchise. There have been a myriad of issues plaguing the Sixers: the growing pains of integrating Markelle Fultz, flailing transition defence, countless miscommunication issues, pesky ailments to rotation pieces and so on. The excuses for Brett Brown's team are valid.
It's exactly why tonight's home game against the Atlanta Hawks was ever so appetising. The Hawks are lottery-bound. While a victory wouldn't prove anything for the Sixers, it would surely help stabilise their shaky start. And yet, scores were tied at halftime. Simmons had been held to a meagre six points and the Wells Fargo Crowd? Well, they were restless.
In that moment, Simmons' pregame mood looked, in hindsight, to foreshadow another difficult post-game news cycle.
"I think we just needed a spark," Simmons said after the game, of his mood heading into the third quarter.
He was definitely correct. Better yet, he was able to deliver the perfect antidote to the Sixers' woes. It came in the form a transformative eruption akin to those that defined his rookie season.
---
Simmons's third quarter of basketball was the best of his season so far. That is the elevator pitch for his performance.
Fifteen points and three assists in seven minutes and 38 seconds is what the box score will tell you, although a level of nuance is needed to do this Simmons outburst, true justice.
Simmons scored or assisted on every point Philadelphia scored while he was on the court during the third quarter. He was instrumental in propelling the Sixers to a decisive 17-4 run that broke the Hawks. Brown praised Simmons' third quarter display, but the ultimate admiration came from across the hallway.
Atlanta Hawks head coach, Lloyd Pierce, coached Simmons as an assistant on Brown's staff last season. Making his first trip back as a leading man, Pierce got a taste of life on the other side.
"Simmons has a second gear that a lot of people in this league don't have," Pierce said.
"I thought that was the key for them coming out, his pace, his attack mentality and then they were just able to find shooters."
As he did two nights ago, Simmons got into the paint. His field goal attempts, all of them, came from the exact spots he struggled against Charlotte.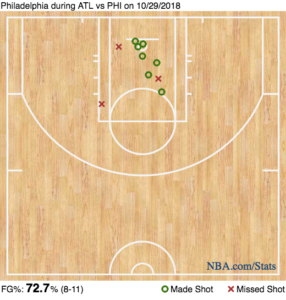 On paper, these are the same attempts he struggled to convert on Saturday night. A full understanding of all those little green dots however, requires context. There was a different level of assurance from Simmons against Atlanta. He was calm in situations, where he was previously rushed. It helps that the Hawks roster is limited in ways most other teams are not. Inadequacies of the opposition notwithstanding, Simmons showed his finishing polish around the basket. Regardless of opponent, plays like this are attributable to personal talents.
https://gfycat.com/gifs/detail/mediocrefluidbaboon
Simmons finished with a season-high 21 points and 12 rebounds. The point total represents his 21st game of his career with 20-plus points, and it is his first such game this season. His season-high point tally is indicative of the Sixers' improved performance as a team, too.
Brown has preached patience through the season's first fortnight. He remained confident that the aggressive disposition shown by Simmons and the Sixers would soon translate into victories. On this night, he was proven prophetic.
A quick note on Joel Embiid: the box score doesn't reveal an epic output from the All-Star, but he was vital in putting the Sixers, and especially Simmons, in positions to succeed. He finished with six assists of his own.
https://gfycat.com/gifs/detail/vengefulshimmeringasiantrumpetfish
"I think Ben jumped in, I don't know how many points he had, but he jumped in in the third quarter, " Brown explained.
"A lot of it had to do with Joel's unselfishness. Really, we did a good job of focusing on transition defense and rebounding.
It was only one second-half burst. It was only against the Atlanta Hawks. Yes, there are still reasons to question the Philadelphia 76ers. And yet tonight is reason for optimism, when it comes to Ben Simmons and the Sixers' prospects this season.
Maybe, just maybe - this will be the start of a surge up the Eastern Conference standings, a surge the city of Philadelphia longs for.