Discover more from The Pick and Roll
We're all about Aussie hoops. Independent, objective analysis and commentary. Insightful narratives built around Australian basketball. Read about our men and women in the NBA, WNBA, NCAA, Europe, national teams, NBL, WNBL, NBL1, prospects and more.
Over 2,000 subscribers
Basketball Without Borders Asia kicks off in Dandenong
The NBA has kicked off Basketball Without Borders Asia in Dandenong today. In conjunction with the NBL and FIBA, Australia's brightest basketball stars, along with legends of the game from around the world, came together to host the top young players from Asia.
Australians Patty Mills, Joe Ingles, Aron Baynes, Dante Exum, Andrew Gaze and Lauren Jackson are attending the four-day event, along with a host of NBL players. NBA legend David Robinson, and current Milwaukee Buck Khris Middleton, are also here to pass on their knowledge of the game and inspire the next generation.
It is not just great players who are in attendance, but some of the best coaches from around the world are also helping out. Melbourne United head coach Dean Demopoulos, Boston Celtics assistant coach Jay Larranaga, and former NBA player and current Toronto Raptors assistant coach Jerry Stackhouse are all down under to help develop some of the young talent in Asia.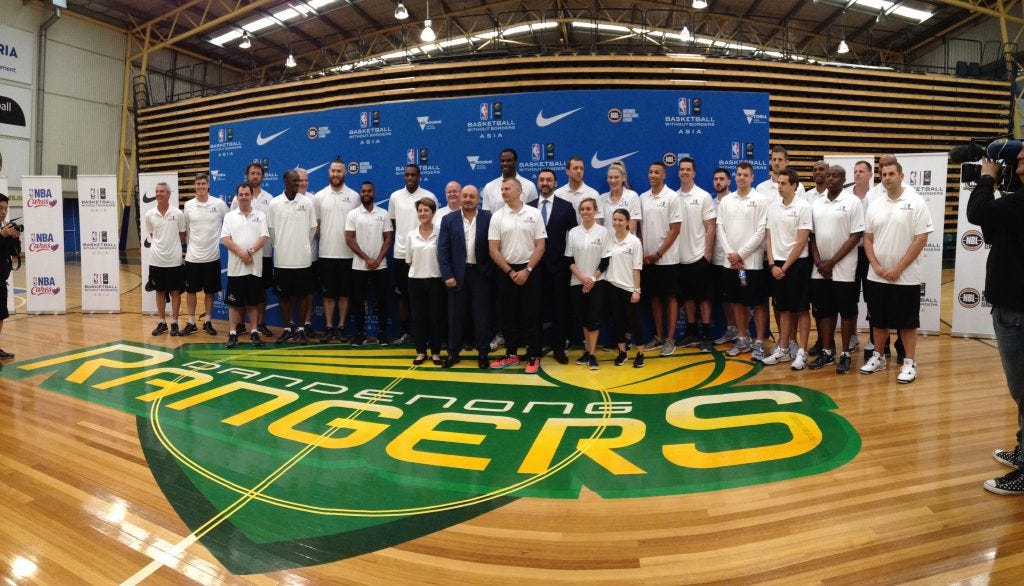 The camp is not solely focused on improving skills on the court. Learning skills off the court are just as important. Improving young lives through basketball is key to the Basketball Without Borders experience.
The landmark event, the first of its kind being held in Australia, further solidifies the pathway for Australian players into the NBA. Not only now is the NBA dream closer than ever for Australian players, the connection between the NBL and the NBA is stronger than ever.
San Antonio Spurs legend, and member of the 1992 USA Dream Team, David Robinson relayed his positivity towards the program and Australian basketball. "It's nice to be a part of that continued growth," further stating, "it's pretty obvious that Australia is a force on the international stage."
Boston Celtics assistant coach, Jay Larranaga, spoke about being in Australia for the first time. "It's been great so far. The first time I heard about Australian basketball was in 1998. I was playing in Italy against Chris Jent, and Chris had played in Australia and he just talked about how much he loved the country and how good the basketball was. Since then I've always wanted to come here. It's exciting."
When asked if he had noticed more Australian's on NBA team's radars, and being viable options, Larranaga replied emphatically, "No question… Australians are fun to watch." Joe Ingles piqued his interest after watching him play for Australia in 2014. Unfortunately for Boston, Utah snapped him up.
The camp, which will run all weekend and conclude in Geelong with the All Star Game on Sunday, is sure to provide a great few days for the campers, players and coaches.