Discover more from The Pick and Roll
We're all about Aussie hoops. Independent, objective analysis and commentary. Insightful narratives built around Australian basketball. Read about our men and women in the NBA, WNBA, NCAA, Europe, national teams, NBL, WNBL, NBL1, prospects and more.
Over 2,000 subscribers
Ben Simmons on target to become Australia's most prolific scorer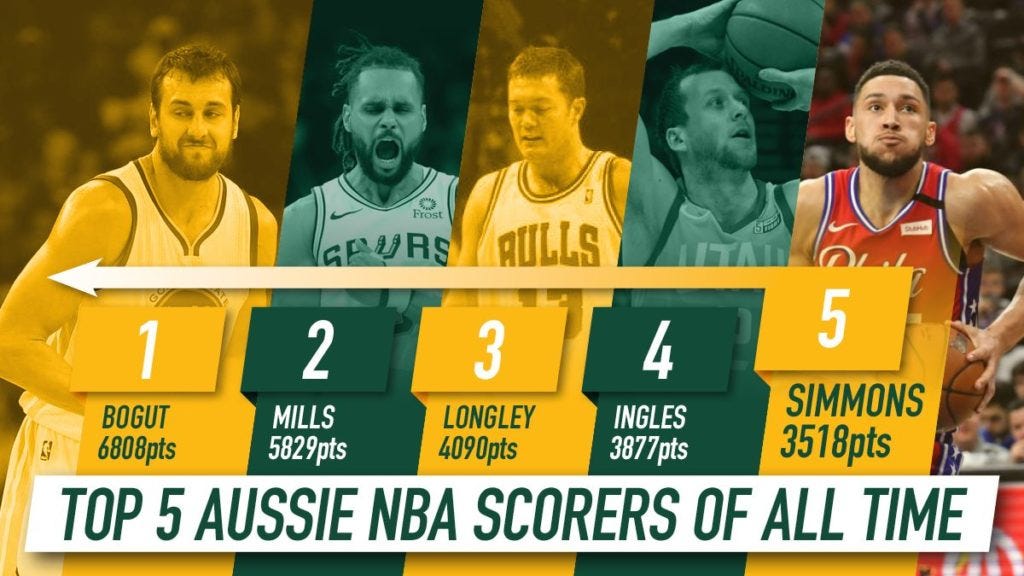 Three active Aussies who stepped out onto the NBA hardwood during the 2019/20 season have worked their way into the all-time top five scorers by total points scored from down under, and one of them is set to surpass them all.
Ben Simmons is already Australia's biggest star – he is the only ever All-Star and only ever Rookie of the Year winner to come from down under. The 6'10 point guard dominates opposition with incredible court vision and versatile defence, with the majority of his scoring coming in the form of fast breaks, mismatches and his ability to finish at the rim. He is already fifth on the all-time scoring list for Aussies (when you exclude Kyrie Irving), and barring any outrageous occurrence, he is set to become Australia's most prolific scorer in the NBA, ever.
Simmons has moved into fifth place in the list of all-time Australian NBA scorers, easing past Aron Baynes at a rate unmatched by any other Aussie. He is now just 3,290 points behind current leader, Andrew Bogut, who has amassed 6,808 points throughout his 14-season career. Bogut, who will likely never play another NBA game, will also soon be surpassed by Spurs guard Patty Mills.
Mills has logged 5,829 points to date, less than 1,000 behind Bogut, while averaging around 763 points a year across the last five years. At 31 years of age, Mills is likely to end up with more than 8,000 points. With his scoring predicated on shooting rather than reliance on his speed, it is an indicator that his game is unlikely to deteriorate rapidly as he ages.
With Mills' current scoring trajectory, Simmons will need to score at least 5,000 more points to become the all-time Aussie leader in scoring in the NBA. Presumably, Simmons will most likely do this in five more seasons, and if not in that time, then certainly in the couple of years after that. If Simmons were to average his 2019/2020 point per game of 16.7 for the next five years, while suiting up at a conservative 60 games, he would score 5,010 points, propelling him into standalone pole position.
The projections made on Simmons are ultra conservative. There has been no allowance for any increase in his scoring output as he matures and his offensive repertoire expands, especially considering the lack of three-point shot in his career to date (which, we could be closer to seeing). On top of that, playing more than 60 games per season is something one would hope he is likely to eclipse multiple times across the next five years. Apart from sitting out his first season and incurring a back injury this year, Simmons has shown he can be durable; playing 81 and 79 games across his first two seasons, respectively.
While it is almost certain Simmons will come out on top eventually, there will also be some other changes to the top five.
Joe Ingles is currently in fourth place, less than 2,000 points behind Mills. 'Slow-Mo Joe' averages about 646 points a season, and with a few years left on his contract, it is quite possible he ends up scoring around 1,800 more points. Considering Mills averages more and is slightly younger, it's hard to see a world in which Ingles overtakes Mills, or even Bogut for that matter (who is around 3,000 ahead). Yet, it's almost guaranteed he will move past retired champion Luc Longley, just a mere 200 points ahead at the present time.
If Matthew Dellavedova plays for another seven years while maintaining his scoring average of 5.6, there is a chance he overtakes Longley too, and rounds out the top five. At 29 years old, that is not a certainty by any means, especially considering his scoring average has dipped to 3.1 for the 2019/2020 season.
Dante Exum still has potential, and one could argue that if he starts clicking he could really be a threat to the top three, even. At his new home he has shown some signs of blossoming into the player some thought would be a star in the league, but has mostly been inconsistent to date with limited opportunities.
Expected first round 2020 draftee Josh Green could make some noise as a '3 and D' player in the league. If there's anything the last decade has taught us, it's that these sort of players are crucial for teams that want to succeed. So it wouldn't be a surprise if in five years Josh Green is already knocking on the door of the top five Aussie scorers as we look to the future, but that is a topic for another day.
For now it appears Simmons is destined to stand alone as the most prolific scorer in the NBA from Australia. Let's all sit back and enjoy the ride.