Discover more from The Pick and Roll
We're all about Aussie hoops. Independent, objective analysis and commentary. Insightful narratives built around Australian basketball. Read about our men and women in the NBA, WNBA, NCAA, Europe, national teams, NBL, WNBL, NBL1, prospects and more.
Over 2,000 subscribers
Australian teams named for FIBA3X3 World Championships
Australia's U18 and Open women's teams have been named for their upcoming 2017 FIBA3X3 World Championships. A talent-laden Open women's team has been selecting, boasting an experienced WNBL line-up, while the U18 women's team is full of rising stars.

Former Perth Lynx and now Dandenong Rangers star Carley Mijovic headlines the team that also features her new Rangers team-mate Amelia Todhunter, Melbourne's Rebecca Cole and Bendigo's Nadeen Payne. It is a versatile team that will head to Nantes, France from June 17-21, with Basketball Australia's General Manager of High Performance Jan Stirling explaining the challenge ahead and how the team was selected.
"The competition will be fierce but we know these players will equip themselves well in a format of the game that is gaining momentum as a high-performance pathway," said Stirling in Basketball Australia's official release.
"The selection process involved nominations from all WNBL club head coaches before a panel of current WNBL coaches with input from former Opals coach Carrie Graf identified the team."
In 2016, Australia narrowly missed the quarterfinals, an outcome that they will be looking to improve upon as well as their current 19th world ranking. In France, they have been drawn in Pool C and will take on 6th ranked Ukraine, China (11th), Japan (14th) and the Netherlands (3rd) across three days before all finals are played on June 21. It will be a tough group to qualify for the quarterfinals from, but a challenge that this experienced and balanced line-up can tackle.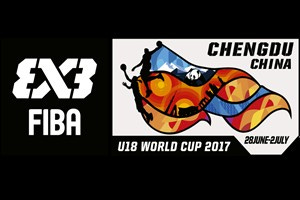 Exciting young talent features in the U18 women's team, with Victoria's Lana Hollingsworth joined by Queensland trio Ula Motuga, Alexandra Fowler and Rashada Kaigey. The quartet are set to pull on the green and gold as they aim to improve upon the bronze medal won in 2011.
To be hosted by Chengdu in China from June 28-July 2, the 16th ranked Australians have drawn number 1 ranked Hungary, 8th ranked USA, Switzerland (9th) and Japan (17th) in Pool A. Based on rankings, they face a difficult, yet not insurmountable challenge to progress to the quarterfinals.
Teams must finish in the top 2 places in their Pool if they are to advance to the quarterfinals.
Australia was unable to qualify any men's team for the event due to their lowly world ranking, ultimately a combination of a lack of events being staged and not enough players participating. The 3x3 Individual World Ranking takes into account the number of points collected by players across the last 12 months. National Federations are ranked according to the aggregate points tallied by their Top 100 nationals in the 3x3 Individual World Ranking in each category (men, women, U18 men, U18 women), who have a confirmed 3x3planet.com account (more on this here). New Zealand who are ranked 20th qualified ahead of Australia who languishes in 56th place. New Zealand's U18 men are currently ranked inside the world top ten at 7, while Australia comes in at 36th.
3X3 basketball is slowly taking a hold in Australia, with 2017 CLB3X3 Summer Series Champions Townsville, spearheaded by former NBA player Luke Schenscher and NBL team-mate Peter Crawford, heading to Mongolia in June for a World Tour Qualifier and an opportunity to help boost Australia's ranking internationally.
---
Schedule | Australian 3x3 Open Women's FIBA3X3 World Championship (all times AEST)
June 18 | Australia vs Ukraine @ 1:20am June 18 | Australia vs China @ 2:50am June 20 | Australia vs Japan @ 2:00am June 20 | Australia vs Netherlands @ 4:50am June 21-22 | Quarter Finals (from 10:50pm) - Gold Medal Game (5:00am)
Schedule | Australian U18 Women's FIBA3X3 World Championship (all times AEST)
June 29 |Australia vs Switzerland @ 6:20pm June 29 | Australia vs Hungary @ 9:05pm July 1 |Australia vs Japan @ 8:30pm June 20 | Australia vs USA @ 9:40pm July 2 | Quarter Finals (From 3:45pm)- Gold Medal Game (10:00pm)
---
FIBA will be live streaming all games via their official FIBA3X3 YouTube channel.