Boomers in Europe: Ranking Australia's all-time 10 best seasons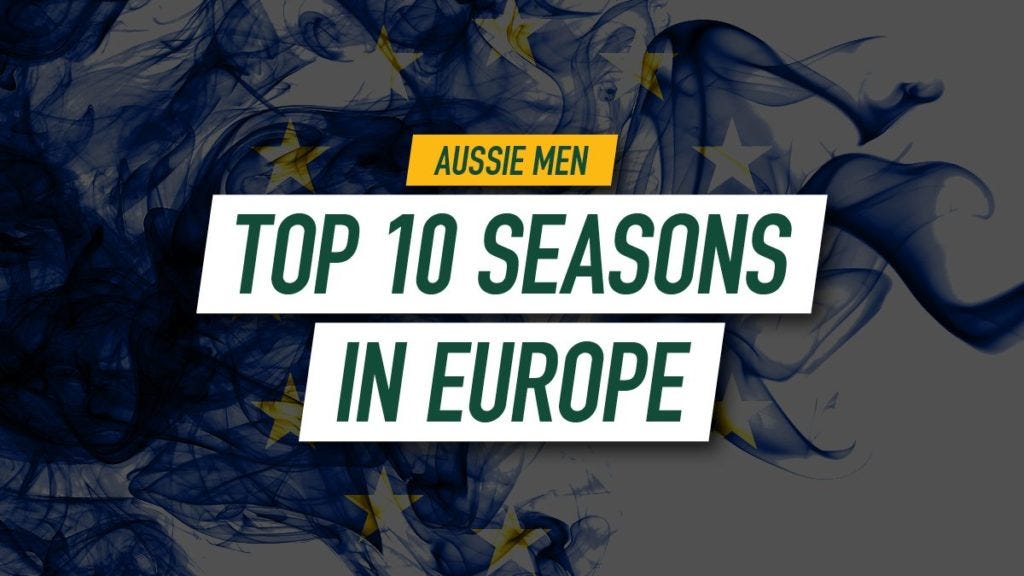 Australian basketball players have made their mark all across the world, from Europe to the NBA. Here are the Boomers' top ten European exports of all time, but with a twist. Rather than ranking players by their entire career, they will instead be ranked by their best season. For players that have had multiple great seasons, only the best one will be listed. This list takes longevity out of the equation and hones in on those who hit the greatest heights, adding a twist to the traditional way these rankings are done.
Note: For those unaware, the EuroLeague is the top-tier continental competition in Europe. The EuroCup is one tier below the EuroLeague. Players also compete in a domestic competition within their own country/region, on top of playing in a continental league such as the EuroLeague or EuroCup if their team qualifies.
Honourable mention: Shane Heal, 2003-04
Boomers legend Shane Heal had a brief stint with Greek club Makedonikos in the 2003-04 season. He immediately stepped into a major role, with averages of 17.2 points and 35 minutes per game in the Greek League. The four-time Olympian also averaged 15.8 points and 4.0 assists in nine EuroCup games, while playing 33 minutes each night. Unfortunately Makedonikos lost in the EuroCup round of 16 and missed the Greek League playoffs, but Heal certainly wasn't to blame.
Heal was on the verge of retirement, making this season a testament to his abilities. After retiring in 2004, he would later make a comeback in 2006 with the NBL's South Dragons, a newly-created team. Heal ultimately retired for a second time in 2009 with the Gold Coast Blaze. Madgen and Newley narrowly get the nod thanks to greater team success and efficiency.
10. Ben Madgen, 2016-17
Lithuanian League Runner-Up
A former member of the All-NBL First Team, Ben Madgen elevated his game to a new level in Europe. He was a standout in the 2016-17 season, helping Lithuanian club Lietkabelis reach the final of the domestic league. They were ultimately beaten 4-1 by a much-fancied Žalgiris Kaunas outfit featuring fellow Aussie Brock Motum, but managed an impressive win over Lietuvos Rytas in the semi-finals. Rytas would later poach Madgen ahead of the 2017-18 season.
Aside from his team's impressive domestic form, Madgen made some noise in the EuroCup. He averaged 13.7 points and emerged as one of Europe's top marksmen, shooting 48.4% from deep. Madgen spent two more years in Europe after his breakout 2016-17 season, before returning to his NBL roots. The 6'4 shooting guard joined the newly-created South East Melbourne Phoenix ahead of the 2019-20 season.
9. Brad Newley, 2014-15
EuroCup Runner-Up
Brad Newley enjoyed a nine-year European career spanning four countries - Greece, Lithuania, Turkey and Spain. In the 2014-15 season, he found his best form while playing for Spanish Club CB Gran Canaria. Gran Canaria made it all the way to the final of the EuroCup, with Newley averaging 12.1 points per game.
He was one of the league's most efficient scorers, shooting 50% from the field and 42% from three-point range. Gran Canaria were soundly beaten in the final by Russian club BC Khimki, but it was an achievement in itself to progress that far. Newley spent one more year in Spain, before returning home to join the Sydney Kings. The 35 year old is currently contracted with the Kings until the end of the 2020-21 NBL season.
8. Brock Motum, 2016-17
Lithuanian League Champion, Lithuanian Cup Champion
Brock Motum made the most of his one-year NBL stint with the Adelaide 36ers, during the 2014-15 season. He made the all-NBL First Team and caught the eye of Lithuanian giants Žalgiris Kaunas. The 6'10 stretch four promptly headed to Lithuania in 2015 and wasted no time in making himself known. In the 2016-17 season, he found himself the best form of his career as a sixth man.
Motum earned bragging rights over compatriot Ben Madgen, as Žalgiris won the 2016-17 Lithuanian League over Madgen's Lietkabelis side. He also made his mark on the EuroLeague, averaging 10.8 points per game on 46.2% shooting from downtown. The Brisbane native was later signed by Turkish powerhouse Anadolu Efes, before joining Valencia BC in 2019.
7. Aron Baynes, 2012-13
The 2012-13 EuroLeague season set the tone for Aron Baynes' career thus far. After signing with Slovenian club KK Olimpija in August of 2012, he needed just seven months to earn an NBA contract. The "Big Banger" averaged 13.8 points and 9.8 rebounds per game in the EuroLeague, and San Antonio took note. By February of 2013 Baynes was a Spur, beginning a seven-year NBA career (and counting).
The 6'10 centre was also impressive in the Adriatic League, where he averaged 12.6 points and 6.8 rebounds. Olimpija ultimately finished eighth on the ladder and missed the finals, where only the top four qualify, but Baynes' work was done. Fast-forwarding to today, he is now coming off a breakout 2019-20 season with the Phoenix Suns, and will be one of Australia's key players at the next Olympics.
6. Andrew Gaze, 1991-92
Five-time Olympian Andrew Gaze is best known for dominating the NBL in the 80s and 90s, collecting seven league MVP awards. A perhaps lesser-known fact about Gaze is that he was the first Australian to play professionally in Europe. He enjoyed a sixth-month stint in the Italian second-tier competition, representing Rex Udine during the 1991-92 season.
Unsurprisingly, Gaze was a dominant force, averaging 31 points per game. It wasn't enough to save his club however, as Rex Udine finished dead last among sixteen teams. Little is known about Gaze's mysterious season abroad, given that it was so long ago and few records exist. Nevertheless, in light of his gaudy numbers and trailblazer status, Gaze comes in at sixth on this list.
5. Ryan Broekhoff, 2017-18
All-EuroCup First Team
It's no secret as to why Ryan Broekhoff finally broke into the NBA in 2018. He was coming off a career year with Russian outfit Lokomotiv Kuban, who played in the EuroCup as well as the VTB United League. Broekhoff averaged 12.3 points and 5.5 rebounds per game in the EuroCup, while shooting an astonishing 50.6% from beyond the arc. The sample size was no joke either - he was taking over five threes each night on average.
Broekhoff's breakout season was rewarded with an All-EuroCup First Team selection. He became the second Australian to earn this honour, after Matt Nielsen in 2010. Chris Anstey likely would have done the same in 2003, but this honour didn't exist at the time. Broekhoff earned an NBA call-up with the Dallas Mavericks, playing 59 games before being waived on February 11, 2020. His future will be decided once basketball resumes around the world - a return to Europe may be on the cards.
4. Matt Nielsen, 2009-10
EuroCup Champion, EuroCup Finals MVP, All-EuroCup First Team
Throughout a nine-year European career, former Boomers captain Matt Nielsen had many seasons worthy of this list. However, we are only picking the best one. His 2009-10 season stands out from the others, as the 6'10 big man led Valencia Basket to EuroCup glory. The Spanish club won the final of Europe's second-tier continental competition quite comfortably, by a score of 67-44. Nielsen was named Finals MVP, and also made the All-EuroCup First Team, reflecting an outstanding season.
The three-time Olympian averaged 10.1 points, 5.2 rebounds and 2.6 assists per game in the 2009-10 EuroCup season. He would return to top-tier EuroLeague action the following season, with Greek club Olympiacos BC, before retiring in 2013 with Russian side BC Khimki. Neilsen would later embark on a successful coaching career with the Perth Wildcats, winning three NBL titles as an assistant. The 42 year old is currently based in the USA, having taken his coaching talents to Texas. Nielsen is an assistant coach for the Austin Spurs, San Antonio's G League affiliate.
3. Chris Anstey, 2002-03
EuroCup MVP, Russian League Runner-Up
Two-time NBL MVP Chris Anstey was no stranger to European basketball. He spent the 2002-03 season with Russian club Ural Great Perm, leading them to the final of the Russian League. Anstey couldn't inspire a win over heavyweights CSKA Moscow, but made his presence felt in the EuroCup.
Anstey led the EuroCup in index rating, a measure of overall performance similar to the NBA's PER (Player Efficiency Rating). He achieved this by averaging 18.9 points and 9.6 rebounds per game, as Ural Great made it to the knockout stages. Unfortunately the Russian outfit didn't go much further, as they suffered a loss in the round of sixteen. Anstey would later join another Russian team in UNICS Kazan, before eventually finishing his career with the NBL's Melbourne Tigers.
2. Aleks Marić, 2009-10
All-EuroLeague First Team, Adriatic League Champion, Serbian League Champion, Serbian Cup Champion, Serbian Cup MVP
Here's a name you probably weren't expecting to see. Aleks Marić was an absolute monster in the 2009-10 European season, representing Serbian club Partizan. He averaged 14.6 and 8.4 rebounds per game, while leading the league in player index rating. Marić was rewarded with a selection to the All-EuroLeague First Team, as he very nearly led Partizan to the final. The Belgrade club narrowly lost in the semi-finals by three points, before suffering an agonising two-point defeat in the third place match.
Marić picked up plenty of silverware in this season. Partizan won virtually everything except the EuroLeague, taking home the Adriatic League, Serbian League and Serbian Cup titles. The 6'11 centre was even named MVP of the Serbian Cup, at a time when he truly peaked. Unfortunately Marić never quite recaptured this form, but nonetheless enjoyed a long career in Europe. He retired from playing in 2017, and is now an assistant coach for the Sydney Kings.
1. David Andersen, 2004-05
All-EuroLeague First Team, Russian League Champion, Russian Cup Champion
David Andersen is the Boomers' greatest European export to date. He enjoyed a long and fruitful career across several countries - Italy, Russia, Spain, Turkey and France! The 6'11 big man burst onto the scene in 2001, winning a EuroLeague title with a Virtus Bologna side led by Manu Ginóbili. He later reached his peak throughout a four-year tenure with Russian giants CSKA Moscow. In particular, the 2004-05 stands out from the others, as Andersen was named to the All-EuroLeague First Team. He was the first Australian to achieve this honour, before being joined by Aleks Marić in 2010.
Andersen averaged 12.4 points and 7.0 rebounds per game in the 2004-05 season, while also shooting 57.1% from the field. Unfortunately his team fell to Spanish heavyweights Saski Baskonia in the semi-finals, but Andersen excelled on an individual level. He would later win two EuroLeague titles with CSKA Moscow and a long list of domestic trophies. Anderson had several seasons worthy of this list, but ultimately we are only picking his best season. The four-time Olympian is still playing at age 39, and currently plies his trade with the NBL's Illawarra Hawks.