Discover more from The Pick and Roll
We're all about Aussie hoops. Independent, objective analysis and commentary. Insightful narratives built around Australian basketball. Read about our men and women in the NBA, WNBA, NCAA, Europe, national teams, NBL, WNBL, NBL1, prospects and more.
Over 2,000 subscribers
Australia vs Turkey – Game Preview | FIBA U19 World Championship
The Australian U19 Men's squad faces Turkey on Friday night in the quarter-finals of the FIBA U19 World Championship.
With the Emus coming off an impressive win over Serbia, they're entering this game with a lot of confidence. We preview this quarter-final matchup – along with links to live stats and live streams.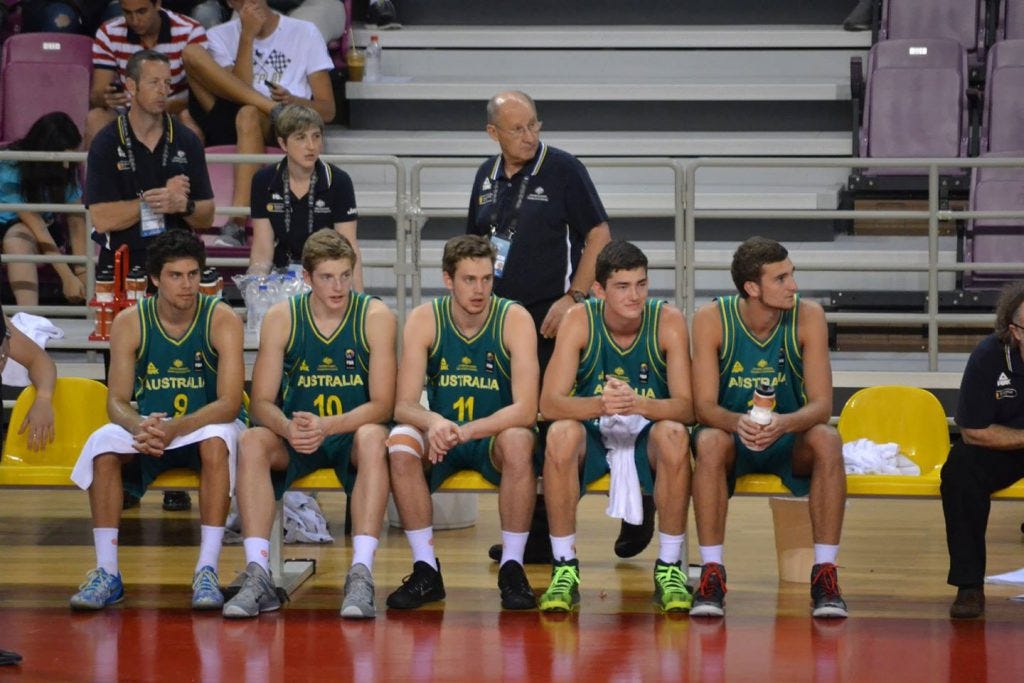 ---
Time: Friday, 8:45pm (AEST)
Key Players: Furkan Korkmaz (11.8 ppg, 3.2 rpg, 2 apg), Egemen Güven (7.5 ppg, 4 rpg), Berk Uğurlu (7 ppg, 2.3 rpg, 3.3 apg)
This year's Turkish U19 squad is in the midst of what has been dubbed the 'golden generation' of Turkish basketball. The majority of this squad were member of the same team that won the U16 European Championship in 2012, as well as the U18 European Championship, last Summer.
Australia will have their hands full guarding shooting guard, Furkan Korkmaz. At 6'7, Korkmaz has an impressive all-round game and is a projected lottery pick for next year's NBA Draft. It's likely we'll see Jack White get a lot of minutes guarding Korkmaz, with White's length and athleticism making him the ideal wing to check the Turkish star.
Furkan Korkmaz
The high-paced game that Australia is slowly improving with may be difficult for Turkey to handle. Berk Uğurlu, who is one of Turkey's best perimeter defenders and is the primary ball-handler on the squad, sat out his last game due to a groin injury. Although sitting Uğurlu was only a precaution, it's still important for Turkey to have him as healthy as possible for this game.
Look for Uğurlu to matchup against Australia most aggressive perimeter threat, which, as far as we've seen in this tournament, has been Dejan Vasiljevic. It'll be important for Tom Wilson and William McDowell-White - who has had an impressive tournament, thus far - to remain aggressive when they enter the game, with Turkey not possessing much depth in the back court.
Turkey has had an inconsistent tournament, thus far, something that seems to be a trend for this squad. At last Summer's U18 European Championship, Turkey had some tough losses in the group stages, only to pick up their game in the finals rounds. The common denominator with the Turkish squad is the head coach, Ömer Uğurata, who has been in charge of the squad for quite some time. This familiarity is what gives Turkish fans hope that the squad can put the pieces together as they progress in this tournament, so it's up to Australia to come out of the gates aggressive, to try to dampen the Turks' spirits.
Egemen Güven, who was the MVP of last year's U18 European Championship, isn't having his best tournament so far, but the 6'10 centre still has the talent to stifle Australia's front-court. In Australia's game against Serbia, Deng Gak had a great game on both ends of the floor, so look for him to carry that over to this matchup. Jack McVeigh, Kyle Clark and George Blagojevic played an important role against Serbia's bigs - forcing their way into the lane on the offensive end, whilst crashing the boards on the defensive end. They'll need to continue to bring that energy against Turkey's experienced big-men.
Just like their game against Serbia, Australia is entering as the under-dog. With the Emus seemingly playing with an increased level of energy and hustle, they may be able to cause yet another upset.
---
The games from now until the end of the competition will be broadcast on livebasketball.tv. They are offering the stream free of charge (however, you must create an account in order to watch the game).
LIVE STATS

|

LIVE STREAM

(Links to be added as they become available)