Discover more from The Pick and Roll
We're all about Aussie hoops. Independent, objective analysis and commentary. Insightful narratives built around Australian basketball. Read about our men and women in the NBA, WNBA, NCAA, Europe, national teams, NBL, WNBL, NBL1, prospects and more.
Over 2,000 subscribers
Australia rising in 3X3 world rankings as Tokyo 2020 looms
With the potential to represent Australia at the 2020 Tokyo Olympic Games, Australia is rising up the FIBA 3X3 rankings, largely thanks to Champions League Basketball's CLB3X3 program of events.
While Australia is making progress in the world standings, there is still much more work to do in order to ensure teams from down under qualify for Tokyo.
Australia as a federation have broken through into the Top 50 nations, and currently sit at 48 in the aggregated world standings. This is a significant improvement on the lowly 62 almost 8 months ago, with the men now ranked 51 and the women moving into 36. Unfortunately, Australia across both categories ranks behind Oceania rivals New Zealand, whose men are ranked 22 (and some 4.5m ranking points ahead) and the women at 32 (just 70k ranking points ahead of Australia and well within reach).
At this point in time, the Australian women have the most realistic opportunity to qualify for Tokyo as the number one ranked federation in Oceania, but there is still plenty of work to do to bridge the gap with their trans-Tasman rivals. The Aussie men are still not without a shot either, as the qualification criteria for the Olympics has not yet been clearly articulated, but they have even more work ahead to bridge the gap.
As the leader in 3X3 basketball across Australia, CLB3X3 have been the catalyst behind the rise of the shorter, faster, form of the sport across the country. The main reason Australia's ranking has improved has been mainly due to the mountain of work CLB3X3 have undertaken to develop the sport. Through sheer weight of the number of tournaments and opportunities they have provided players of all abilities across the country, Australia is fast rising up the world standings.
Approximately 65% from the Top 100 Australian FIBA 3x3 registered players have earned their points through CLB3X3 events, and they continue to take the sport to all reaches of Australia, with their next event being held in alignment with the Adelaide 36ers taking on the Cairns Taipans on 11 January, followed by another in Port Adelaide across 12-14 January. CLB3X3 then returns to Victoria with a three-day on the Frankston foreshore across the Australia Day weekend, held in collaboration with the Australian Beach Games (full CLB3X3 event calendar).
CLB3X3 Port Adelaide features ex-NBL stars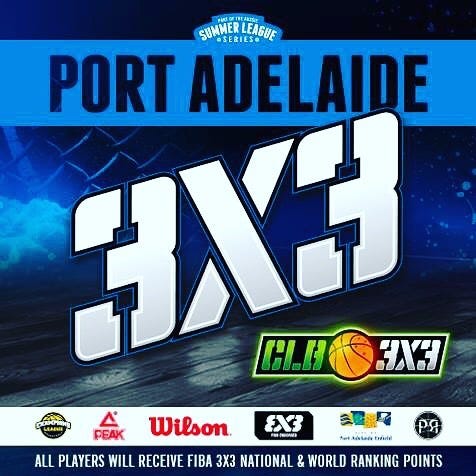 Port Adelaide is the next event on the CLB3X3 schedule and it is set to be a big one, with a number of former NBL players entered already.
A talent-laden "iAthletic 3Ballin" side which will be coached by Australia's inaugural 3x3 head coach from the 2017 FIBA 3X3 Asia Cup, David Biwer, boasts three former NBL players headlined by current NBL General Manager of Special Events, Tommy Greer. Greer joins a side boasting Nunawading Spectres SEABL trio Andrew Steel, Costas Hrnopoulos and Andrew Steel. CLB3X3 Townsville's Tim Keating who is Australia's current number 1 ranked 3X3 player, will lead another side boasting former Adelaide 36ers players Darren Ng and Jordan Dodman.
The Port Adelaide event presents an excellent opportunity for players to test their wares against current SEABL and ex-NBL stars.
CLB3X3 have worked hard to try to facilitate a carnival-like event at Hart's Mill in Port Adelaide. DJ's, food trucks, kids activities, an outdoor cinema, and even a pop-up store by The Spot Barber Shop, will all be a feature. In addition, all category winners will receive a free hair cut, plus there are other great prizes on offer from CLB partners Wilson Basketball, Peak Sport Australia, plus prize money and official FIBA ranking points on offer.
There is still time to register a team in across all events, including the one in Port Adelaide, which can be done via the FIBA 3x3 Planet website.