Discover more from The Pick and Roll
We're all about Aussie hoops. Independent, objective analysis and commentary. Insightful narratives built around Australian basketball. Read about our men and women in the NBA, WNBA, NCAA, Europe, national teams, NBL, WNBL, NBL1, prospects and more.
Over 2,000 subscribers
Australia plays host to US colleges Creighton, CBU, Purdue and Illinois this August
In what is proving an annual event, four Division I US College basketball teams are making the trek to Australia this August.
The Creighton Bluejays and California Baptist Lancers are the two men's teams, with the Purdue Boilermakers and Illinois Fighting Illini women all taking advantage of the NCAA ruling that allows a school to make a trip overseas once every four years to enhance the players' skills and experience.
Last year saw the Australian talent-laden Saint Mary's and Hawaii men feature down under, and this year it is the Lancers who are brimming with Aussies.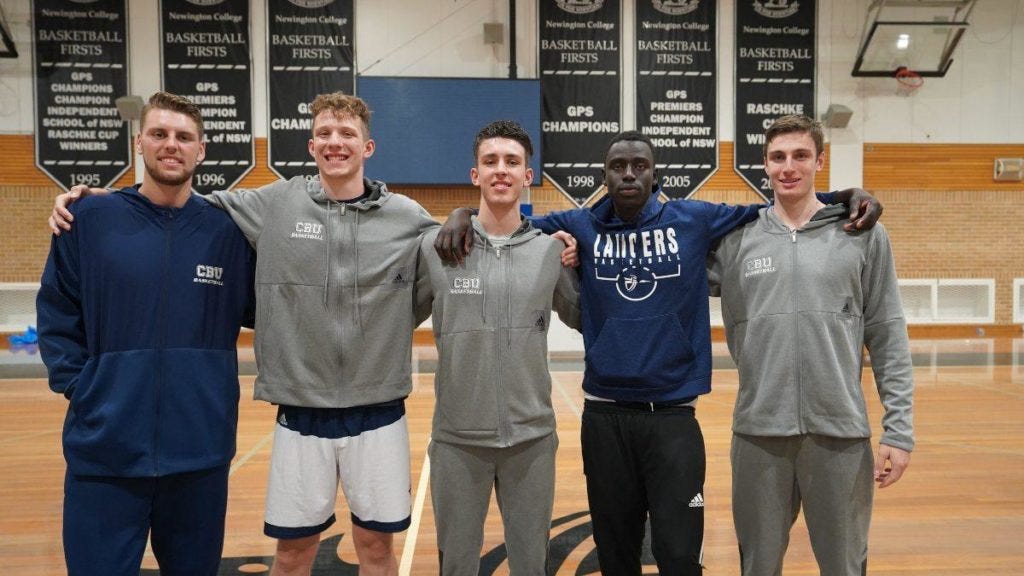 Credit: CBU
CBU boasts five Australians on their roster this coming season, with Tre Armstrong, Reed Nottage, Bul Kuol, Glenn Morison, and Tristan Forsyth enjoying the chance to play in front of family and friends while on tour.
Day 1⃣ is in the books❗️

👉 https://t.co/l3WcaoggIy#LanceUpDownUnder🇦🇺 pic.twitter.com/DPSlSAIxeN

— CBU Men's Basketball (@CBUmbb) July 31, 2019
CBU plays the Centre of Excellence on 3 August, and it's very likely that talented prospects Josh Giddey, Mojave King will play in that game.
https://pickandroll.com.au/mojave-king-josh-giddey-college-radar-in-post-nba-academy-games-triumph/
Last season, Creighton rolled out two Australians in Sam Froling and Jacob Epperson. While they may not boast NBA-level talent this season, they are a high-major team.
https://pickandroll.com.au/creighton-men-basketball-team-headed-for-australian-shores/
While Purdue's women do not have an Australian on their roster, they boast players from Senegal, Great Britain and Canada. They were quarter finalists in the 2019 Big Ten Tournament, with junior Ae'Rianna Harris named honorable mention All-American by the Associated Press in addition to picking up Big Ten Defensive Player of the Year, Second-Team All-Big Ten and Big Ten All-Defensive Team honours last season - she will be a player to watch!
Illinois also do not have any Aussies on their roster, they will be sure to impress on tour with an international flavour of their own. They have players from Greece and the Virgin Islands on their roster.
California Baptist Lancers (Men)
1 August: vs Sydney University Comets | 7:00pm at Newington College
3 August: vs Centre of Excellence | 3:00pm at Belconnen Stadium
5 August: vs Dandenong Rangers | 7:30pm at Dandenong Stadium
6 August: vs Melbourne United | 10:30am at Melbourne Sports & Aquatic Centre (Closed Session)
7 August: vs Cairns Taipans | 7:30pm at Cairns Basketball Centre
Creighton Bluejays (Men)
5 August: vs Basketball Australia's Centre of Excellence | 6:00pm at Shore School
8 August: vs Cairns Taipans | 8:30pm at Cairns Convention Centre
12 August: vs Brisbane Bullets Invitational Squad | 7:00pm at Auchenflower Stadium.
Purdue Boilermakers (Women)
6 August: vs Dandenong Rangers | 6:30pm at Dandenong Stadium
8 August: vs Cairns Dolphins | 6:30pm at Bendigo Bank Stadium
11 August: vs NSW All-Stars | 5:30pm
12 August: vs Basketball Australia's CoE | 5:00pm at AIS Basketball Hall
Illinois Fighting Illini (Women)
9 August: vs Dandenong Rangers | 5:00pm at Dandenong Stadium
10 August: vs Victoria All-Stars | 7:00pm at Mill Park Stadium
13 August: vs Cairns Dolphins | 7:30pm Bendigo Bank Stadium