Australia defeats Spain in OT thriller, will face USA in Grand Final | FIBA U17 World Championship
After trailing by as many as 22 points, Australia has come back to get the thrilling 80-74 overtime win over Spain - setting up a Grand Final rematch against an undefeated USA squad.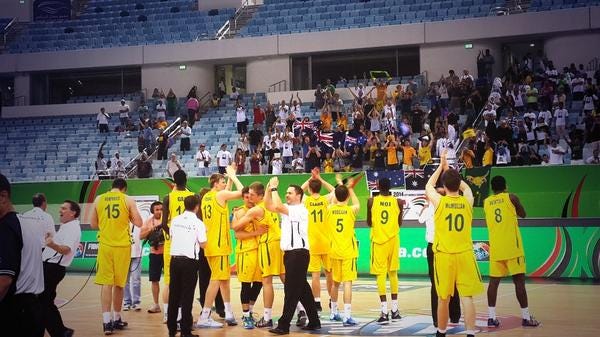 Tom Wilson (13 pts & 11 rbs) was the hero at the end of regulation while Isaac Humphries (22 pts, 8 rbs & 5 blks) made big plays in overtime.
The 1st quarter saw Spain come out firing on all cylinders. The Spaniards went on a 9-0 run to start the game while Australia settled for a lot of perimeter jumpshots. Humphries managed 5 pts & 3 rbs for the 'Goannas' as the quarter ended with Spain leading 21-11.
The start of the 2nds quarter saw more of the same from Spain, with every shot seeming to fall. Trailing by 22 points late in the quarter, Australia managed to put together an 11-0 run led by some big 3-pointers by Harry Froling and Tom Wilson - cutting the Spanish lead to just 43-32 heading into the main break.
With Australia having the hot hand heading into the 3rd quarter, they fed the ball in to Kouat Noi who was able to make a solid contribution. Humphries was also a factor on the defensive end, being extremely active to help cut Australia's deficit to 55-49.
Photo courtesy FIBA – via Basketball Australia
With the game in Spain's grasp, Australia managed to step up defensively - getting consecutive stops to ultimately tie the game up at 67-67 behind some clutch play from team captain Tom Wilson. Pablo Perez, who had been key for Spain the entire game, missed a 3-pointer at the buzzer, sending the game to overtime.
The overtime period was all about Isaac Humphries. He scored 8 of his 22 pts in overtime, including 2 massive dunks to give Australia the 77-74 lead. The 'Goannas' managed to step up defensively and make their free throws, ultimately defeating Spain 80-74. Spain committed 7 turnovers in the last 2 minutes of regulation and overtime, all but gifting the win to the Aussies.
Isaac Humphries | Photo courtesy FIBA - via Basketball Australia
Tom Wilson finally had his breakout game of the tournament. The Australia captain had struggled all tournament but was able to come up with key plays in the 4th quarter. He ran the point very well for the Aussies, something that Boomers Head Coach Andrej Lemanis has stressed with the youngster.
Dejan Vasiljevic (14 pts & 4 rbs) made some timely shots while Harry Froling (12 pts) and Kouat Noi (11 pts) both had key offensive outbursts to keep Australia in the game. Credit should also go to Jack White and Kyle Clark, who both came on at key times and defended extremely well. Matt Owies was again impressive at the point guard position on both ends of the floor, finishing with 2 pts, 5 rbs and 7 asts.
This was a show of resilience from the entire squad, as well as tremendous coaching by Mark Watkins and his staff. Spain opened up a 22-point lead early in the 2nd quarter, a deficit that would likely sink most teams. The victory likely being considered one of the greatest comebacks in FIBA U17 World Championship history.
Australia will face USA in what will be a Grand Final rematch. Australia's 2012 squad, led by Dante Exum and Ben Simmons, lost to the USA in the last World Championships. This year Head Coach Mark Watkins will have his chance to avenge that loss. Since the inception of this tournament, USA have yet to drop a game.
https://www.youtube.com/watch?v=ZmaVZ68H_zE&
The Grand Final will be broadcast on LiveBasketball.tv on Sunday morning at 3am (AEST).
---
Game 1: Australia defeated Japan 97-84 (Recap + Video)
Game 2: Australia defeated France 84-81 (Recap + Video)
Game 3: Canada defeated Australia 85-74 (Recap + Video)
Game 4: Australia defeated Greece 84-76 (Recap + Video)