Discover more from The Pick and Roll
We're all about Aussie hoops. Independent, objective analysis and commentary. Insightful narratives built around Australian basketball. Read about our men and women in the NBA, WNBA, NCAA, Europe, national teams, NBL, WNBL, NBL1, prospects and more.
Over 2,000 subscribers
Australia defeats Greece to advance to quarterfinals | FIBA U17 World Championship
Greece made a big push in the 4th quarter but Australia managed to hold on in the end, advancing to the quarter finals of the FIBA U17 World Championship with a 84-76 win.
---
Photo courtesy FIBA - via Basketball Australia
Isaac Humphries led the way for Australia with 20 pts (8/14 FG) & 16 rbs while Kyle Clark and Dejan Vasiljevic had 13 pts apiece.
As expected, the marquee matchup of the night was Humphries v Papagiannis - the two 7-footers going right at each other to start the game. They both held their own against each other while both teams traded runs, the 1st quarter ending with a tie - 19-19.
With the game remaining close, Australia's bench did a great job keeping them in it. Kyle Clark did a great job moving off the ball, getting himself open for wide open jumpshots. Harry Froling was also key as a presence in the paint on both ends of the floor. With both teams once again trading runs, Australia led 37-36 heading into the half.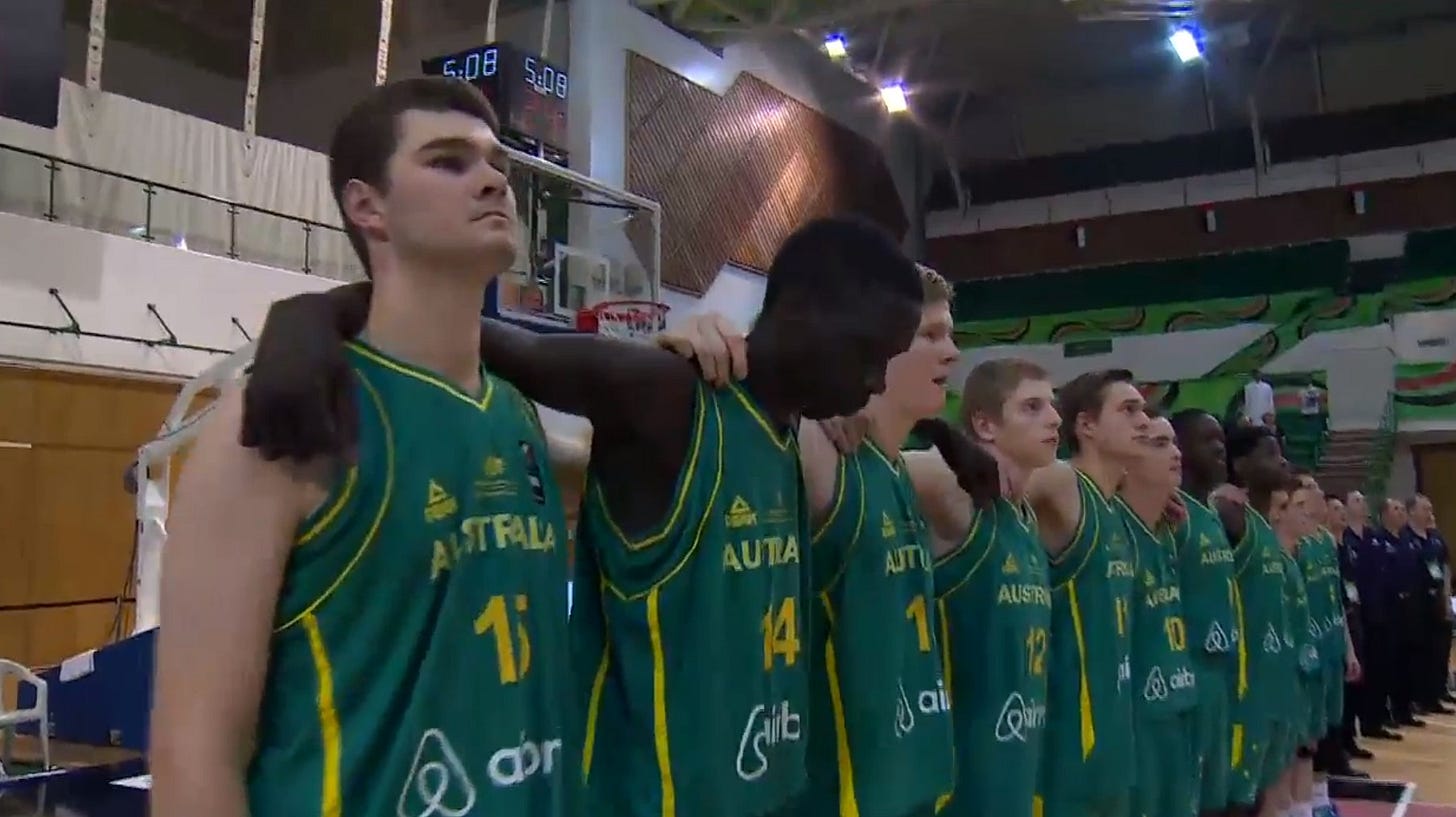 Australia made their big run in the 3rd quarter. Humphries was again key while Vasiljevic had 7 of his 13 points in the period. Kyle Clark also brought some much needed energy off the bench and, after a Kouat Noi 3-pointer at the buzzer, Australia led 66-52 heading into the 4th quarter.
Greece made a huge run in the 4th quarter, pressing extremely high and forcing a lot of turnovers. The Australian guards simply looked out of place toward the end of the game - unable to get the ball up the floor. Greece eventually cut the lead to 78-76 but Australia managed to step up defensively and knock down their free throws, ultimately coming away with the 84-76 victory.
Coming off his FIBA record setting 41 point performance, Isaac Humphries was again extremely dominant in this one - posting 20 pts & 16 rbs. National scouts in the US continued to rave about Humphries' showing in this tournament.
https://twitter.com/ebosshoops/status/499258491354513409
After struggling in the past few games, Tom Wilson and Dejan Vasiljevic came alive in this fixture. Wilson came out of his slump to post 12 pts & 8 rbs while hitting some key shots in the 4th quarter while Vasiljevic led a 3rd quarter run, finishing the game with 13 pts & 5 rbs.
Turnovers continue to plague this squad, committing 22 in this game. The full-court press was executed to perfection by Greece which helped them get back in the game. Australia will look to fix that issue in time for tomorrows quarterfinal fixture against Puerto Rico.
Kyle Clark (13 pts on 4/5 FG, 4/4 FT) and Harry Froling (7 pts & 8 rbs) continue to be key contributors off Australia's bench. Both are able to create shots for themselves and for others, their decision making key with Australia's starting unit on the bench. The Froling/Humphries front court combo has also worked extremely well so look for that to continue moving forward.
The Australia 'Goannas' will face Puerto Rico in their quarterfinal matchup at 12:45am on Friday morning (AEST).
Visit FIBA's YouTube channel for a replay.
---
Game 1: Australia defeated Japan 97-84 (Recap + Video)
Game 2: Australia defeated France 84-81 (Recap + Video)