Aussies in Summer League: Broekhoff shows promise in debut appearance
We've all been waiting for Ryan Broekhoff to show his stuff in the NBA, and he's finally taken his first step towards on what could be an NBA career.
Dressed in Denver colours as #45 (no surprise), Broekhoff played almost 19 minutes --the most for any Denver non-starter this night-- against the Atlanta Hawks in the NBA Summer League, and recorded 5 points, 4 rebounds, 2 steals, 1 block, and a very impressive +19 in the 86-71 Denver victory (box score). It's certainly a decent all-round stat line, representative of Broekhoff's skillset and his ability to fit into the NBA game right away.
Broekhoff made his first NBA dunk in the first quarter off an Atlanta turnover. He was quick to take off in transition without a moment's hesitation. Teammate Erick Green found the outlet right away, and threw a long pass to Broekhoff for an easy undefended jam.
http://youtu.be/LGHH-b7glmA His other made shot of the night came off a three-pointer. Broekhoff missed his first two tries from downtown before making a defended three in the fourth quarter.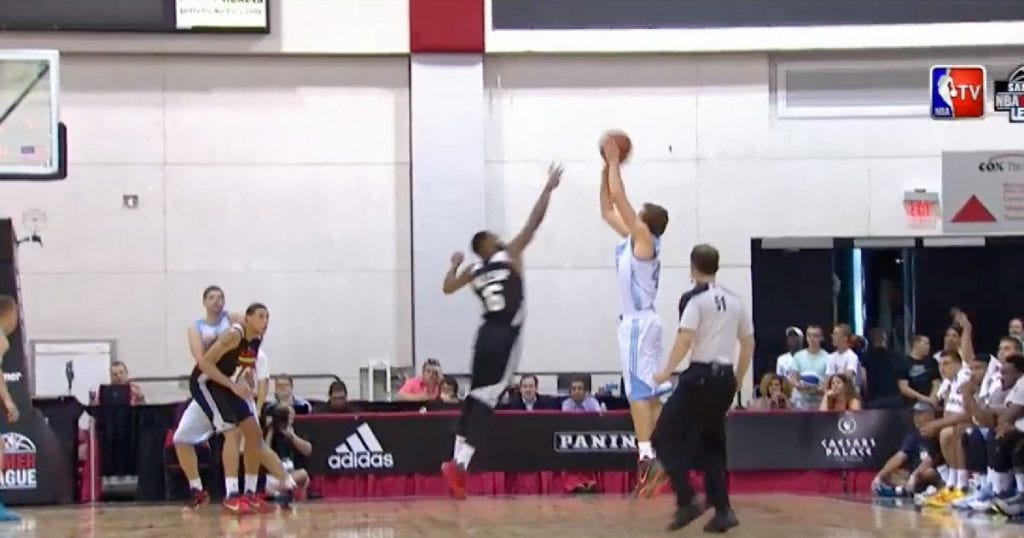 The earlier misses were likely nerves more than anything else, seeing as those attempts were more open than the made shot. His shooting stroke hasn't vanished, it's all about settling into the game.
Broekhoff also showed tenacity on defense and rebounding, things that will surely be huge positives for NBA teams on the lookout for a solid role player. Broekhoff has shown potential in areas like transition defense, hedging the high screen and roll, and also in staying with his man while defending the layup. He hasn't done as well in contesting jumpers, but it's fixable with experience, and not a death sentence.
Lastly, it would be good to see more aggression from Broekhoff when he has the ball. Being a team player and making the right play is important, but making a visible impact when placed in a ball-handling role is also necessary. Much like Exum last season, Broekhoff will have to figure this equation out, albeit without the security of being a drafted rookie.
Full highlights
https://www.youtube.com/watch?v=Fq92xmu_vfs *Credit to Alistar Sullivan for compiling highlights. Things are looking good for Ryan Broekhoff so far. Don't miss Broekhoff's next game against the Sacramento Kings on Monday 10am AEST (8pm ET, 12 Jul).
Note that Summer League is free to watch on NBA League Pass if you were already a subscriber last season.