Discover more from The Pick and Roll
We're all about Aussie hoops. Independent, objective analysis and commentary. Insightful narratives built around Australian basketball. Read about our men and women in the NBA, WNBA, NCAA, Europe, national teams, NBL, WNBL, NBL1, prospects and more.
Over 2,000 subscribers
Aussies in Summer League: Broekhoff breaks off shackles with standout performance
Ryan Broekhoff enjoyed his best game of Summer League while playing for the Denver Nuggets, who went down to the Washington Wizards 89 – 97.
It's been a frustrating Summer League experience for Broekhoff, who struggled for minutes and opportunities while dealing with injuries to his shoulder and hip.
Today he decided he would go out swinging, pulling the trigger on his shots with more assertiveness than previous games, and the results followed.
Broekhoff hit three 3-pointers in the first half in an impressive display of outside shooting, with each of his makes splashing through the net. His performance raised the interest of 3-point legend Dennis Scott, who was calling the game.
"Man Broekhoff I like what I see! You [are] shooting that basketball with confidence." Scott enthused.
He also displayed his capabilities on the defensive end, snuffing out a Washington 2-on-1 fast break with some good positioning, followed by a well-timed block.
Ryan Broekhoff showing off his sneaky athleticism with this transition dunk to go along with 3 3's #NBASummerLeague pic.twitter.com/6xpSahM7he

— The Dont Argue (@TheDontArgue) July 18, 2015
In the second half, Broekhoff showed off some of his sneaky athleticism by blowing past the defense and throwing it down in transition, again peaking Scott's interest.
"I like it Broekhoff, I thought you [were] just a jump-shooter. You're showing some athleticism in transition," Scott said incredulously.
After taking a seat, he returned to finish off the game, but unfortunately the ball movement had mostly dried up. During this period, Broekhoff often found himself standing alone in the corners while players went one-on-many in an attempt win the game and impress scouts.
Here is a sample of how the rest of the game looked like.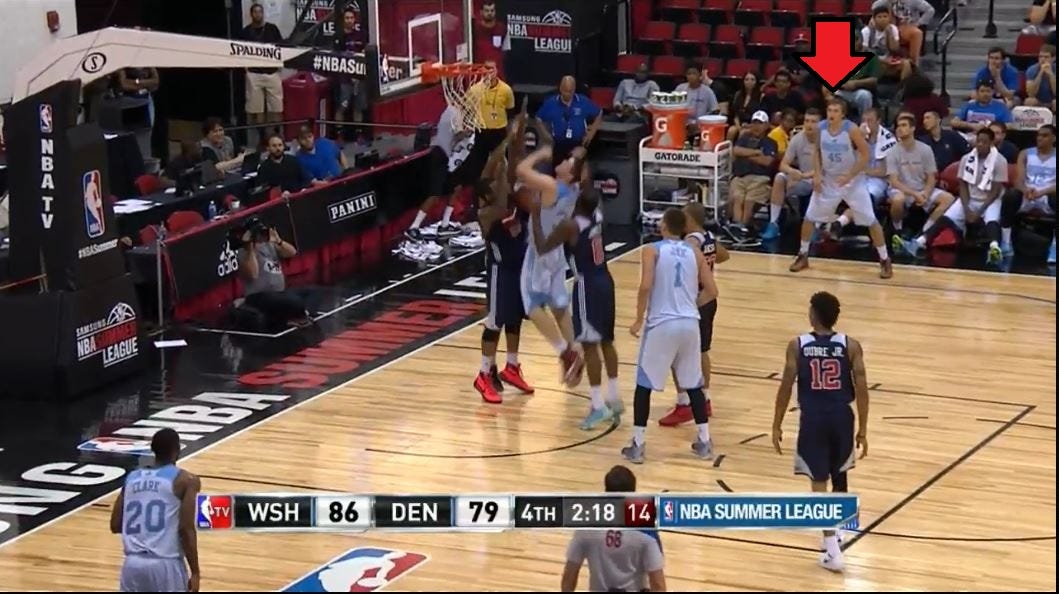 Broekhoff finished the game with a stat line of 11 points on 4 of 9 shooting (3 of 7 from behind the arc), with 1 block, 1 steal, 1 rebound in just under 26 minutes of action.
It might not happen this year. Broekhoff can play at this level, but he needs the right situations if he is going to stick. Somewhere which values ball movement and outside shooting like the Spurs and Warriors would be ideal, as Broekhoff's limited ability to create off the bounce would be de-emphasized.
For the Wizards, their top rookie (15th pick) Kelly Oubre Jr, showed they may have gotten a gem with a dominant scoring performance. The Atlanta Hawks could end up ruing the day they traded on draft night for a package which was effectively Tim Hardaway Jnr and two second-round picks.
Oubre used his mixture of elite size and athleticism along with a silky smooth jumper to finish with 30 points on 9 of 14 shooting, along with 3 assists and 4 rebounds.
---
Ryan Broekhoff's Summer League highlights against the Washington Wizards
https://www.youtube.com/watch?v=NqNeqKKBGII&feature=youtu.be Credit to Alistar Sullivan for video highlights.