Discover more from The Pick and Roll
We're all about Aussie hoops. Independent, objective analysis and commentary. Insightful narratives built around Australian basketball. Read about our men and women in the NBA, WNBA, NCAA, Europe, national teams, NBL, WNBL, NBL1, prospects and more.
Over 2,000 subscribers
Aussies in Summer League: Bairstow puts up double-double, Broekhoff starts
Today's NBA Summer League action saw a solid performance from Chicago's sophomore big man Cam Bairstow, and Ryan Broekhoff earning starting honours against the Sacramento Kings.
---
A Bear In There
Cameron Bairstow registered a double-double for the Chicago Bulls in their 81-66 loss to the Toronto Raptors.
Nicknamed 'Bear', Bairstow has a habit of playing like one on the basketball court by using his wide body to battle in the paint for rebounds and baskets. Bairstow put up good stats across the board with 11 points, 11 rebounds, 2 assists, 2 steals and 1 block in 22 minutes on the court.
FINAL: Raptors 81, Bulls 66. #Bulls fall to 1-1 in #NBASummer. Bairstow posts a double-double with 11 pts, 11 rbs. pic.twitter.com/LYCDmOuHmk

— Chicago Bulls (@chicagobulls) July 12, 2015
The beauty of Bairstow is you don't have to run any plays for him to have an impact. His motor always runs hot and he'll find a way to contribute from rebounds or simply from being in the right place at the right time. Take for example, the Bulls turnover that nearly became a Raptors fast break. Cabocle's careless dribble however, gave Bairstow an opportunity to dive in, steal the ball back and make the layup before he could be stopped. His lack of turnovers are testament to his mixture of composure and a low usage rate.
Bairstow still needs to work on his defense. He picked up 6 fouls in the game (Summer League allows 10), after picking up 7 in the previous game. Due to his lack of size and athleticism he needs to be smarter in positioning himself at that end.
He faces a tough challenge getting on the court this season, with the Bulls boasting a stacked front-line which includes Joakim Noah, Pau Gasol, Taj Gibson, Nikola Mirotic and first-round pick Bobby Portis.
While he barely played last season, the team has a new coach in Fred Hoiberg, so impressing him in Summer League with performances like today will help his chances in getting more playing time.
---
Broekhoff hurt after start
It was a mixed day for Ryan Broekhoff, who was playing in his second Summer League game for the Denver Nuggets. It started well when Broekhoff was promoted to the starting line-up, however after taking a heavy charge early in the game he appears to have re-aggravated a shoulder injury and did not return.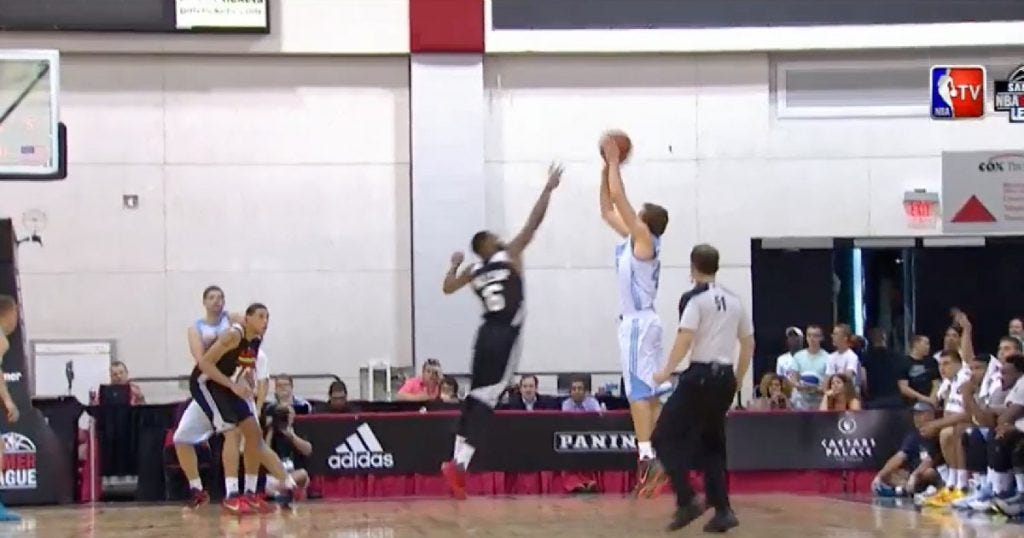 During his 5:35 minutes of action Broekhoff turned the ball over, drew the charge and missed a 3-point attempt. He played on after taking the charge and didn't seem to be hurt, but precautionary measures seemed to have been taken after he returned to the bench. Early word is that the injury is not serious, and the early rest was more of a precautionary measure. Broekhoff should be fine to take the court against the Miami Heat tomorrow.
Don't fret Valparaiso fans. Ryan Broekhoff will return to the court tomorrow. Just playing it cautious tonight. #HLMBB

— Paul Oren (@NWIOren) July 13, 2015
It was a shoulder injury that forced Broekhoff to cancel a workout for Dallas and give up his spot on the Orlando Magic Summer League team. While this could be a blow to his chances in making the Nuggets roster, the move to the starting line-up shows coaching staff like what they see from Broekhoff in practices and from his debut performance.
The Kings game ended up being a blowout, with the Nuggets romping to a 98-76 win against the Sacramento Kings. Of most interest to the fans in attendance was the play of the number six draft pick Willie Cauley-Stein and number seven pick Emanuel Mudiay.
Mudiay was the standout player of the game with 19 points, 10 assists and 3 steals, with the point guard displaying impressive court-vision throughout. Cauley-Stein scored 15 points while showing his otherworldly athleticism with some monster dunks and this huge block:
https://www.youtube.com/watch?v=1mDkYOM7inI