Discover more from The Pick and Roll
We're all about Aussie hoops. Independent, objective analysis and commentary. Insightful narratives built around Australian basketball. Read about our men and women in the NBA, WNBA, NCAA, Europe, national teams, NBL, WNBL, NBL1, prospects and more.
Over 2,000 subscribers
Aussies in NBA Playoffs: Is Mills ready to light Grizzlies up?
Resilience, and maturity.
Those two words probably sum up Patty Mills' 2015/16 season.
Firstly, health. After a lacklustre 2014/15 season --no small thanks to a lingering shoulder injury-- Mills has surged with a vengeance, playing an impressive 81 games in the regular season. This makes him the only Spur to do so, while playing at a manic pace, the highest of any current Spur outside Manu Ginobili.
His season averages of 8.5 points, 2 rebounds and 2.8 assists in 20.5 minutes show plenty of positives.
For one, it's the most court time (previous high 18.9 minutes a night in 2013/14) he's ever averaged in an NBA uniform so far. The scoring does not match up to his red-hot 2013/14 championship season form, but the career-high assist average reflects a maturation in Mills' game, the improved point guard play he's displayed, and above all his growing role within the team. He's slowly, but surely proving himself to be a viable successor to the 33 year old Tony Parker.
When it comes to scoring, Mills was running on a hot streak in March. He recorded five double-digit scoring performances that month, including a dominant 101-87 win against Memphis where he went off for 17 points on 70% shooting, including 3 of 4 made shots from deep.
https://www.youtube.com/watch?v=SxOa-s5ohPo Yes, Memphis. On their home turf, no less.
Let's look at the Memphis Grizzlies for a second. Despite a spate of unwelcome injuries (Marc Gasol, Mike Conley, even Mario Chalmers) that forced the Grizzlies into massive roster churn, the team clawed its way to a seventh seed with trademark grit-and-grind scrappiness. They ranked 11th in the league when it came to opponent scoring, and held opponents to 36.5% at the three-point line, the 9th-worst mark across the NBA.
It's interesting to note that Mills' most efficient performance this season, came against an opponent the Spurs will be playing against, in the first round of the playoffs. Mills has made 50% of his field goals against Memphis overall, making 41.2% of his jumpers.
Here's how Patty's shots have looked against Memphis this season.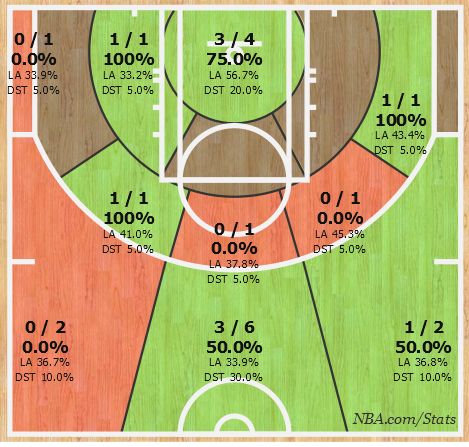 Recency bias however, comes into play.
Patty's recent performances have not been the best. April has marked a shooting slump for the 27 year old guard. He only made 25% of his attempted field goals in those final seven games of the regular season.
From a series perspective, there's no reason to imagine a fully healthy Spurs team having any kind of trouble against the Grizzlies. They've swept Memphis 4-0 handily in the regular season, across home and road. Props to the makeshift Memphis roster for making it this far, but they fail to inspire confidence in a seven-game series.
For Mills, it might just be the right time to work his way back into playoffs rhythm. He'll be facing opponents like Jordan Farmar and Bryce Cotton, neither of whom are particularly known for being lockdown defenders.
Don't be surprised if this elevator play still works against Memphis:
https://vine.co/v/itiL7diYlDa
The reduced pressure definitely offers Mills opportunities to work his way around Memphis defenses, help facilitate ball movement, and regain his shooting form.
---
Game 1: Memphis Grizzlies at San Antonio Spurs
When: Monday, 18 April 2016, 10 a.m. AEST Where: AT&T Center