Aussies in NBA Playoffs: Finals ahoy! Will Bogut's hand be fine?
Two teams are all that's left.
After a rocky start, the Golden State Warriors clinched a decisive 104-90 winner in Game 5 at the Roaracle Arena. James Harden unfortunately made an unsightly piece of NBA playoffs history with a record-setting 13 turnovers, no small credit to the tenacious Warriors defense from veterans Green and Iguodala.
Golden State is finally ready to prove critics wrong in the Finals, but paid a dear price for victory today. Klay Thompson had blood streaming from his right ear during the game, after taking an Ariza knee to the head. Klay had difficulty hearing Doris Burke after the game ended, and it's been announced that the Splash Brother developed concussion-like symptoms after the game - this certainly doesn't bode well.
More importantly, we have two Australians in the Finals for a second consecutive year. After last year's debut with Patty Mills and Aron Baynes, it's Andrew Bogut's turn for the big stage, along with fellow Boomer and Cleveland guard Matthew Dellavedova.
Bogut played only 19 minutes today and had an excellent rebounding night. He recorded an impressive 14 rebounds (5 offensive), an assist, 2 blocks and a turnover. Despite going scoreless yet again, Bogey's defensive impact was right on track today. The center ranked second on the team when it came to Defensive Rating, and the Rockets were held scoreless (0 of 7) at the rim when Bogut was active.
Bogey's highlight of the night came from this block on Trevor Ariza in the third quarter. Having managed to get by Draymond Green, Ariza was poised for a two-handed jam, but was ultimately foiled by Bogut.
https://www.youtube.com/watch?v=jA4Vc5OaYE4
Highlight moment aside, Bogut seemed like he hit his hand hard on the backboard during the block, and was seen grimacing and shaking his hand repeatedly. After exiting the game, Bogut made sure the training staff were alerted, and likely had it checked out post-game.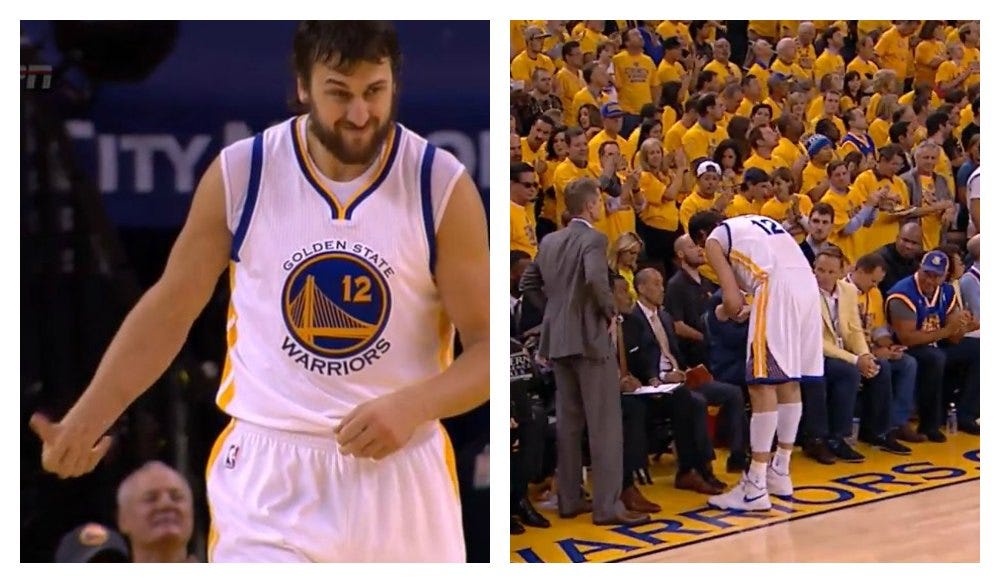 Despite the initial discomfort, Bogut continued to play for another five minutes, recording a turnover and a defensive rebound in that period. He was replaced by Festus Ezeli with three minutes left in the third quarter, and did not re-enter the game. The fact that Bogut did not leave the game immediately is a reassuring sign in itself. As of right now, there have been no further reports on Bogut's condition - no news is good news.
Having suffered unfortunate injuries through his NBA career, it's inspiring to see a healthy Bogut making a big impact on a team that could potentially hoist a championship banner this season. Could this be the year when we see Bogut finally getting a championship ring?
The answer will soon be revealed, and I'm sure all of us will be enjoying the exciting journey ahead.
---
Box score: Rockets v Warriors Game 5, Western Conference Finals