Discover more from The Pick and Roll
We're all about Aussie hoops. Independent, objective analysis and commentary. Insightful narratives built around Australian basketball. Read about our men and women in the NBA, WNBA, NCAA, Europe, national teams, NBL, WNBL, NBL1, prospects and more.
Over 2,000 subscribers
Aussies in NBA Playoffs: Bogut shines in emphatic Warriors victory
You know it's a good night when your team loses the edge on rebounding (45-49), records less assists (24-22), fouls more (23-17) but yet clinches a decisive victory on the road.
Obviously, Curry's brilliant 33-point (11 of 22) performance certainly didn't hurt, and the sight of an aggressive Barnes was a very welcome one. The Golden State Warriors were up to the challenge, and made their stand on both ends of the court.
Unlike Game 3 (6 of 26, 23.1%), the team moved and spaced better, and it showed in their shots from the three-point line - they made 14 of 33 (42.4%) overall in the same range tonight.
Let's not forget defense. Putting the lankier Thompson on Conley helped. The Warriors were making life difficult for Memphis everywhere. The key however, lay in Andrew Bogut's defense. He made his presence felt tonight, but in a slightly different manner.
The Bogut-Allen mismatch
Here's where the Warriors coaching staff deserve a tip of the hat. Instead of locking down either Randolph or Gasol, Bogut was initially tasked to guard Tony Allen. The Warriors center did not wander out to the perimeter, but focused on locking the paint down, blatantly ignoring Allen's presence on the perimeter.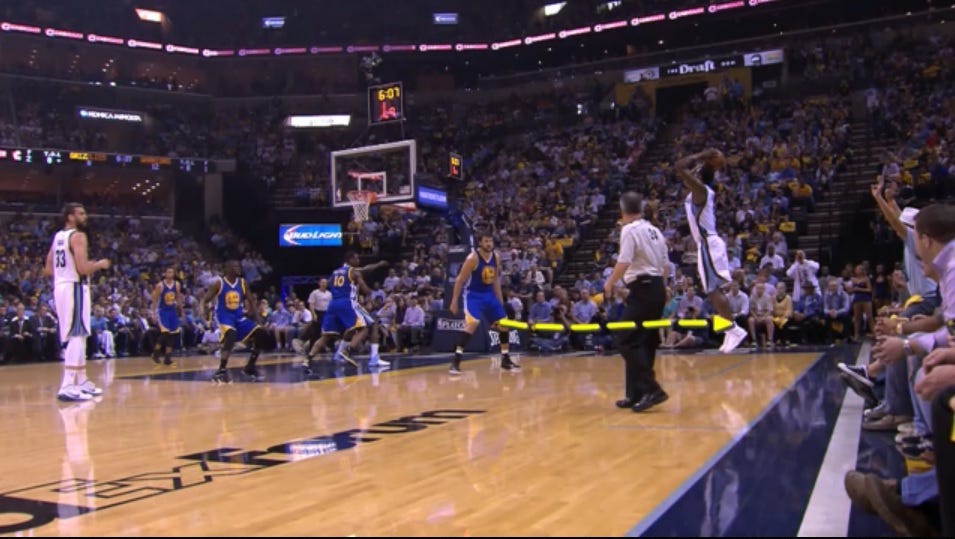 Bogut admitted post-game that it was a gamble, but the strategy certainly was a sound one.
In short, it was up to Allen to make his jumpers and make the Warriors pay - which did not happen.
https://vine.co/v/em9XmFDeHMg
The Memphis guard's inconsistent jumper was brutally exposed in this defensive switch, forcing Allen off the floor and weakening the Grizzlies' defense.
"I knew what they were doing: Dare Tony Allen to knock down jumpers to beat us," Bogut said. "If he scores 20 by knocking down threes and jumpers, we'll give him the nod to the next round." (source)
Bogut played thirty minutes this game and recorded nine rebounds (two offensive), three steals, and three blocks. He also had his 30th postseason block this game, putting him fifth on the Warriors' all-time playoffs blocks list. Those three blocks do not begin to highlight Bogut's importance as the ferocious rim protector. The Grizzlies shot 11.1% at the rim when he was on patrol, making only 2 of their 18 layups.
A mild wave of panic erupted, when it was reported that Bogut took a hit to the ribs during Game 4, and had X-rays done. All is well however, and it's more than likely he will be back for Game 5.
The Warriors managed to even this series with some fantastic adjustments, and it'll be interesting to see what Memphis has up its sleeve in the next game. Regardless, we're certain to see more of Bogut as Golden State returns home.