Discover more from The Pick and Roll
We're all about Aussie hoops. Independent, objective analysis and commentary. Insightful narratives built around Australian basketball. Read about our men and women in the NBA, WNBA, NCAA, Europe, national teams, NBL, WNBL, NBL1, prospects and more.
Over 2,000 subscribers
Aussies in the NBA: Patty and Aron go to (The) White House
(In case you haven't noticed, the cover is a parody of Harold and Kumar go to White Castle. Get it? GET IT? Never mind.)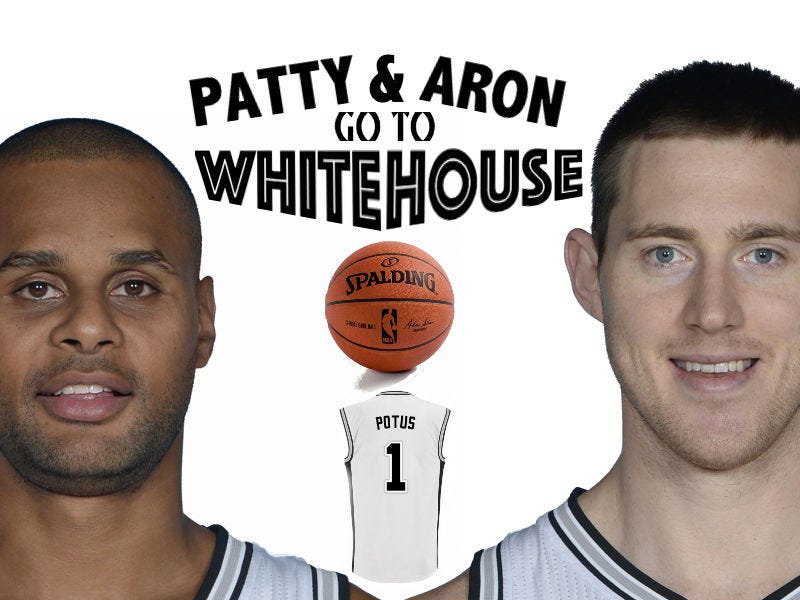 Our Aussies in San Antonio, proud 2014 NBA champions pay a visit to the White House, and are honoured by President Obama. Delly's seeing some serious competition for playing minutes. Bogut gets back into the starting lineup.
Read all about our Aussies in the NBA, and be entertained by the nuggets of entertainment we've prepared, starting with the Top 3 highlights for this week!
http://youtu.be/NpDlqB8Re_g
---
Andrew Bogut (Golden State Warriors)
[table id=22 /]
The Bogut of early season isn't fully back yet, but he's close. Despite being nearly sidelined by illness, Bogut returned as starting center this week in Utah. Playing against fellow Aussies Joe Ingles and Danté Exum, Bogut pulled out a typical Bogut-esque game: 9 points, 8 rebounds, 3 assists. Not too far off the season average (6.8/8.8/2.8) I'd say!
Some moments from the Utah game. This dribble handoff sequence wasn't the prettiest, a few dribbles too many. I like how Bogey caught Kanter lingering too far on the hedge and scurried right into the paint. With no defensive rotations nearby, and quite conveniently open for a Klay assist. Cue easy dunk.
[gfycat data_id="KlutzyComplicatedAmazonparrot" data_expand=true]
Too late, Jingles.
While Bogut did serve up a hulking mean screen, it's not really a highlight moment. Don't you just love the Warriors' elevator plays though? The doors shut, and you can only watch Curry sink that trey with ease.
[gfycat data_id="BrightWeirdCranefly" data_expand=true]
Bonus: Read Bogut's latest blog entry at NBA Australia, where he writes about Justin Holiday, the "feud" with Mark Jackson, team chemistry and more.
Off the court: The Dubs' new anthem, in case you haven't heard it yet. Pretty catchy!
Dem BOYZ!!!! @wardell30 @money23green @dlee042 @sdot1414 @theblurbarbosa @andre @klaythompson @hbarnes @brush_4 @justholla7 #bogues hol up hol up#dubnation

Moさん(@mspeights5)が投稿した動画 - 1月 13, 2015 at 9:51午後 PST
---
Aron Baynes (San Antonio Spurs)
[table id=23 /] Baynes missed time against the Suns earlier this week due to neck spasms, but made a cautious return to the hardwood in Minnesota. He played closing minutes in that road game, entering the game with the Spurs nursing an 11-point lead. The game was won 108-93. Off the court: The Big Banger joined his team at the White House for a session with President Barack Obama, where he praised the 2013-14 champions on their work on and off the court. (Full video of President Obama's speech on the Spurs.)
#Repost @nba with @repostapp. ・・・ The 2014 NBA Champion @spurs with President Barack Obama at The White House! A photo posted by Aron Baynes (@houseobayne) on Jan 12, 2015 at 1:44pm PST
---
Cameron Bairstow (Chicago Bulls)
[table id=24 /]
You could have counted this week as a DNP for Cam. He was sent onto the floor in the final seconds of a 102-86 loss for the Bulls in Washington, where the team shot a dismal 38.6% from the field.
Off the court: Cam visited the White House with the Bulls when they played in Washington. No surprise, when you realise President Obama's from Chicago and is a big Bulls fan! (h/t to Adam Howes from Bulls on Parade for the above elaboration.)
Addressing the nation #whitehouse #DC pic.twitter.com/NsLfh8UvOg

— Cameron Bairstow (@cbairstow41) January 9, 2015
---
Danté Exum (Utah Jazz)
[table id=25 /]
Dante's shooting woes continue this week. Despite being in position for catch-and-shoot opportunities, the shots still aren't falling.
Dante Exum shot chart 9-13 Jan 2015
Keep practicin', stay focused.
Let's look at my favourite part of Exum's game, passing. I like the way this possession played out. Exum saw Trevor Booker scrambling for position in the paint, and baited Dion Waiters into jumping on a pump fake. Hey presto, passing lane created! He then fired it over to Booker, who already had his man sealed and ready for bucket time.
[gfycat data_id="AdeptMeaslyBoutu" data_expand=true]
Whilst the pass wasn't as fast or accurate enough as it should have been, it's a good sign of things to come.
Exum's also shown himself to be capable on defense with length and speed, but defensive instincts take a while longer to hone. This sequence, is one reason why Exum should be kept out of dogfights against wily top-tier point guards. I'm sure all of these makes for great learning experiences, but getting schooled in transition by Curry is a painful lesson. Especially in your rookie year.
[gfycat data_id="GrossBraveFlyingsquirrel" data_expand=true]
---
Joe Ingles (Utah Jazz)
[table id=26 /]
Bad luck started the week for Jingles, when he tweaked his ankle against the Thunder during the second quarter. He admitted in an interview later on, about wanting to win that OKC game pretty badly - even at the cost of returning to the floor on a sprained ankle.
"Yeah, probably. I mean, if I was smart and didn't wanna win that game so bad, I probably would've... might've been a better idea to sit out that game, and then get ready for the next one. But obviously in the heat of the moment, you don't really think about that. Even when I tried to come back in straight away at the end of the second quarter, it was pretty sore but um, yeah I mean, it is what it is."
- Joe Ingles gives an update on his ankle and talks about facing the Warriors on Tuesday night, Utah Jazz on Facebook
Despite the recovering ankle, Ingles played and moved well in the 116-105 loss against the top-seeded Warriors. My personal favourite had to be this possession though. Ingles started out feeding Gobert at the high post. He then ambled his way past Gobert, and noticed his defender snoozing. A fast, hard cut produced an easy basket at the rim, courtesy of a watchful Rudy.
[gfycat data_id="GrossLazyAlbino" data_expand=true]
It speaks volumes of the smarts Big Joe has, and proves that he's more than just a one-dimensional shooter waiting at the wing. Utah needs more of this off-ball movement from Ingles, enough said.
I'll end this week's thoughts on Joe with this quote, and something I'd like to see more often: a driving Ingles finding the open Gobert for the jam.
"Joe has a tremendous feel for the game," Snyder said. "He's a great passer and he's fit in with us on and off the court. There were times this past week when we had him playing the point."
Utah Jazz: Joe Ingles steps in and fills a void — with a smile - The Salt Lake Tribune
[gfycat data_id="SpryFaintGuineafowl" data_expand=true]
Bonus: Jamieson Welsh of Believe The Hype had an entertaining Q&A with Jingles recently, don't forget to listen to the audio clip!
Off the court: Hometown pride.
Umm Adelaide mate.. RT @matthewdelly: No place like the Bay Area!

— Joe Ingles (@Joeingles7) January 9, 2015
---
Matthew Dellavedova (Cleveland Cavaliers)
By Alistar Sullivan [table id=28 /]
The Cavaliers are on a bad losing skid right now. There are multiple rumours surrounding coach Blatt, LeBron and the overall consistency of team chemistry.
Matthew Dellavedova on the other hand, has been consistent throughout the week. He's shooting 40% from the field and 60% from long range while dishing out 5 assists in only 24 minutes against the Kings.
[gfycat data_id="ShortLargeGrosbeak" data_expand=true]
The only thing on a decline, is his minutes.
"We're going to have to see," was all coach David Blatt said Saturday when asked about Dellavedova's role moving forward. "We're going to have to see how that develops."
- Matthew Dellavedova looks to carve niche, ESPN NBA
Why? Enter J.R Smith, Knicks swingman and former Sixth Man of the Year, who got sent to Cleveland on a trade that also delivered lockdown defender Iman Shumpert to the Cavaliers.
Dellavedova started 9 games with the Cavs, but only played 5 minutes on Wednesday against the Suns, as J.R Smith filled the void and stepped up scoring 29 points. Matthew will have to earn his spot back in the rotation with the hustle and determination that got him there.
With Shumpert returning next week from a shoulder injury and keen to get on the court, there is no doubt Delly needs to concentrate on his defensive attributes and hustle to see court time. Otherwise there is a big chance we will slowly see less of the Outback Jesus as the months go by.
Then again, Delly just wants to play.
Dellavedova wants the backup point guard duties to be his.

"I feel confident I can fill that role," he said. "I'm just looking forward to getting used to playing with these [new] guys, and once we can put in what packages that we have and can run, I think that will help out a lot as well."
- Matthew Dellavedova looks to carve niche, ESPN NBA
---
Patty Mills (San Antonio Spurs)
[table id=29 /]
State milestones
Season high 19 points against MIN, 10 Jan 2015

Season high 5 rebounds against CHA, 14 Jan 2015

Season high 7 FG made against MIN, 10 Jan 2015

Season high 4 3P made against WAS, 13 Jan 2015
Judging from the various season highs, Patty has been in fine form this week. He scored 13 points in the fourth quarter, including two clutch three pointers in the closing minutes against the Suns, and clocked a season high 19 points right after that against Minnesota. Bala Pat was also red hot from deep against Washington, hitting 4/6 on a game that ultimately saw the Wizards win 101-93.
What does it all mean? Patty has been scoring very well since 2015 kicked off, averaging 12 points on 4.3 field goals, and shooting 50% from three point land. A really positive sign, as these numbers are really close to last season's stellar form - 11.8 PPG, 4.4 FGM, 45.8 3P%.
Is he back? Yes, it certainly looks like it.
Don't you love kick out passes like these, especially unexpected ones from Patty? Four defenders sucked in, perimeter left unguarded, Red Rocket goes BOOM!
[gfycat data_id="BelovedGreenAngelfish" data_expand=true]
Off the court: Patty also attended President Obama's session for the Spurs over at the White House.
Patty Mills listens as head coach Popovich delivers his speech at the White House.
---
Game schedule for the week featuring Aussies in the NBA
We are switching to an embedded Google Calendar format, which would hopefully make it much easier for all of you to keep track on when our favourite Aussies in the NBA are hitting the court!
Game schedules courtesy of NBA on ESPN.