Discover more from The Pick and Roll
We're all about Aussie hoops. Independent, objective analysis and commentary. Insightful narratives built around Australian basketball. Read about our men and women in the NBA, WNBA, NCAA, Europe, national teams, NBL, WNBL, NBL1, prospects and more.
Over 2,000 subscribers
Aussies in NBA: Mills scorches in blowout
Patty Mills continued his sizzling shooting, scoring better than a point a minute in the 126- 90 win over the Dallas Mavericks.
Mills' time on the court wasn't for a long time, but it was for a good time. He went 'Lone Ranger' in the game, holstering the assists and focusing on simply getting buckets.
When you've hit the sort of shooting form Mills has recently, why give the ball up?
He finished the game with 16 points (6-of-8 FGs, 2-of-2 from 3-point), 4 rebounds, 0 assists and 0 turnovers in 15 minutes of action.
Mills completely took over the scoreboard early in the 2nd quarter, reeling off 8 straight points in quick time, without another player scoring for either team. He took the score from 29-14 to 37-14, turning what was shaping as a romp to a blowout in just over a minute-and-a-half.
With Manu Ginobili set for a stint on the sidelines, the team will be looking to Mills to provide more scoring off the bench. A tough opponent at the best of times, the Spurs are virtually impossible to stop when Mills gets it going.
@Patty_Mills picked up Manu's slack with 16 points and 4 rebounds in 15 minutes. The #Spurs are 6-0 this season when he scores 15-plus.

— Tom Orsborn (@tom_orsborn) February 6, 2016
Mills is shooting the lights out in February (albeit from 3 games), averaging 15.7 points and 3 assists, while shooting 67% on FGs and 87.5% on 3-pointers.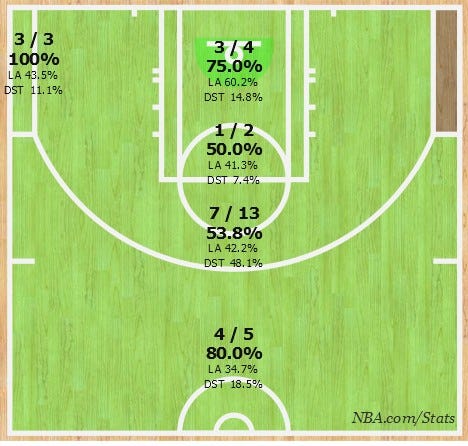 Patty Mills' basic shooting chart for February. A more accurate version can be seen here.
He has risen to 24th in the league in 3-point percentage shooting 39.7% for the season and is 12th in the league in assist-to turnover ratio.
https://www.youtube.com/watch?v=jgJGhYJmIW0