Discover more from The Pick and Roll
We're all about Aussie hoops. Independent, objective analysis and commentary. Insightful narratives built around Australian basketball. Read about our men and women in the NBA, WNBA, NCAA, Europe, national teams, NBL, WNBL, NBL1, prospects and more.
Over 2,000 subscribers
Aussies in NBA: Mills produces final quarter flurry
Like a shark to blood is how Patty Mills is to buckets and once he gets a scent, a scoring frenzy soon follows.
The Atlanta Hawks found this out first-hand when Mills' San Antonio Spurs romped to a 108 – 88 victory and solidified second place in the league standings.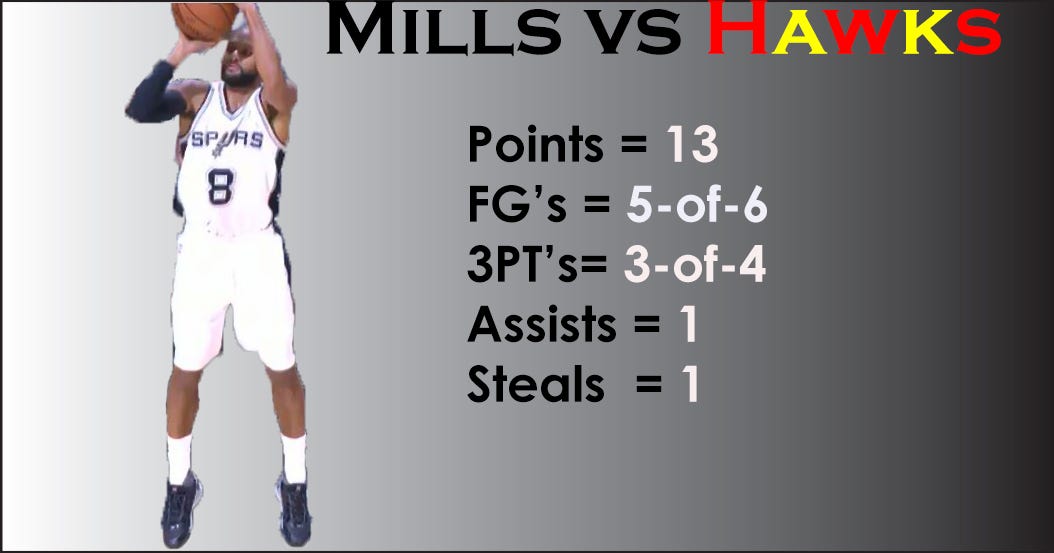 As the game entered the fourth quarter it was looking like another quite night for Mills, who has been below his best recently. He was struggling to get into the action and had a mere 3 points to his name.
Yet, sometimes it takes just one basket to turn things around, and this little hanging floater was just the taster Mills needed to regain his scoring touch.
[gfycat data_id="SoggyBiodegradableHart"]
From that moment the buckets began flowing, with Mills scoring 8 straight points for the Spurs and killing off any outside chance the Hawks had for a comeback.
https://www.youtube.com/watch?v=_ogQ1XXZFGA
The fourth quarter is when Patty does his best work, averaging 3.5 points and 0.7 assists in the term, while shooting a red hot 60.5% from the field and 54.5% from 3-point territory.
With Mills averaging the highest average speed in the league, it appears his zippy play becomes harder to handle when his opponents are feeling weary.
For the season Mills is averaging 8.4 points, 2.1 assists per game, while shooting 46% from the field and 41% from 3-point.