Aussies in NBA: Mills plays starring role vs Clippers
Patty Mills was the spark plug in the Spurs fourth quarter engine that motored past the Clippers for the 108 - 87 victory.
Mills finished the game with 15 points (6-of-9 FGs, 2-of-4 3Pt), 6 assists and 5 rebounds in 23 minutes off the bench.
He led a second unit which outscored their Clipper counterparts 51 - 20 and were largely responsible for the Spurs winning the final quarter 37-17.
The night didn't start well for Mills who lured into two fouls in succession trying to defend the guile of Chris Paul.
Then after losing his shoe he was promptly punished by Paul who crossed him onto his sock foot, causing him to slip.
The game was tightly contested until the final quarter when Mills proved to be the major difference maker.
Checking in with 6 minutes to go in the third quarter and the Spurs trailing 52-55, Mills immediately had an impact by setting up teammates, splashing baskets and being an incessant pest on defense.
That Patty Mills just made it REAL ugly for the Clippers. Spurs lead 92-79 w/6:11 remaining.

— Michael C. Wright (@mikecwright) March 16, 2016
Due to the damage he was causing Coach Pop rolled with Mills for an extended run and when he finally checked out of the game with 4.28 remaining the Spurs held a commanding 97-79 lead.
During the match defining patch Mills put up 10 points, 5 assists and 4 rebounds.
His 6 assists and 0 turnovers for the game saw Mills move up to 4th position in assist-to-turnover ratio, demonstrating his improvement as a decision-maker this season.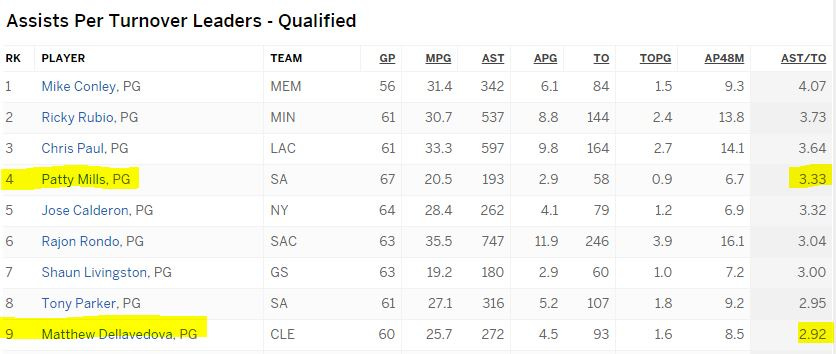 Mills is now averaging 8.7 points and 2.9 assists for the season, shooting 44% on FGs and 39% on 3pts.
https://www.youtube.com/watch?v=a4luvhNMhpA