Discover more from The Pick and Roll
We're all about Aussie hoops. Independent, objective analysis and commentary. Insightful narratives built around Australian basketball. Read about our men and women in the NBA, WNBA, NCAA, Europe, national teams, NBL, WNBL, NBL1, prospects and more.
Over 2,000 subscribers
Aussies in the NBA: Mills accelerates, Exum turns it up a notch
8 March 2015 was one hell of a night for two of our Aussies in the NBA. Danté Exum broke out with a 14-point night against the Brooklyn Nets. Patty Mills similarly, blazed a 15-point hole against Chicago in the United Center. We also look at Bogut's impact to the current Warriors right now. Bogut talks about the NBL dilemma right now, and offers thoughts on the changes needed.
Find out what else happened this week for our Aussies in the NBA.
Top 3 highlights this week
Exum gets the #1 spot this week, with a great steal that leads to Ingles passing the Aussie connection for the transition slam!
https://www.youtube.com/watch?v=FU70KSn9Ef8&feature=youtu.be
---
Andrew Bogut (Golden State Warriors)
ICYMI: How important is Bogut to the Warriors right now?
If we look at Bogut's impact for 2015 so far, the disparity in defensive rating is the difference between a stifling league-first defense, and being a middling tenth-ranked team when he's out. Having Bogut as a rim protector allows them a level of security that small-ball lineups cannot provide.
I discussed Bogut's importance to the team, and examine some on-off court numbers. The team has been playing a lot of small-ball lately while making sure Bogut is rested, and it's interesting to see how productive those lineups have been, versus the defensive impact Bogut brings when he is on the court.
Also, Bogut talks about his hopes for Defensive Player of the Year, the Warriors' switching defense, the Oracle Arena crowd and more in his latest blog entry with NBA Australia.
On the NBL
Interesting. I Wasn't aware if the @NBL goes on a hiatus, the rights revert back to @BasketballAus . Puts some comments in perspective....

— Andrew Bogut (@andrewbogut) March 12, 2015
Bogut has been concerned about the NBL recently, and for good reason. The recent news on the Wollongong Hawks going into voluntary administration has sent shockwaves through the Australian basketball community, and Bogut has voiced his thoughts on the issue.
Being involved in the NBA full-time, he obviously finds it hard to commit to an active role in making changes happen for the NBL, but has suggested some changes which make a sense. This includes adding a luxury tax for teams that exceed the cap, getting rid of the NBL points system for salary cap, have the NBL teams affiliate with junior clubs and institute a clearer pathway for junior players to progress to the national league.
Above it all, Bogut also pointed out the need to hire people who are committed to the league long-term, and not use it as a career stepping stone. Passion and commitment is always key in making something work, and the NBL definitely needs a lot of this right now.
---
Aron Baynes (San Antonio Spurs)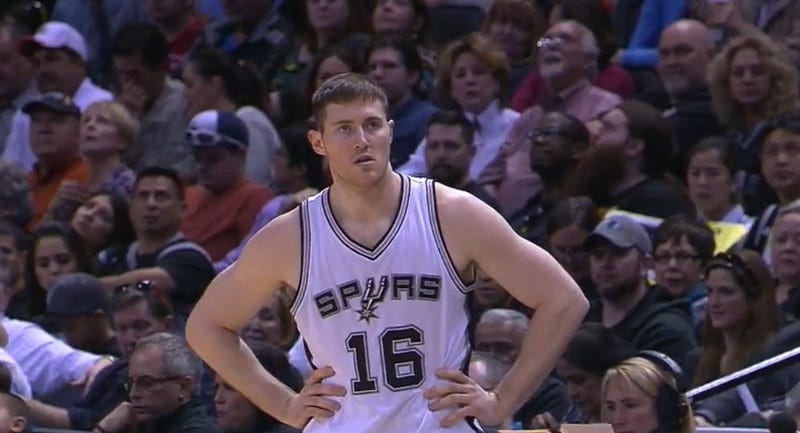 The Spurs' rodeo road trip continues, and Baynes was held to limited minutes this week. Baynes did not match up well against Chicago's Pau Gasol, struggling to finish against Pau's length and overall, did not do as well on defense. San Antonio leaned hard on a core of Duncan/Splitter/Diaw/Bonner on the big man rotation against Toronto. Baynes saw action in the second quarter, but was kneed hard in the groin on an Amir Johnson layup.
[gfycat data_id="SpicyYellowishAsiaticmouflon" data_autoplay=true data_expand=true]
Being the tough bloke he is, Big Banger got up and continued to play. He contributed another 5 points in the second quarter, before sitting most of the remainder out.
Baynes subsequently got a DNP in the team's latest game, when the Cavaliers surged late and won the Spurs 128-125 in overtime.
It seems like Baynes is no longer as active a participant in the team's offense, and has reverted to being a cleanup/screen guy. He does not seem to be getting the shot opportunities that he got in the early season.
---
Cameron Bairstow (Chicago Bulls)
Cam was a DNP this week once again.
---
Dante Exum (Utah Jazz)
Following a quiet stretch after the All-Star break, Danté Exum broke out and made a noticeable impact this week. I have this image of Exum going into a frenzy after all that bottled rage/frustration/determination, turning green (did not happen) and just going on a rampage (happened).
Video highlights
Feast your eyes on some Exum highlights from the Nets and Knicks this week! His pace of play have and decision-making have been fantastic this week, and you can see in the video a drive that morphs into a lob for Gobert - definitely something that will be a staple dish on the Jazz menu in the days ahead.
https://www.youtube.com/watch?v=TdIpKu866GQ Following the block on former Jazz guard Deron Williams, Exum is slowly understanding how his length could actually be a weapon against fellow players in the league.
[gfycat data_id="LeafyPinkIndianrhinoceros" data_autoplay=true data_expand=true]
"I have to say, I've been told a lot of my life that I could be a good defender just because I'm long and quick and taller," the 6-foot-6 point guard said. "But I think just seeing when I bothered some of the best players, I just bothered them a little bit on the ball. It was hard for them to get a shot off, blocking their shot. It made me realize." - source
Teammate Gordon Hayward has been very encouraging of our rookie's performance so far, and is confident that Exum will play better once the mental roadblocks are cleared.
"He seems a little passive," Jazz forward Gordon Hayward said. "That's pretty normal as a rookie. You're just out there playing not to mess up.

So when he stops thinking and really starts attacking the basket, he's athletic, explosive, he's long and can really make plays around the rim for himself and others. When he does that, he'll be really good." - source
Exum also talked about working on all aspects of his game since entering the league, and how improvement comes from continued play.
"Constantly working on the shooting," Exum said. "Finishing around the basket. Trying to get stronger. "Yeah, definitely (I was overwhelmed) just coming in straight away. Playing against some of these guys. ... I think I've adjusted well to the type of players I'm playing against and the abilities they have. You learn game by game playing them." - source
One thing that lurks as a potential weapon down the track, is Exum's ability to split the double-team and loft that floater over an opposing big man. Granted, this attempt in the Nets game did not go down, but it's only a matter of time before it happens. Stay tuned.
[gfycat data_id="VacantFragrantAddax" data_autoplay=true data_expand=true]
Off the court
Exum had a chat with Basketball Insiders recently about adjusting to the NBA season, defending an elite guard like CP3, and more interestingly about the thing he wished he could bring over to American culture.
Post by The Pick and Roll - Everything NBA.
Tom Read from Believe The Hype came to Exum's rescue. He checked the Jazz schedule, and put together a list of pie shops Dante could visit for his pie fix. Get on it!
---
Joe Ingles (Utah Jazz)
ICYMI: Aussies in the NBA: The Ingles Invasion
Hayley wrote about how Ingles has returned to the bench for the Jazz. Big Joe however, is still contributing in a big way for the team thorugh his passing and more importantly, his scoring.
[gfycat data_id="SolidClosedBustard" data_autoplay=true data_expand=true] She is still however, looking forward to more scoring at the rim from the versatile swingman:
The increase of aggression from Ingles is great to see, but I still think he could drive to the basket more, and finish the play himself. For the whole week Ingles only had 3 shot attempts in the paint. He isn't the quickest player around, which doesn't help this aspect, but he is crafty and smart enough to find his way to the rim. - Aussies in the NBA: The Ingles Invasion
Don't miss out on Ingles' radio interview with The Zone 1280 as well, which has also been covered in Hayley's latest Jingles recap. Big Joe talks Vegemite, the team's progress and more importantly, his ease with being a starter or as a bench reserve.
Ingles reiterated that he just wants to play his role for the team; "For me honestly, I don't care if I'm starting or coming off the bench. It doesn't change my attitude or motivation. For me it's not an issue. I'm here to help the team in whatever way I can."

"We've got a great group of guys that are very level headed. They understand that you can't get too high or low and Quin [Snyder] and the coaching staff do a great job of keeping us motivated. It's a long season, so you've just got to keep motivated and keep pushing a long."
Off the court
Our Aussie duo (and possibly the best Jazz backcourt right now) take a selfie on the plane, and judging from the caption, they looked to be up for a marathon FIFA session.
Time to go home... 3-1 on the trip! NY - SLC, 4 hours of FIFA against @daanteee!

A photo posted by @joeingles7 on Mar 8, 2015 at 7:50pm PDT
---
Matthew Dellavedova (Cleveland Cavaliers)
by Alistar Sullivan
Delly again missed some opportunities this week with most of his open shots, but continued to be solid on the defensive end, especially against the Spurs.
The Cavs have been playing at a much higher intensity over the last month, and it seems to be affecting Delly's shot. He has developed as a solid spot up shooter who gets uncontested shots, due to good passes from Lebron or floor spacing from the team as a whole.
Delly has been called on to be the playmaker more often recently, and is having problems with getting the usual wide open shots he gets alongside LeBron. This shot is only lightly contested, but Delly seems to be unused to the shooting rhythm when not in a catch-and-shoot role.
[gfycat data_id="ShockingCheerfulArieltoucan" data_autoplay=true data_expand=true] Regardless of his shooting slumps, Matthew has been consistent when it comes to defensive effort. Blatt gives Matty solid minutes off the bench, regardless of the scoreboard as he believes Matty will always deliver on the defensive end. Check out this sequence, where Delly fights through screens in an attempt to keep Parker contained, and helps box Duncan out on the rebound at the end.
[gfycat data_id="DifficultOccasionalAlbino" data_autoplay=true data_expand=true] During the Spurs game, Chuck also mangled Delly's last name really hard. So hard, he gave up trying.
https://vine.co/v/O9HHjUeA97g
Off the court
LeBron James posted this photo of the Cavaliers on the team plane on his Instagram, following a big win against the Mavericks. Not exactly Warriors-level yet, but they're making steps.
My crew! @teamswish @perk_409 @matrix31 @realtristan13 @imanshumpertthe1st @bwood_33 @matthewdelly @mozg25 @letitflymm13 @kevinlove @k1irving @joeharris__ & The Champ!!! #WeDemBoyz #RockWithUs #TheLand #StriveForGreatness

A photo posted by LeBron James (@kingjames) on Mar 10, 2015 at 9:48pm PDT
---
Patty Mills (San Antonio Spurs)
by Alistar Sullivan
As everyone in the NBA knows, you should never count the Spurs out.
This is largely due to the great success they have had because of their management, scouting and development of connecting players from all around the world.
Take Mills this week, for a great example of just how the Spurs can turn it around. Patty has been on another level. Speed, intensity, awareness and aggression, you name it. He had a great night against the Bulls with great intensity and hustle plays while scoring a quick 15 points in 16 minutes off the bench, hitting 3 out of 4 from deep.
[gfycat data_id="ElectricExcellentJanenschia" data_autoplay=true data_expand=true] It's like he's come back this week with a purpose on his mind looking fresh and ready to deliver, it's exactly what the Spurs need from him.
What didn't show up on the scoreboard and stat sheets was the amount of energy and trouble he caused on defensive end of the floor chasing down every cut and screen shutting down the opposition.
[gfycat data_id="AcclaimedShyGrayreefshark" data_autoplay=true data_expand=true] Although Mills isn't shooting the ball well he's finally looking like playoff form, and we know how dangerous he can be come the post season.
---
Game schedule for the week featuring Aussies in the NBA
We are using an embedded Google Calendar format, which would hopefully make it much easier for all of you to keep track on when our favourite Aussies in the NBA are hitting the court!
Game schedules courtesy of NBA on ESPN.