Discover more from The Pick and Roll
We're all about Aussie hoops. Independent, objective analysis and commentary. Insightful narratives built around Australian basketball. Read about our men and women in the NBA, WNBA, NCAA, Europe, national teams, NBL, WNBL, NBL1, prospects and more.
Over 2,000 subscribers
Aussies in NBA: What lies ahead for Exum in year three?
Few players have entered the NBA with a resume as understated as Dante Exum.
With no college career and limited international experience, it was little wonder pundits offered such divergent opinions before Exum was selected by the Utah Jazz with the fifth pick in the 2014 NBA Draft.
For the believers, Exum represented the prototypical next generation point guard. He had the athleticism of Russell Westbrook, long arms in the mould of John Wall and a 6'6" frame that made scouts salivate.
As for the non-believers, it was just the simple lack of evidence that he could play basketball at the highest level. Fair or unfair, the proof just didn't exist. With only a few Nike Hoops Summit videos and mix tapes to draw conclusions from, you couldn't blame scouts for being scared off. Picking Exum was a bet on talent over a proven track record of success. In most cases, this is the bet teams at the top of the draft should be making, but it is easier said than done. The pressures of the NBA make this so.
Exum's early returns seemed to justify the concerns. By conventional standards, the young Australian had a difficult rookie season. Actually scratch that, he had a historically awful season.
Exum played a total of 1,817 minutes during his rookie campaign. Of the 312 rookies who have played at least 1,800 minutes since the inception of the three point shot in 1979, Exum has the worst recorded PER at 5.7. There are a number of additional empirical indicators that bear proof of a difficult rookie campaign: Measure Ranking out of 312 rookies to play at least 1,800 minutes PER 5.7 Worst Points scored 393 309th True shooting .457 299th Free throw rate 0.077 Worst Win shares per 48 minutes Minus 0.003 298th Those numbers should be somewhat confronting for even the staunchest of Exum supporters. But in the age of NBA statistical revolution, a deeper dive is required to fully understand the impact of Exum's rookie campaign. And it starts with defence.
Power of starting
Jazz head coach Quin Snyder made Exum the full time starter on 22 January 2015, after the Jazz had played 42 games. The contrast in Utah's team defence before and after making that move is glaring. Games 1 - 42 NBA Rank Games 43 - 82 NBA Rank Points Allowed per game 99.1 14th 90.6 1st Defensive Rating 106.8 27th 97.1 1st 3P% Allowed 37.3% 27th 34.9% 14th FG% Allowed 46.4% 26th 42.6% 1st Net rating Minus 4.1 25th Plus 5.3 5th What should please Snyder and the entire Jazz organisation the most, is that Exum was able to seamlessly integrate into the team's defensive scheme. Of all rookies to average at least 10 minutes per game in 2014-15, Exum had the third best defensive rating, beating the likes of Elfrid Payton, Marcus Smart and Andrew Wiggins.
Other members of Exum's rookie class had gaudier stat lines, but none had the defensive impact of the Australian.
It must be noted that there is some noise in these numbers. Utah traded away Enes Kanter, one of the NBA's worst defenders, in the weeks after Exum was made starter. Kanter was replaced by Rudy Gobert, who has received the lion's share of credit for improving Utah's defence.
While Gobert was amazing once inserted in place of Kanter, Exum had a better individual defensive rating than that of the Stifle Tower after Kanter was jettisoned to Oklahoma City. In fact, the statistics bear out that Exum was Utah's best defender after the 2015 All-Star break.
https://twitter.com/nbastats/status/577884872380919809?ref_src=twsrc%5Etfw
Exum was able to utilise his immense athletic talents to become an impactful defender right from jump street. Opposing guards struggled to move the ball around Exum on the perimeter, a feat that is understandably difficult given his 6'10" wingspan. His lateral quickness and quick hands made things even more daunting.
https://vine.co/v/Odqv7QePviz
As for that much-vaunted length, look how he was able to stonewall DeMarcus Cousins.
https://vine.co/v/OlEjB5D1uAM
What makes this play so impressive is how Exum moves his feet and stays in front of the much bigger Cousins. The combination of natural athletic talents and improved defensive instincts allowed Exum to become a plus defender over the backend of his rookie campaign, something Jazz coach Snyder was very pleased with.
"Dante obviously, I think [defense] was an area where Dante felt like he could make an impact. I'm pleased with both (Exum and Rodney Hood) of them in that situation, I think their length is an advantage. Obviously a lot of things Rudy (Gobert) does are terrific, but the ball with those guys isn't getting into the paint as much, and that's something I'm very pleased with."
Even when out of position on the defensive end, Exum can use his elite length to remain a problematic force for opposing guards.
https://vine.co/v/O9WJYq5UVEj
Plays like that block and dunk sequence served as Exum's biggest contribution to the Jazz offence during his rookie campaign.
What about scoring?
Speaking of offence, the best way to describe Exum's impact on this end of the floor is to compare him to Harry Potter's invisible cloak. That being, he was present but invisible most times, and on the whole, didn't change the make up of Utah's offence when on the court.
Utah finished the 2014-15 season with an offensive rating of 102.5, with this number only dropping to 102.3 when Exum was on the court. Being a net neutral on offence might not sound like any great feat, but it allowed Utah's coaching staff to start Exum for his defensive skills without fear of scoring completely eroding.
That's not to say shortcomings don't exist on offence. There are clear areas for improvement, with the most identifiable one being offensive assertiveness. For what ever reason, Exum was a reluctant playmaker during his rookie campaign. Even when inserted into the starting line-up, Exum functionally served as a point guard right up until it came time for the Jazz to initiate their offence.
Take the following possession from Utah's game against the San Antonio Spurs on 23 February 2015. After the Jazz got a stop on the defensive end, Gobert collected the rebounded and handed it off to Exum.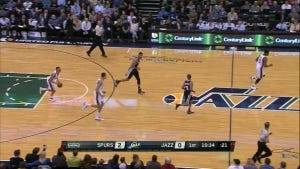 Exum then brought the ball up the court and received a screen from Gobert. This is less Utah commencing its offence early in the shot clock, rather Exum dribbling the basketball in a straight line, which happened to take him right into the teeth of the defence.
The Spurs predictably cut the threat short (note that Exum and Gobert and the only ones moving on the play), forcing Exum to pull the ball out.
Once the first action was rendered useless, Exum played hot potato with the basketball and passed it off to the first available teammate.
For the remaining 13 seconds of the possession, Exum was planted to the corner and became a complete non-factor.
Offensive possessions like this were all too familiar for Utah throughout the 2014-15 season. However, just like it's irresponsible to credit Exum for all of Utah's defensive improvement, it's unfair to attribute 100% of the blame for his offensive shortcomings to the Australian.
It was clearly a directive from Snyder and Utah coaching staff for Exum to stay in his lane offensively, make the 'right' play and avoid making unnecessary mistakes.
It's also prudent to raise Exum's lack of basketball experience when reviewing his role on offence. Basketball-Reference.com's Player Season Finder has recorded 98 rookie seasons where the player was 19 or younger on February 1 of their respective freshman campaign. Of this sample size, Andrew Bailey of Bleacher Report identified that only 16 entered the league without playing for an American high school or college. Exum was the only member of that group without prior professional experience.
Stepping into the NBA is a massive jump for even the most experienced prospect, but his was only intensified for Exum. The fact he was able to look comfortable at all is a testament to his potential.
Shoot young man, shoot
As we mentioned at the top, Exum was a historically bad shooter throughout his rookie season. He finished the year shooting 34.9% from the field overall, 31.4% from three-point range and 62.5% on his impossibly low number of free throws.
A deeper look into the numbers reveals that Exum's shot was not dreadfully bad for the entire season. His shooting splits swung drastically month to month, with multiple impressive stretches followed up by weeks of disappointing results.
In December, Exum was a 38% shooter from long range, an excellent figure. But this was followed up with a two-month stretch in the mid twenties, a trend indicative of a youngster finding his feet in the Association.
His jumpshot isn't exactly textbook. Both arms are tightly packed in, but it keeps his body straight and is a simplistic motion. Shane Battier had similar form and was a career 38% shooter from three-point range. The shot is not broken.
If Exum can improve his shooting from long distance, the Jazz offence should improve drastically from this one feature alone. With Exum on the court, opponents packed the paint with reckless abandon and dared him to beat them from the outside.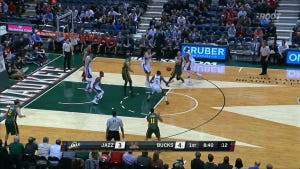 Look at this play from Utah's game against Brooklyn. Joe Johnson is practically daring Exum to shoot.
https://vine.co/v/OEDvWdJYApB
Consistently knocking down similar shots will provide greater spacing for Derrick Favors and Rudy Gobert to operate inside.
The key improvement
Becoming a better spot up shooter will make Exum more effective when playing off the ball. If he's to fulfil his NBA potential as an elite point guard, he needs to master the art of running an NBA offence.
A good comparison in this regard is Russell Westbrook. The Oklahoma City Thunder veteran entered the league as a raw athlete and has developed into the most dominant point guard in basketball.
Westbrook's growth hasn't always been pretty and it's never been conventional, but he has harnessed unique physical gifts and blended them into a basketball tour de force. Exum clearly doesn't have the same maniacal will of Westbrook (nobody on this planet does), but he does possess his own unique set of athletic gifts.
Standing at 6'6", he will routinely be matched up against guards who are four or five inches shorter than him. Adding the most basic of counter moves or skills should be enough for him to start taking advantage of that height gap.
Shaun Livingston is similarly sized and has found an effective niche, despite an inability to shoot outside of 15 feet. The Warriors guard doesn't shoot threes, yet he is still an effective offensive option operating in the mid-range. Amazingly, Livingston has only taken 63 three-point attempts during a 12-year career.
With his sheer size, he can routinely utilise an effective turnaround jump shot over smaller defenders.
https://vine.co/v/ixdFE69aIEt
When combined with his great court vision, Livingston's size becomes a legitimate NBA weapon.
Bringing the conversation back to Exum, it's not about fitting into the NBA game, rather him playing to his strengths, something Livingston found out the hard way. In an interview following Game 1 of the 2016 NBA Finals, the Warriors guard said as much.
"I just have to be true to my game. Play to my strengths…I stick to my comfort zone.
By sticking to his strengths, Livingston became a key piece to a bona fide NBA contender. It sure helps that he is now playing alongside the Splash Brothers, but Livingston deserves substantial credit for harnessing his talents independent of his teammates. Livingston made the Brooklyn Nets a significantly better team during last non Golden State stop, plus 4.6 points per 100 possessions according to Basketball Reference.
Livingston's game isn't necessarily the blueprint for Exum. But it represents a tremendous example of how uniqueness can be an effective skill all by itself.
Then there is the pick-and-roll game, a staple of the current day NBA. Westbrook is once again the perfect role model for Exum here. When he comes off a high screen set by Thunder bigs, Westbrook is attacking the defence immediately and creating pressure.
If his defender sags off, Westbrook is firing up a mid-range jumper; if his defender overcommits, Westbrook is going straight to the rim; and when the defence brings a double team, the Thunder big man rolls to the rim and Westbrook routinely finds them for an easy alley-oop. Steven Adams has become an offensive force running through the lane, and Westbrook has been crucial in his development.
https://www.youtube.com/watch?v=s_JAGaW50kM
Exum has Gobert, and the two showed signs of an embryonic relationship during Exum's rookie season. Expect a more instinctive relationship to develop between the two in Utah over the coming years.
https://www.youtube.com/watch?v=9ogRVsGEyf8
Developing a reliable pull-up jump shot would be another step in the progression to elite guard play, and is an area Exum has been working on throughout his rehabilitation. Get these skills down pat, and the only thing standing in his way will be mindset, something that hopefully comes with confidence and experience.
All of this isn't to say Exum will become as effective as Westbrook, or even Livingston for that matter. But these two entered the Association as unconventional prospects and have become outstanding point guards by harnessing their athletic talents. Exum must do the same. The quantum leap is now behind him, but greater nuance is required.
What to expect in year three?
With Exum coming off an ACL tear, and George Hill now on the Jazz roster, expectations should be tempered for 2016-17 season. Exum is now fully recovered from the injury, but that doesn't necessarily mean he is ready to recapture his best form.
While ACL injuries are no longer the long-term career threat they were a decade ago, returning players customarily take some time to recapture their footing. To feel comfortable making basketball moves again.
Feeling healthy and assertive in practice is one thing, but until that first pivot move is successfully manoeuvred in a competitive contest, it's impossible to feel 100% confident. Jabari Parker was coming off a similar ACL tear this past season and spent the pre All-Star period floating around the court in Milwaukee. Post All-Star, Parker was comfortable with his body and improved in every statistical measure as he started showing off his immense talents. Exum should have similar goals for 2016-17.
Staying healthy and playing around 20 minutes each contest is the first priority. This is why the acquisition of Hill could actually be a blessing in disguise for both Exum and the Jazz.
Hill will likely start the season as the Jazz's starting point guard, with Exum serving as his reserve. This will remove all pressure from Exum and allow him to focus on himself, without having to carry the burden of being Utah's sole point guard. Winston took a deep dive into the Exum-Hill relationship back in July, and I agree with his overarching premise. There is no Exum-Hill situation, problem or conundrum.
Both can play an off-guard role without the ball in their hands, and such differing skills between the two mean they could even play together in small ball line-ups. Utah remains committed to Exum, he still the franchise's point guard of the future.
But with Exum eligible for a contract extension in July, the Jazz will be hoping to see improved returns from their prized Australian. Defence will remain his calling card when the season tips off in October, and Utah will hope that the Exum-Gobert pairing returns to being an elite defensive duo.
As for the offensive improvements we raised above, almost all of these are long-term goals for Exum. Don't expect him to transform into any resemblance of Russell Westbrook just yet.
Intrinsic progressions in each category should be the goal for 2016-17. Improved shooting splits, increasing his free throw rate, initiating more offence from his play making. These should be the expectations on Exum for the upcoming season. Luckily, these are all things we saw in the 2015 NBA Summer League.
https://www.youtube.com/watch?v=j2agAYgrM5o&feature=youtu.be
If Exum can replicate something similar on the NBA level in 2016, there's going to be some great days in Salt Lake City.