Aussies in the NBA: Joe Ingles might be the best shooter in the NBA
Joe Ingles doesn't like to sing his own praises, but when he drained 4/5 from beyond the arc against Denver he just couldn't resist.
Joe Ingles, when asked about his four three-pointers: "I might be the best shooter in the league."

— Spencer Checketts (@1280Spence) April 2, 2015
This is one of the many reasons why we just love Slo-Mo Joe. He's always more than happy to poke fun at his team mates and even himself.
He was inserted back into the starting line-up against Denver, due to Rodney Hood being out injured. He was able to assert himself early in the contest with a three-pointer in the first couple of minutes much to the adoration of the home crowd.
Ingles had a great game against the Nuggets, as did fellow Aussie Dante Exum. It was great to see Ingles wasn't discouraged by his awful shooting night (1/7 from 3-point land) against Denver less than a week earlier.
This time around his shot was definitely on, and it was fun to watch!
---
Over the past 6 games, Ingles has averaged 10 points on 56% shooting from the field. Needless to say, he has definitely been an integral part in the Jazz's recent 3-game win streak.
Ingles' shotchart during the 3-game win streak definitely supports the argument of him being the best shooter in the NBA. Take that Steph Curry and Kyle Korver.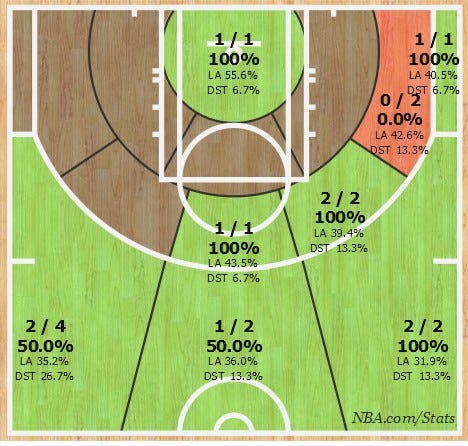 It is obviously a very small sample size, and I can't see him keeping up the 67% shooting from three-point land, but nonetheless it is definitely an impressive stretch for Ingles.
---
Ingles caught up with '1280 The Zone' for his weekly chat about all things Jazz.
When asked about how important the next few games are for him personally, because he doesn't know where he'll be next season he this to say, "It is [important], but it's not something I think about. It's not something I've talked about or anything like that. I've never been a player that worries about myself or my own stuff, I'd rather win over anything.
Obviously playing well is nice it makes you feel a bit better after the game, but it's not something I go in thinking about... just trying to finish off strong as a team."
When asked about the Enes Kanter situation, Ingles was extremely honest in his assessment of how Kanter handled himself, "It was a bit unexpected. We all as players, staff and obviously the fans had a good relationship with him. I mean we were practicing with him, sitting next to him in the locker room, everything was good.
He was a nice guy, I have nothing against the guy personally at all. And then to hear that kind of stuff is pretty disappointing after you've spent such a long time with someone. It did hurt and shows his immaturity a little bit. We all talked about it and used it as a bit of motivation. We appreciate him for that win [against OKC]."
He continued on Kanter's comment on Utah, pointing it out as an apparent untruth and .
To attack the franchise, the fans, the team, coaches when none of its true anyway is a bit silly.
He was very impressed with Exum's game against the Nuggets, "When he's aggressive he's a whole different player and that game showed he was super aggressive. A lot of his assists came because he was aggressive."
---
Keep an eye on Ingles in the coming days as he and the Jazz take on Phoenix tomorrow, and then Sacramento on Monday.