Discover more from The Pick and Roll
We're all about Aussie hoops. Independent, objective analysis and commentary. Insightful narratives built around Australian basketball. Read about our men and women in the NBA, WNBA, NCAA, Europe, national teams, NBL, WNBL, NBL1, prospects and more.
Over 2,000 subscribers
Aussies in the NBA: Ingles gets hot from deep, and talks kangaroo riding
It was another great week for the Utah Jazz, and Joe Ingles produced more highlights and solid games of basketball.
In what was a huge 28 point win over the Hornets, Ingles played almost 24 minutes. In that time he drained one three-pointer, finishing with 5 points and 3 rebounds. The game was all about fellow Aussie Dante Exum though, who was on fire from beyond the arc.
Ingles had an ordinary game against the Wizards, as the Jazz succumbed to Washington and ended their 6-game winning streak. To Utah's credit, they didn't go down without a fight and it was their defense that kept them in the game.
The highlight of the game for Ingles came on an inbound pass to Gordon Hayward, and it was a real beauty. What made it even better was that it came with just 13 seconds remaining in the fourth, with his team down by 4. Stand and deliver. Clutch.
https://www.youtube.com/watch?v=rxfS48jrIM8
After a difficult shooting night against the Wizards, Ingles was able to bounce back the next night against the Lakers.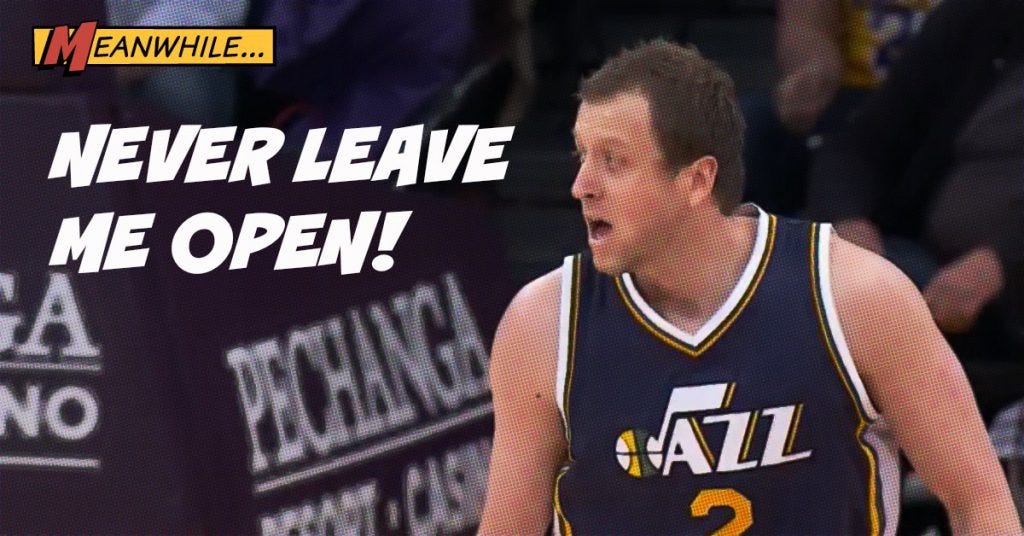 He finished with 9 points, all coming from behind the arc, as he shot 3/5 from downtown. It was great to see that after a tough night, Ingles still had the confidence to go after his shot. Credit has to be given to coach Quin Snyder for showing belief in Slow-Mo Joe and allowing him to play his natural game.
[gfycat data_id="MediumSparklingEquine" data_autoplay=true data_expand=true]
The great Aussie bromance
Ingles re-affirmed his love for his team and the environment he is in, during the week in a Q&A session. Asked if he is jealous of the teammates Matthew Dellavedova has and the big games he plays in, Ingles had a great response.
"Hell no, not at all, not one bit... I think the team we've got is pretty special in itself, you'll be talking about this team in the next few years, saying I bet people want to play for this team. We're obviously in a different stage to what they're in, being the second youngest team in the league, the future's pretty bright."
He managed to take a jab at Dante Exum, when talking about the youth of Utah, "Even our main guy, Gordon, is only 24 years old and Derrick Favors 23, and obviously Dante is 12, it's super exciting for the future."
Nothing wrong with a bit of banter between Aussie team mates.
---
Joe talks kangeroo riding, being tired and finding the silver lining
Once again Ingles caught up with the guys from 'The Zone' for his weekly chat about all things Jazz.
Before Ingles got on the air, Men at Work's 'Down Under' was played to introduce the Aussie. Joe was instantly reminded of home, stating he felt "like I'm back home riding kangaroos."
Ingles later made a shocking revelation that proved he didn't ride kangaroos, "I've lived there [Australia] my whole life, up until I left for basketball and I've never seen a real one." Don't worry, he has seen them in zoos though.
The topic soon turned to basketball and Ingles talked about being worn down for Lakers game, on the second night of a back-to-back. "It's not pretty, it's not how we wanted to play the full 48 minutes, but we had a belief inside that we just knew we were going to win."
"We've been hanging our hat on that we can play defense, and still win games and be in it at the end. It doesn't have to be all about the offensive end and we can still hang around and makes plays if we're really solid on that defensive end." That belief is certainly evident on court, and it is easy to tell every player has bought in on what Snyder is selling.
In the tough loss to the Wizards, Ingles was able to find plenty of positives, "we fought really hard. In that last quarter we left it all out there. Pretty amazing pride and character by the guys to come back."
The daunting task of taking on the Warriors on their home court tomorrow doesn't mean the Jazz will prepare any different, "we're going to go out and play the same way and do what we do, but it's a challenge, they're the best team in the NBA... We beat them last time at home so we know they're going to be ready."
---
Ingles and the Jazz have some interesting games ahead, starting with the Warriors game tomorrow. They then head back home to play the Timberwolves and Trailblazers. These games will be a great test for the ever-improving Jazz.