Aussies in the NBA: Why Exum's scoring slump is not as bad as it looks
In this week's recap, Delly is flourishing in his point guard role. Patty's shooting touch looks to be gone, and Exum is struggling with his shot recently. Find out how the rest of our Aussies are doing this week!
This week's video highlights
Bogut thrills the crowd with his ball handling skills, throws one down on the Knicks & Slo Mo Joe just creates havoc against the Wizards with a great alley-oop.
https://www.youtube.com/watch?v=CPdsr_6nvSw
---
Andrew Bogut (Golden State Warriors)
Against the Lakers this week, Bogut played 31 minutes, the most he he's in a long time (last high was 32 minutes on 11 Feb against the Timberwolves). Golden State surprisingly, played poorly against an upbeat Lakers team, and scraped a narrow win despite shooting only 2/9 from deep. Bogut's presence was invaluable, as he became the focal point in the early game and helped steady the offense.
Getting revenge
"I'm not going to lie and say, 'It's just another game,'" Bogut said. "Obviously you want to win the game at home, especially knowing what they did to us in Atlanta." - source
Bogut certainly nailed it right there. The Warriors came out and eviscerated the Hawks, 95-114, and Bogey was ready to provide the rebounding needed to keep up. He had 14 boards in 22 minutes that night, with four of them coming on offense.
Defensive Played of the Year votes go to?
When I asked the Warriors center/defensive anchor who he thought was Defensive Player of the Year, he smiled and said, "Me … and Andre. We'll hold the trophy up together." It wasn't a knock on Green so much as it was a hat-tip to Iguodala, whose selflessness and leadership in their special season has been genuinely appreciated behind the scenes. - source
Humour on the self-vote aside, I like how Bogut shows his appreciation for the undersung Iguodala. The swingman has been brilliant for Golden State's bench unit, and it's only right he gets a shout out for his efforts.
Because Bogut's all about dem passes
Passing highlights on full display against the Knicks game! Here's a really good inbound pass from Bogut, with 2.3 seconds on the clock. He threw a 3/4 court lob that Curry caught and swished for the buzzer beater, looking like they practiced this all the time. Absolutely mindblowing.
[gfycat data_id="BossyNaturalBarasinga" data_autoplay=true] And how about this bad boy action, where Bogut did a behind the back dribble, then dished it off to Klay Thompson for the three? It's everyday fare for Curry, but to see Bogut putting up a display like this nonchalantly is impressive.
[gfycat data_id="TanBadIrishterrier" data_autoplay=true] Another angle:
https://vine.co/v/O9lLqZ12Z2e
---
Aron Baynes (San Antonio Spurs)
ICYMI: The Big Banger sends a nasty Manu-powered jam against the T-Wolves
The Big Banger is our winner for the non-existent Receiver of Unfortunate Injuries Awards this week. He took a hit against the Timberwolves in the third quarter, and was diagnosed with a rib contusion that kept him out for two games, up until Saturday's game against the Celtics.
The main flagrant call was on a hit to Matt Bonner, but it looked like Baynes also took a blow to the family jewels, while setting a screen against Marcus Smart.
[gfycat data_id="YoungMassiveEastrussiancoursinghounds" data_expand=true] (h/t treasy on reddit) Ouch. Nut shot or not, Baynes finished the game decently, with four points, five rebounds and one block in 17 minutes of play.
Zooming in for the finish
As covered earlier in the week, Baynes slipped the trap and charged in for the open, undefended dunk against Minnesota.
[gfycat data_id="BowedGranularHylaeosaurus" data_autoplay=true data_expand=true]
The full video sequence includes Flip cautioning Payne not to over help, which backfired as Baynes got an open lane to the finish. Sometimes, strategic defense just doesn't pay.
---
Cameron Bairstow (Chicago Bulls)
Bairstow finally returned to the court this week!
Unfortunately, it was but garbage minutes on the road against the Raptors and Pacers, both comfortable victories. Cam was sent in to replace Noah with thirty seconds left in the game in Indiana, and replaced Kirk Hinrich with a minute to go, when the score was 108-89 against the Raptors.
Once again, it's interesting how Cam has yet to earn 3-5 minutes of play, even when the game is no longer in doubt. No guarantee, but I'll have to badger our Chicago-based editor Olgun, to see if there is any chance of getting a Thibs quote on this topic.
---
Dante Exum (Utah Jazz)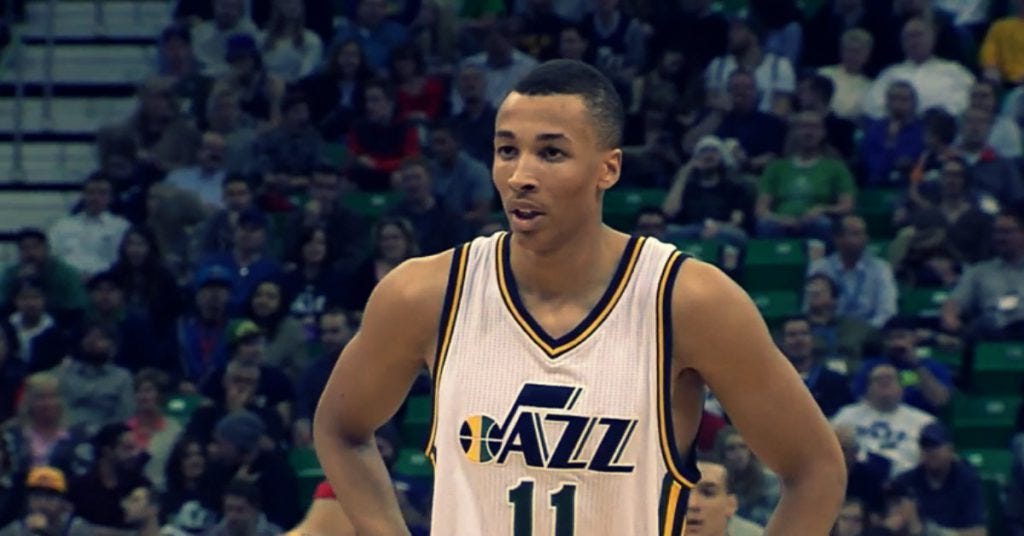 ICYMI:
Exum has had a mostly positive week. His confidence has looked sky-high recently, especially when it comes to shooting. Despite the recent scoring slump --Exum went scoreless and missed 11 shots over two games (Wizards and Lakers)-- it's not time to panic yet. The numbers certainly look awful, but it doesn't feel like this is a crisis.
Upon closer inspection, all of his three-pointers were taken within the flow of the offense, and he had adequate spacing. The only little knock on the misses were that he rushed his shot just a little bit more than he needed to.
There were however, some interesting new shots that Exum showed off that contributed to his house of bricks.
Moving outside the comfort zone
The other misses from the LA and Washington games looked like experimental shots. It's been a while since I've seen Exum take anything outside of layups and open threes. While this variety is a refreshing change, it is at the same time rather unnerving.
There was this odd looking hook shot that he tried, which didn't work out very well.
[gfycat data_id="FineSevereGuineafowl" data_expand=true] And a pullup mid-range jumper from running around a screen, which I have not seen in a while.
[gfycat data_id="CandidBetterBovine" data_expand=true] I'm not sure what to make of this shot from the Wizards game. The give and go was well-executed, but it felt like there was room for a layup, instead of this awkward looking fallaway.
[gfycat data_id="GlassUnitedAtlanticsharpnosepuffer" data_expand=true] Being tightly defended by Wall, nearly losing the ball, and being funnelled to Gortat forced Exum to try this stepback jumper. Good idea, but the swish just wasn't there. Credit to Wall for defending Exum so tightly, cutting off the passing lane and leaving Exum on Gortat Island.
[gfycat data_id="FamousKnobbyAfricancivet" data_expand=true]
There is also that little thing about being pitted against John Wall, who is as athletic a player as they come in the guard position. Much like what I wrote about Conley previously, Wall certainly gave Exum a hard time on both offense and defense. For example, Exum was not being prepared to take the charge against the driving Wall. You try backpedalling on transition defense against one of the fastest players in the league, then stopping on a dime to take a charge, see how that works out.
[gfycat data_id="LongCraftyEgret" data_expand=true] Regardless, these gruelling encounters can only be good for Exum - nothing but growing pains. Stay calm, we're just going through another transition phase as he tries out different options on offense.
Exum's new kicks
In case you hadn't noticed, Exum's version of the adidas Crazy Light Boost looks pretty awesome.
---
Joe Ingles (Utah Jazz)
Hayley did an excellent job of covering Ingles, who had yet another great week. He had an excellent inbound lob to Gordon Hayward, got hot from deep against the Lakers, and participated in a light-hearted Q&A session for Australian/Asian media, where he discussed various topics together with Exum.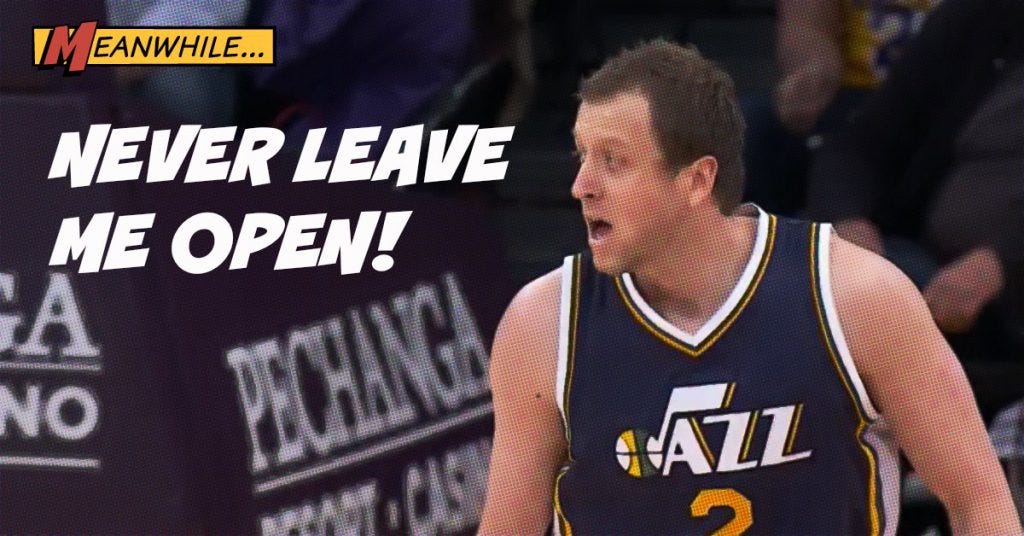 When asked about the upcoming Warriors game, he sounded positive and determined.
"We're going to go out and play the same way and do what we do, but it's a challenge, they're the best team in the NBA… We beat them last time at home so we know they're going to be ready."
---
Matthew Dellavedova (Cleveland Cavaliers)
by Alistar Sullivan
Matthew Dellavedova played a great game last night against the Pacers, one of the best all-round performances I have seen from him in a while.
I gave Delly some soft criticism a fortnight ago regarding his footwork and pace of his game, explaining why he needed to take more time and slow down his approach. Namely, to start hitting more shots and handling the ball with more confidence to make good passes and scoring opportunities. The results of him settling down and composing himself on the offensive end has worked wonders this week. The improvements have mainly been seen in shooting but also while playing the point.
Delly has advanced his passing game rapidly over the last few months. Unfortunately, he learnt it the hard way with many unnecessary turnovers but he is now becoming a great passer to cutters and big men.
https://www.youtube.com/watch?v=ooA1I_eiDBA
[gfycat data_id="OpenIgnorantIndianabat" data_autoplay=true]
The constant alley-oops with Mozgov and the chemistry building between himself and Tristan Thompson has really showed his development off.
[gfycat data_id="GleefulGlossyArawana" data_autoplay=true] We can see here that he has grown in confidence when it comes to driving the ball into the paint while looking for a cutter or a potential lob. This also gives him the option to get a layup or a floater when driving, as the defence will sag off waiting for a pass.
---
Patty Mills (San Antonio Spurs)
by Alistar Sullivan
This week, Patty is once again in struggle town when shooting the ball. The Spurs still haven't found much flow or rhythm to their basketball games this year, something they are known to deliver and Patty seems to be feeling the pressure too.
21% shooting from the field doesn't help the cause when you talk about getting ready for the postseason, and it isn't what you're looking for on the stat sheet after a week with four games of basketball. The lowlight of the week came about, when Patty shot 0 for 5 in six minutes against the Knicks.
Mills still holds some things together though: his intensity, speed and quickness on the court. We can see just how fast he is guarding and keeping up with a cutter while also running off picks and screens to get open, unfortunately he's just missing his shots.
[gfycat data_id="DistinctVariableDunlin" data_autoplay=true]
Something has to change soon for Mills and he has to bring it on. The playoffs are a different level of basketball and teams like the Spurs can switch it on when they need; hopefully the same can be said for Patty. Only time will tell.
---
Game schedule for the week featuring Aussies in the NBA
We are using an embedded Google Calendar format, which would hopefully make it much easier for all of you to keep track on when our favourite Aussies in the NBA are hitting the court!
Game schedules courtesy of NBA on ESPN.