Aussies in NBA: Delly driven to deliver
While the NBA Finals my not have gone the way Matthew Dellavedova wanted in terms of result, the experience has proved invaluable in helping him make a leap this season.
Delly spoke recently about the belief he has gained in himself from performing in what is undoubtedly the NBA's assignment, matched up against the league MVP in The Finals.
I think it just gave me confidence that I can play and compete when the game is at its most competitive and most important, which is in the playoffs and in The Finals when it all counts.

It gave me a lot of motivation for this season and in the future, and also, a lot of confidence to try to build off this going forward. – source
We'll call it a mini-leap at this stage considering we're in small sample size territory, but so far Delly is playing the best ball of his career. While early season numbers can be fleeting, they are backing up the eye-test of a more assured and aggressive Delly.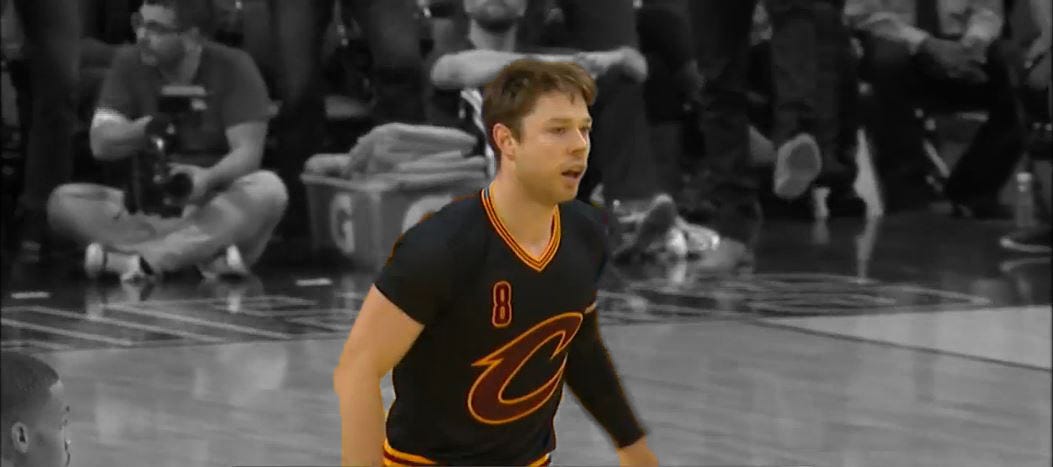 This season he is averaging career highs in points (8.5), assists (5.7), rebounds (3.6), steals (0.7) and PER (15.19), while ranking 22nd in the league in assists per game and 9th in assist-to-turnover-ratio.
His ability to effectively run Cavs second unit has been a major reason they sit just half-a-game behind top spot the East, despite being hit hard with injuries to their backcourt.
So what is it about Delly's play this season which has let to such improved performance?
The most obvious improvement you notice when watching him play this season is his increased willingness to create off the dribble and look for his own shot. His shot attempts have almost doubled from last season, rising from 4.6 to 8 per game.
He understands if he can get to the basket and score, he can then bend defenses and open the game up for those around him, writing in his diary for NBA Australia "When you look to score and attack the rim, that's when the passing lanes open up".
He has improved his mid-range game by developing a floater and has used it to great effect so far. Like much of his game, its not the most stylish but it is gets the job done and importantly it has given him a reliable shot within the arc to keep the defenders honest.
The below graphic from shotanalytics.com shows Delly's increased tendency to attack the mid-range and the rim this season:
Delly's scoring tendencies last season
Delly's scoring tendencies this season
The main beneficiary of Delly's improved attacking play has been Tristan Thompson, who is shooting 100% on field goals assisted by Delly. They have formed a potent pick-and-roll partnership, with the Delly-to-Thompson lob becoming a regular highlight for the Cavs.
The Knicks couldn't couldn't figure out how to stop it and the duo were key in getting the Cavs back in the game:
https://www.youtube.com/watch?v=tdQXV-BSNgU
In fact Delly's may have created his own basketball skill, the 'flob', a half-floater, half-lob pass which he throws up and simply lets Thompson decide what he wants to do with the ball in the air.
On this one, Thompson can see the 'flob' is going in so decides to let it go (bonus play with Delly winning the ball straight back by forcing a turnover on the inbounds pass).
[gfycat data_id="DefenselessTartIrrawaddydolphin"]
There is a long way to go in the season, and the Cavs backcourt will soon become crowded when players return from injury. But if Delly can maintain his confidence and attacking mindset he'll force his way onto the court just like he has his throughout career.