Discover more from The Pick and Roll
We're all about Aussie hoops. Independent, objective analysis and commentary. Insightful narratives built around Australian basketball. Read about our men and women in the NBA, WNBA, NCAA, Europe, national teams, NBL, WNBL, NBL1, prospects and more.
Over 2,000 subscribers
Aussies in the NBA: Bogut continues to anchor Warriors defense
[dropcap]A[/dropcap]ndrew Bogut remains a stalwart defender, and is without a doubt one of Golden State's best postseason weapons come April. Kirk Goldsberry recently wrote about two interesting new defensive metrics that will be presented this year at the Sloan Sports Conference, namely Defensive Shot Charts (how defender's opponents shoot/score over a defender) and Counterpoints (defender's points allowed per 100 possessions). How would Bogut's defensive impact look like, when measured this way? Pretty solid numbers, I'd imagine. One can only hope these new statistics make it into the public eye soon.
On to the main topic at hand though. This week also featured another great Aussie matchup in the NBA, with the Spurs and Jazz putting out four Aussies on the hardwood.
With Dante Exum by his side, Joe Ingles going up against Patty Mills and Aron Baynes was a highlight for Australian basketball. The Jazz came out on top 90-81, with Ingles recording 10 points, 3 rebounds, 3 assists and 3 steals. He continued to look confident with his 3 point shot, draining 2 from 3 attempts.
A photo posted by Danté Exum (@daanteee) on Feb 23, 2015 at 11:09pm PST
We also talk about Baynes' shot distribution, Delly's night against the Pacers and Bairstow's killer stare. Read on, and find out how our Aussies have been faring in The Association this week!
---
Andrew Bogut (Golden State Warriors)
Cleveland have finally found their stride after a few of the moves they made. Getting Mozgov has really helped them, plus LeBron being healthy is a huge part of their run. They move the ball well and they're playing much better defence than they were in the earlier part of the season. - Andrew Bogut - Back from the break and ready to go
Bogut's earlier comment about the Cleveland game this week proved prophetic. A stifling Cavaliers defense anchored by Mozgov, LeBron's 42-point night combined with 16 extra free throw attempts helped seal the loss for Golden State. Bogut was brilliant in the first quarter, notching four points, two blocks and two rebounds and making a visible impact on both ends. The rest of the night did not go as smoothly however, and he ended with 6 points (3 of 8 FG), 5 rebounds, 2 assists and 2 blocks.
Foul trouble has affected Bogut's time on the court, and the Warriors have leaned on their small lineups more this week. Bogut has only averaged 20 minutes in the last three games, which is a little lower than his average of 24.2 minutes before the All-Star break.
Plays like this do not appear on the box score, but notice how Klay funnels DeRozan to Bogut, who is there to help contain the shot. No block, no foul, just a missed attempt and Bogey nabs the rebound, game goes on. The value of a rim protector rises when it comes to the postseason and possessions slow down, and Bogut will be there to provide it.
[gfycat data_id="BleakReasonableIlladopsis" data_autoplay=true data_expand=true]
This play in the Wizards game illustrates one of the key values Bogut brings to the team. Big men are a valuable commodity, and having one that can facilitate the offense out of the high post, is an extremely rare asset. Marc Gasol is one, and Bogut's another.
[gfycat data_id="UntimelyAngelicIcelandichorse" data_expand=true]
---
Aron Baynes (San Antonio Spurs)
The Big Banger's scoring has dipped after averaging nearly 13 points a game last week as a starting five. He had a poor night against the Jazz, making only a quarter of his shots. In his last three games, Baynes seems to be hanging around the mid-range more when moving off the ball, waiting for the jumper opportunity. Observe his shot distribution (again, only last three games):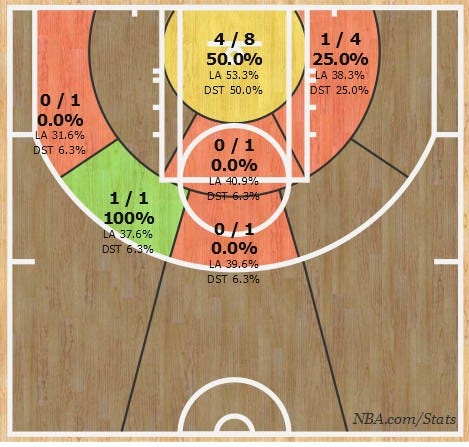 This is for the season so far (52 games at this point). Notice the scarcity of the mid-range shots: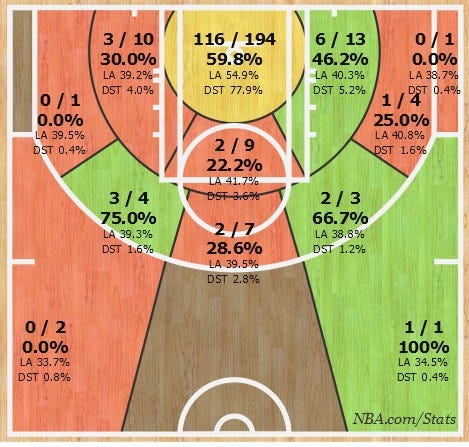 I'm not sure if this jumper thing is a good idea. Baynes' bread and butter plays look to be his baseline cuts, plus screen and roll plays. It might be better to just play him that way, instead of further experimentation on long 2's.
Or even post plays like these, where he backed down RoLo for a solid finish. I could live with this, all night long.
[gfycat data_id="HeavenlyLeftKilldeer" data_expand=true]
---
Cameron Bairstow (Chicago Bulls)
Cam returned to the court this week, in the closing minutes of a home victory against the Milwaukee Bucks. Despite the win being fairly evident (Bulls led 18 with five minutes to go), Bairstow did not enter the court until the final minute. Should coach Thibodeau be giving a looser rein to our rookie big man? What do you think?
Off the court
Aaron Brooks took a bunch of selfies with his teammates earlier this week, but this snap of Bairstow in the background is positively intimidating. Tom Read of Believe The Hype thinks Cam would have pulled Slytherin out of the Hogwarts sorting hat, and local Bulls blogger Adam Howes calls it "creep level 1000".
Have that stare ready for every game Cam. Every. Single. Game.
A photo posted by Aaron Brooks (@206mrbrooks) on Feb 26, 2015 at 4:31pm PST
(h/t Adam Howes @Howsito)
---
Danté Exum (Utah Jazz)
I'm not sure if Exum is too selfless for his own good. The Utah Jazz took 83, 73 and 68 shots in the last three games. Dante has correspondingly attempted 3, 2 and 4 shots in those games, which makes up 4% of the team's total shot attempts. He's not the primary playmaker, and still functions as a spacing shooter right now. Exum's working within the Jazz offense (the right thing to do), but I was hoping to see more confidence on taking the ball and driving. It looks like the call for aggressive play continues to be a work in progress.
Plays like this drive and reverse finish against the Spurs continue to be rare, but it's great when they happen.
[gfycat data_id="CoordinatedRaggedHowlermonkey" data_expand=true]
Offense aside, Exum is playing with great intensity on defense. He's getting back on transition hard, he's fighting to defend, and it shows. Take for example, this charge against Tony Parker.
[gfycat data_id="ShrillImperfectDiamondbackrattlesnake" data_expand=true]
Or the way he sprinted from behind to disrupt Parker's dribble, and created the turnover.
[gfycat data_id="IdolizedEssentialDragonfly" data_expand=true]
You can see glimpses of how a long, wiry point guard like him could be a defensive menace. Something like bringing the ball up could prove to be a nightmare.
[gfycat data_id="ScratchyWateryHousefly" data_expand=true]
The Poster
Unfortunately, the game against the Los Angeles Lakers was spoilt with this careless turnover, and a poster dunk from Jordan Clarkson. The NBA, where one mistake could turn you into a highlight reel of the unwanted variety.
[gfycat data_id="DistantChubbyEquine" data_autoplay=true data_expand=true] (video version)
Off the court
Arches Academy had Exum over for a reading session with the kids, and it looks like he had fun there! This was part of the Utah Jazz's 16th annual "Be A Team Player – Read!" campaign, that encourages students to develop lifelong reading habits, while emphasizing literacy and teamwork.
Had a great time dropping some knowledge on the young kids of Archers Academy. #repost #theyinspireme

A video posted by Danté Exum (@daanteee) on Feb 24, 2015 at 6:04pm PST
---
Joe Ingles (Utah Jazz)
Joe Ingles had an up-and-down week of basketball, with the Jazz finishing 1-1. He helped Utah to an impressive win against the Spurs, but an extremely disappointing loss to the Lakers soured things quickly.
This drive to the basket and slick finish further illustrates his growing confidence with his game at this level. He could've dished out a pass to the running Gordon Hayward, but opted to go himself and finish over Boris Diaw.
[gfycat data_id="DimwittedWellinformedArcticduck" data_autoplay=true data_expand=true]
Ingles had a disappointing outing against the Lakers. He started poorly and coach Quin Snyder sat him from the 7 minute mark of the third quarter through to the final seconds of the game. He was brought back in with 9 seconds left, with the Jazz down by 4. This was a good show of faith from his coach to give him playing time with the game on the line, but he was unable to get Utah over the line. He finished with 0 points, 3 rebounds, 2 assists and 3 turnovers.
In a radio interview on 'The Zone' in Utah, Ingles talked about staying upbeat after tough losses.
On the Lakers loss, "I was pretty disappointed." Ingles continued, "We didn't play horrible. The main things we didn't do well; we had a lot of turnovers and we gave up 31 points in the last quarter. We still had a chance to win the game… We're a young team and it is going to happen."
When asked about whether a win or loss is easier to sleep on, Ingles said, "Staying even keeled is the best way to approach it. Even in a big win, obviously trying not to get to riled up about it. In a bad game, trying not to think about it too much." He also described his personal performance as "super, super frustrating."
Talking about the road trip to Denver, Ingles said "It's nice to get away and just be together." That chemistry of enjoying each other's company is transferring over to the court too. Ingles is evidently playing well when on the court with the young core in Utah.
Jazz Line-up of Trey Burke, Gordon Hayward, Joe Ingles, Derrick Favors and Rudy Gobert has played 101 mins and is +19.6 per 100 possessions

— David Locke (@Lockedonsports) February 27, 2015
Keep an eye for Ingles this coming week as Utah take on Denver and Milwaukee in a back-to-back. They then travel to Memphis and Boston for another back-to-back later in the week.
Off the court
Similar to how Exum sat with the kids from Arches Academy, Ingles had an enjoyable reading session with everyone at Monticello Academy.
.@Joeingles7 reads to kids at Monticello Academy in West Valley City, as part of "Be a Team Player - Read!" @nbacares pic.twitter.com/sMx3HGxFZY

— Utah Jazz (@utahjazz) February 24, 2015
---
Matthew Dellavedova (Cleveland Cavaliers)
by Alistar Sullivan
It had been a quiet week for Matthew Dellavedova, but he got a nice surprise a few hours before tip-off against the Pacers on Friday night, when news broke about teammates Kyrie Irving and LeBron James being out for the game, which led to him being named the starting PG (and de facto floor general) instead.
Delly tied his season high in points against Indiana on Friday night with 14 points. He managed to clock a double-double with a season-high 10 rebounds, tying the lead along with Kevin Love and Iman Shumpert (10 apiece), and also had five assists for the night.
He unfortunately shot a dismal 28% from the field, making only 5 from 18. Matty also played a solid 38 minutes in this game, his second highest time logged this season (highest 5 Jan 2015 against Sixers).
What I did enjoy seeing from Matthew was his ability to maintain his focus on both sides of the ball. Even when it was late in the fourth quarter, Delly was still bringing the defensive intensity he's known for; you could feel he was hungry to show his leadership potential in Irving's absence.
ICYMI: Highlight video against Pacers
Feast your eyes on some Delly funlights!
https://www.youtube.com/watch?v=YDQy-1fM_WI
Off the court
"It's one Dellova-burger." Corny caption, or creative pun? Either way, I'd have a go at the Delly Burger if they have it here in Australia!
— Diamond Leung (@diamond83) February 27, 2015
---
Patty Mills (San Antonio Spurs)
by Alistar Sullivan
Just like the Spurs on their current rodeo trip --they have seen better days-- it's going in a similar vein for Patty. Since his return from injury, Mills has shown glimpses of his potential, but most of the time it seems like he's in the wrong gear. This road trip has Mills averaging 21.4% from deep on almost 3 attempts a game (5 games so far).
Mills did have a standout performance against the Sacramento Kings with 10 points in 10 minutes off the bench in the third, showing the potential that he brought to the playoffs last year. Lately however, Patty has been seeing less time on the court, as coach Popovich is playing jigsaw trying to find the best starting line-up and team chemistry. Mills has been only playing around 10 minutes per night in the last three games.
Despite reduced time, Patty is still showing his worth. Watch this play and see how much Patty has improved his basketball I.Q and awareness, with great spacing of the floor and really stretching the defence with an extra few moves.
[gfycat data_id="ParchedRigidAss" data_autoplay=true data_expand=true]
The Spurs need to start turning the season around and make a push for a higher seed. Patty will doubtless be playing a major role, bringing solid scoring off the bench to make that happen.
Off the court
Patty Mills had his jersey at St Mary's College retired recently, and it was a great moment for the man himself, along with teammates sending salutations across Twitter.
Just an unbelievable feeling that I can't describe #13

A photo posted by Patty Mills (@balapat) on Feb 22, 2015 at 1:29pm PST
Huge congrats to my bala @Patty_Mills for getting his jersey retired by the @smcgaels!! Been a pleasure watching him grow since we were 16!

— Joe Ingles (@Joeingles7) February 22, 2015
Congrats @Patty_Mills! Proud balas here! pic.twitter.com/LHsZfSaclv

— Manu Ginobili (@manuginobili) February 22, 2015
Delly also spoke about Patty being a role model, and being at St Mary's in this interview with NBA Australia.
Post by NBA Australia.
---
Game schedule for the week featuring Aussies in the NBA
We are using an embedded Google Calendar format, which would hopefully make it much easier for all of you to keep track on when our favourite Aussies in the NBA are hitting the court!
Game schedules courtesy of NBA on ESPN.