Discover more from The Pick and Roll
We're all about Aussie hoops. Independent, objective analysis and commentary. Insightful narratives built around Australian basketball. Read about our men and women in the NBA, WNBA, NCAA, Europe, national teams, NBL, WNBL, NBL1, prospects and more.
Over 2,000 subscribers
Aussies in NBA: Bogut beasts the Kings
It wasn't supposed to be this hard, but the Warriors made the night tougher for themselves with consecutive unforced turnovers against the Sacramento Kings, ending the game with 18 turnovers. In contrast, Andrew Bogut shone. He played only 14 minutes, but tallied 4 points (a perfect 2-of-2 from the field), 5 rebounds, 2 assists, 2 blocks, and a steal.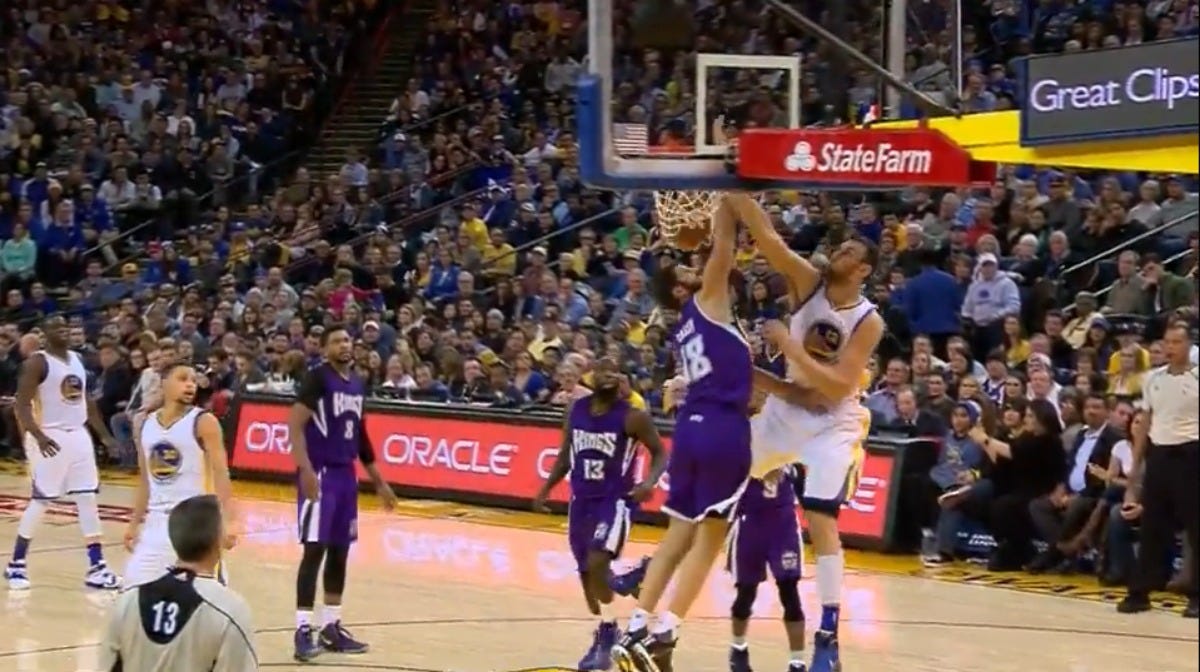 Not only that, he finished with a plus/minus of +20, his third-best of the season and in far less game time than his season average of 20 min/game. It's a serious understatement to say that Bogut helps the Dubs to win.
To the highlights! After a beastly defensive game against the Cleveland Cavaliers on Christmas Day, Bogey continued along the same vein, first emphatically erasing Ben McLemore's layup then wiping out Omri Casspi's second-chance effort.
[gfycat data_id="UnlawfulBrilliantGalapagospenguin"]
(As a Mavericks fan, I have to admit a certain guilty pleasure in seeing Rondo getting smacked in the face by the ball after that block.)
[gfycat data_id="UglyUnpleasantArgentinehornedfrog"]
This whole sequence, starting from playing defense on DeMarcus Cousins through to hustling to recover to meet Casspi's shot attempt, says more about the way he approaches the game than any high-flying dunk.
---
On offense, it was the usual case of 'short but sweet' for Bogut. He took and made two shots, both dunks, and that was all she wrote. That said, the alley oop finish for his second bucket merits repeat viewing:
[gfycat data_id="CarefulRequiredAfricanmolesnake"]
[gfycat data_id="CorruptAjarGoldfinch"]
Look at that elevation! Those back spasms look like they've been left in the dust now.
---
Coming back to that +20 plus/minus stat for a bit, Bogey doesn't get that by coming up with highlight blocks and dunks. To further illustrate this point, look at how Bogut saved the possession here:
[gfycat data_id="BlueSecondAquaticleech"]
He fights hard to get the offensive rebound, and then, when presented with a decent shot opportunity against Rudy Gay, he decides to shovel it inside to Draymond Green instead. This results in a foul and two free throws. On the other end of the floor, Bogut proved to be such a strong deterrent in the paint that Cousins settled for several long jumpers instead, finishing the game 3-of-9 from the floor for just 7 points.
These are winning plays, efforts which don't show up on the box score but play a big part in helping a team notch that W. The next time you're wondering how someone can get +20 plus/minus in just 14 minutes, or +42(!) with zero shots and points and in just 21 minutes, pay a little more attention to the Bogeyman. He'll show you the way.