Aussies in the NBA: Aron Baynes shares a varied bag of offensive tricks
After back-to-back 18-point performances, the Banger flicked his turbo switch off against the Warriors, and recorded 8 points, 5 rebounds, an assist and a steal in the 107-92 victory. The performance was nothing to shout about, but Baynes showed off a varied and efficient offense that is clicking so well with the team these days. He's actively involved in the offense, teammates are looking out for him, and he is making the most of what he's got here.
I'm really looking forward to the postseason, should this trend continue.
---
Hook shots
He's not exactly Kareem yet, but the ability to use hook shots with either hand is a great option to have.
Baynes established solid ground for the offensive board in the first play, and kept the possession alive. Parker took it upon himself to draw two defenders in, and hand it off to Baynes for the finish. He uses a right-handed hook here, to get over the defenses of Lee and Ezeli.
[gfycat data_id="CreamyDefinitiveFlies" data_autoplay=true data_expand=true] Diaw's baseline feed finds Baynes open for a left-handed hook shot. I love the ease with which he fires this shot, given that the left's not his master hand.
[gfycat data_id="CrispZestyChafer" data_autoplay=true data_expand=true]
The short paint jumper
I'm not a fan of his mid-range shots, but I can live with these shots so long as they're catch and shoot, not one-dribble pullup shots. Why? His accuracy goes from 56.5% (no dribbles) to 48.4% when an extra dribble is taken. Ergo, no dribbles please.
He's 4 of 12 for the season in this spot, but a couple of makes changes the numbers pretty quickly. There's no reason to believe he wouldn't make these babies in the days ahead. [gfycat data_id="FilthyFreeHanumanmonkey" data_autoplay=true data_expand=true]
The good old pick and roll
Just another bread and butter play for good old Baynes. He sets a high screen for Manu, and pauses just long enough to catch his defender unawares. Manu's ready to shoot, sees Banger charging into the paint with a trailing defender, and adjusts accordingly.
In case you were wondering: yes, we've seen something similar before.
[gfycat data_id="ComfortableIllHarrierhawk" data_autoplay=true data_expand=true]
---
Defensive smarts
Obviously not offense, but I liked this sequence in the game a lot. Defending without fouling is a tough art to master, and Baynes manages to put Green into a difficult spot here. Spinning left and right doesn't get him anywhere thanks to Banger's lateral movements, and he's forced to throw an awkward shot up.
[gfycat data_id="RemorsefulUnripeGibbon" data_autoplay=true data_expand=true]
Bonus: the Spurs magic is still alive
In case you were wondering how the Spurs played, here's a sample of their wizardry. Love the geometry of this possession; the angle of Parker's pass, Kawhi's deliberate drive that forced the defense to collapse, and how Duncan was already parked in the corner, ready for an easy bucket.
[gfycat data_id="InfiniteCostlyBrocketdeer" data_autoplay=true data_expand=true] Here's a Patty/Baynes (and Marco) sighting to round this off. The trio made this sign right after Kawhi notched his seventh steal. FEAR THE KLAW.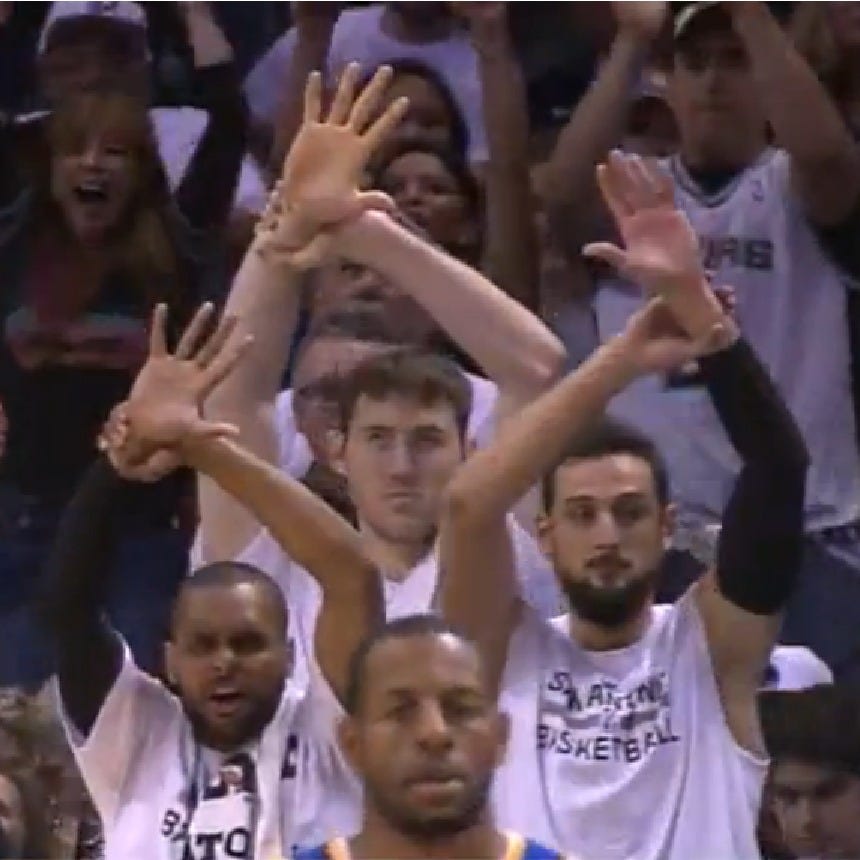 If Kawhi keeps wrecking havoc the way he did against the Warriors today, the Spurs could very well be a lock for the Finals.