Discover more from The Pick and Roll
We're all about Aussie hoops. Independent, objective analysis and commentary. Insightful narratives built around Australian basketball. Read about our men and women in the NBA, WNBA, NCAA, Europe, national teams, NBL, WNBL, NBL1, prospects and more.
Over 2,000 subscribers
Aussies Shine at NBA Basketball Without Borders camp
[dropcap]T[/dropcap]his past weekend saw 3 of Australia's brightest young stars participate in the NBA Basketball Without Borders camp, held at Baruch College in New York City.
Australia's Isaac Humphries, Tom Wilson and Dejan Vasiljevic were among the 39 campers from 23 countries. New Zealand's Matthew Freeman was also among the invitees to the camp, held during the 2015 NBA All-Star Weekend.
Isaac Humphries, Tom Wilson, Matthew Freeman and Dejan Vasiljevic
This year marked the first time that Basketball Without Borders, the NBA and FIBA's global basketball development program, had been held in the U.S.
With every camper kitted out in Nike gear, they had the opportunity to receive instruction from NBA and FIBA coaches - among those were Denver Nuggets forward Danilo Gallinari, Minessota Timberwolves power forward Gorgui Dieng and San Antonio Spurs power forward Tiago Splitter.
All 39 campers at the conclusion of the event
Not only did this camp provide an opportunity for these athletes to be a part of a camp run by the league they all hope to one day be a part of, but it was also another opportunity for them to represent their country on the international stage. Dejan Vasiljevic has been fortunate enough to wear the green and gold on a number of occasions and spoke about this camp as another opportunity for him to fly the Australian flag overseas.
Being 1 of the 3 Australians is an absolute honour. I was really happy to be a part of such a great camp and being able to represent my country. It was just incredible.
Matthew Freeman was the only invitee from New Zealand, and he made sure he represented his country as best he could.
"It felt like a true honour being the only Kiwi because it was like I was carrying the [New Zealand] flag on my back, representing my country. I took a lot of pride in that and dealt with the pressure well."
The camp was also a chance for these athletes to experience the 2015 NBA All-Star Weekend. After each day's on-court session, the campers would travel around New York and take-in the NBA festivities up close.
Courtside at the @NBAAllStar rising stars game #NBAAllStarWeekend pic.twitter.com/9s1uvSpVWB

— Isaac Humphries (@IsaacHumphries7) February 14, 2015
Great to be here at the Nike Zoom Arena! pic.twitter.com/kh7hPoREsX

— Dejan Vasiljevic (@DejanMv) February 14, 2015
---
[dropcap]T[/dropcap]he campers would begin the day with movement efficiency training. This would generally consist of the athletes warming up to make sure their bodies were prepared for the rest of the day, as well as participating in athletic testing - operated by Fusionetics.
[gfycat data_id="AppropriateIllfatedAfricanhornbill"]
The athletic tests included a maximum vertical jump, three-quarter-court sprint time and lane agility time. Each athlete also went through physical measurement stations.
[gfycat data_id="LegalHeavenlyGnat"]
The rest of each day would consist of position-based skills sessions, scrimmages and shooting drills.
---
Wilson and Vasiljevic participated in the guards sessions, with the drills focusing on ball-handling, attacking the paint, shooting off the dribble and spot-up shooting.
[gfycat data_id="ColossalMammothGerbil"]
Both Australian guards showed that they were capable of competing at the highest level, but they also know that it's important not to become complacent. Tom Wilson, who has been a shooting guard for the most-part of his junior career, recognised that he still has a lot of work to do to become the best point guard he can be.
I would say the thing I need to improve on the most now is finding a balance as a point guard knowing when I need to be aggressive and look to score, and when to be leader and passer.
[gfycat data_id="GreatSardonicArmednylonshrimp"]
Vasiljevic struggled with his spot-up shooting at times but did a great job navigating through screens and shooting off the dribble. The 6'1 guard also made sure that he continues to work hard and not become complacent.
What I took away from the camp is that there is still a lot of hard work ahead to become an even greater player.
---
[dropcap]I[/dropcap]saac Humphries and Matthew Freeman were among those who participated in the big-man sessions, focusing on catch-and-shoot midrange jump-shots, finishing around the rim and posting up on the low block. Freeman spoke of what he needs to improve in order for him to continue to compete with the big-men at this level.
"I think for me personally I need to physically become stronger but that just takes time and hard work."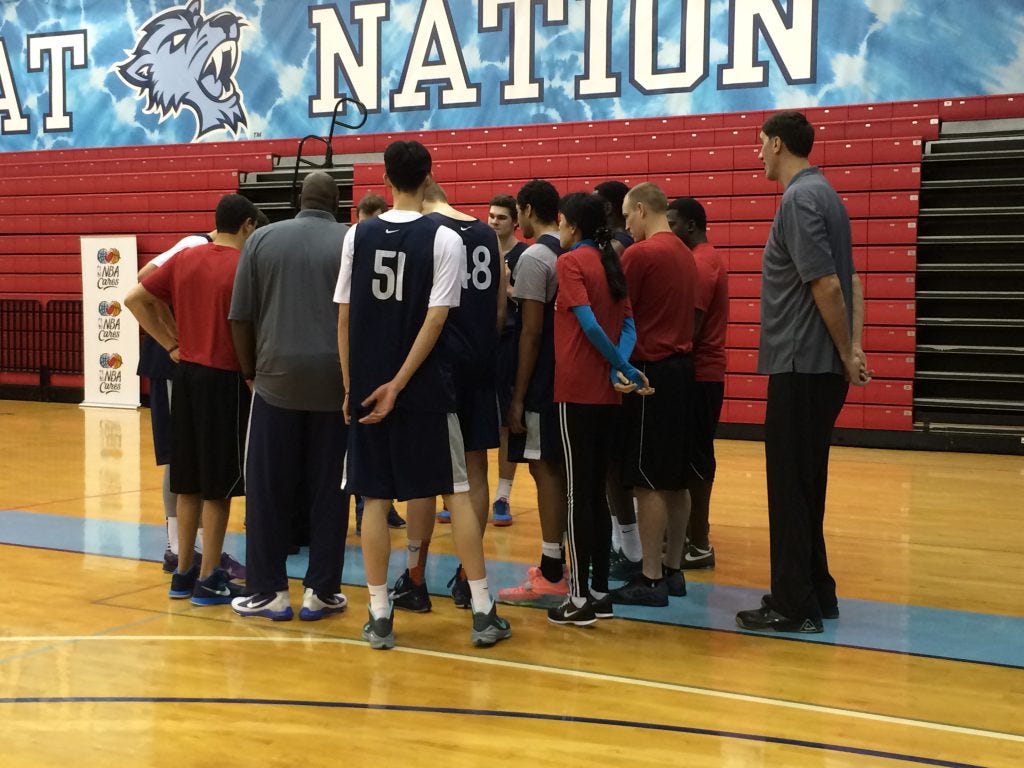 Gheorghe Mureșan (7'7) towers over the camp's big-men
Isaac Humphries has been playing high school basketball in the US for 3 months now so going up against international big-men was a welcome change for him.
"[It's] similar to Worlds, some of us remember each other from [FIBA] Worlds, so it's good to see your competition from around the world."
Humphries, the 7-foot centre out of Sydney, was a standout at the camp, dominating the paint on both ends of the floor. Freeman was relatively unknown to scouts at the beginning of the camp but but 6'9 forward out of Auckland showed great toughness when competing in the paint, as well as a much improved stroke from the perimeter.
The campers were fortunate to have legendary former NBA big-men Hakeem Olajuwon and Gheorghe Mureșan in the building to watch the event.
Although the camp didn't allow college coaches to watch, there was still a considerable turnout by NBA scouts and media. Over the 3 days it became known that scouts from the Toronto Raptors and the Denver Nuggets were most prevalent at the camp.
NBA Scouts and media pack Baruch College's intimate gym
---
[pullquote-right]"Believe and work hard because anything is possible. Make the most of this experience."[/pullquote-right]
[dropcap]A[/dropcap] number of guest speakers had a chance to talk to the campers throughout the week, all putting forth a different eye-opening message. Toronto Raptors general manager Masai Ujiri, who is considered one of the most talented front-office executives in the NBA, spoke to the campers about believing in themselves.
Amadou Gallo Fall, head of NBA Africa, and Masai Ujiri, General Manager of the Toronto Raptors, speak to the BWB campers
[pullquote-left]"It takes a lot of hard work to get to the NBA, there are millions of guys in the world who want to be there. I'm not the most talented player in the league, but it isn't all about talent. It's also about hard work and dedication." - Tiago Splitter[/pullquote-left]
San Antonio Spurs power forward Tiago Splitter and former NBA journeyman Ron Harper spoke to the campers on the final day. They both emphasised that talent isn't everything - mentioning that it's important to know your role, play under control and check your ego at the door.
Tiago Splitter and Ron Harper speak to the campers
Tom Wilson said that he was particularly inspired by Harper's words, with Wilson likely to heed that advice heading into the U20's Australian Junior Championships starting next week.
I took the most out of what Ron Harper said and how he changed his career path by sacrificing his role so that he could become part of a championship team. Also how he dealt with changing his game and adapting to playing with the likes of MJ and Scottie Pippen.
---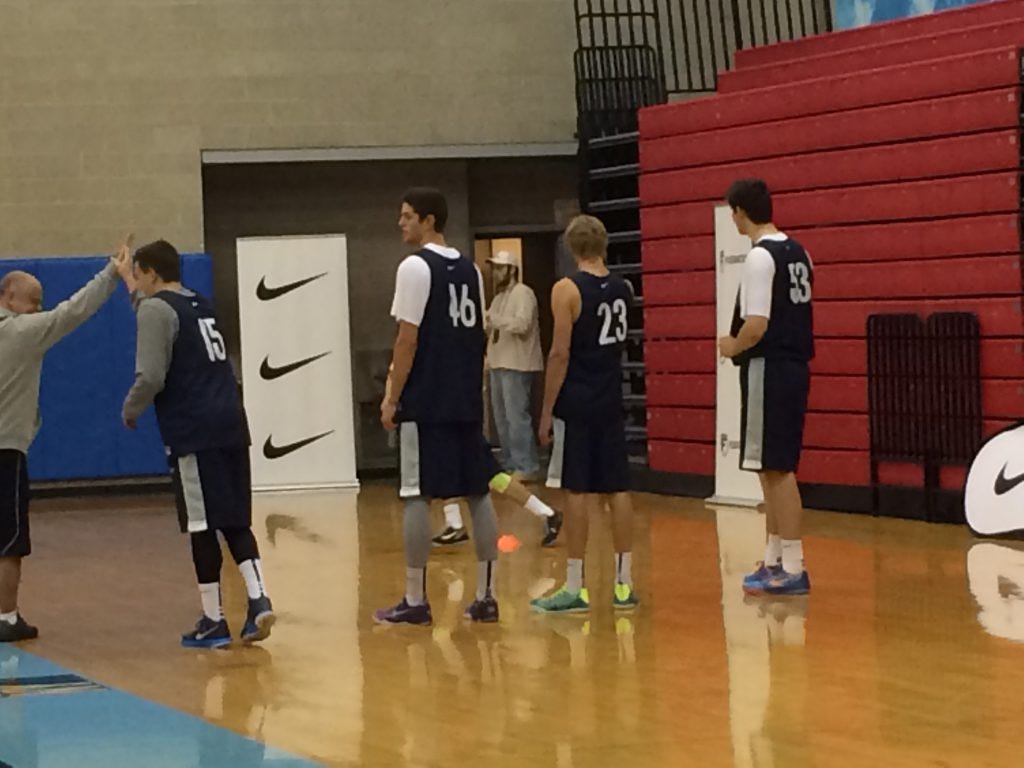 [dropcap]A[/dropcap]wards were given out at the conclusion of the camp, with Tom Wilson, Dejan Vasiljevic and Matt Freeman earning All-Camp honours. 7-foot Maccabi Tel-Aviv centre Dragan Bender was named the MVP of the camp.
The camp was a great chance for these young stars to see the international competition that they may face at the FIBA U19 World Championships in Greece later this year. Although the teams are yet to be chosen, it's hard not to think about - Tom Wilson hoping to make the squad after his great experience with the Australian U17 squad last year.
I can't wait to hopefully get another chance to play at the [FIBA] U19 Worlds. I'll put my best foot forward and do everything I can to make that team after the U17 [FIBA] Worlds was best basketball experience of my life.
Dejan Vasiljevic has also made the Australian U19 squad a priority.
The U19's is the main focus in the first half of the year. Lots of preparation [will be done] and I will do all that I can to get my body ready and be able to perform at the top level again.
---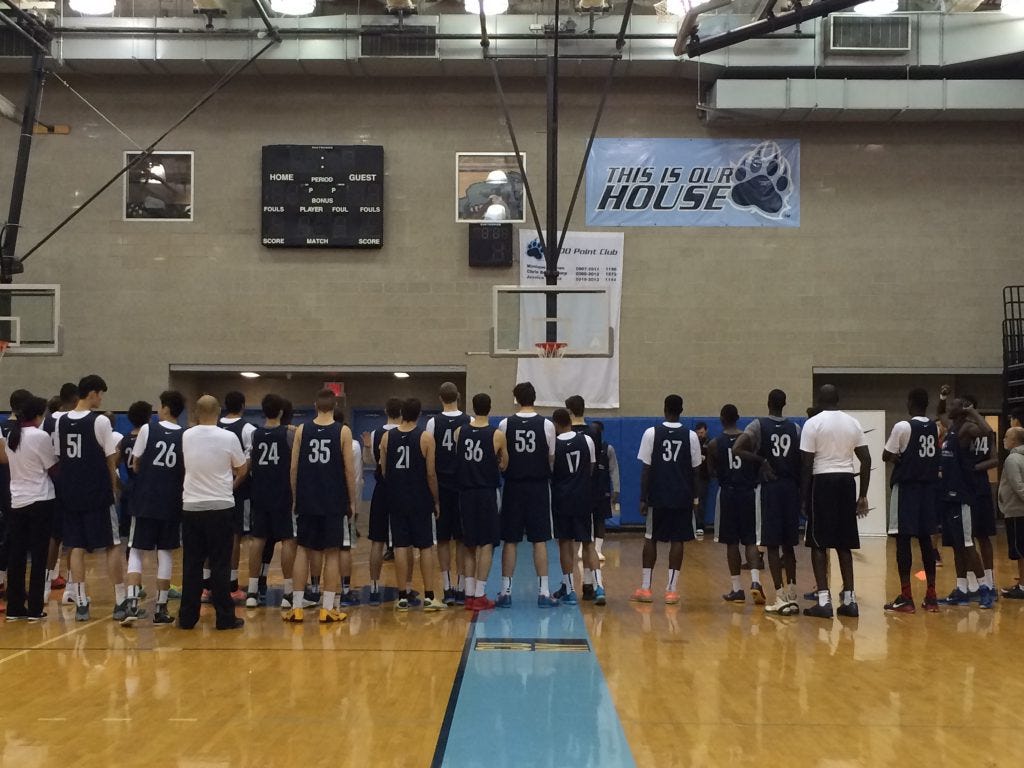 This camp provided an opportunity for athletes from all around the world to get a taste of the training that NBA players get regularly, as well as learning what skills they need to have in order to compete at the next level.
Credit to the NBA and FIBA for an extremely well-run camp, and to new NBA Commissioner Adam Silver for putting an emphasis on the development of the sport through international grassroots events like this one. The Basketball Without Borders camp will become an annual event at NBA All-Star Weekend, allowing NBA scouts to get a closer look at the best international talent.