Discover more from The Pick and Roll
We're all about Aussie hoops. Independent, objective analysis and commentary. Insightful narratives built around Australian basketball. Read about our men and women in the NBA, WNBA, NCAA, Europe, national teams, NBL, WNBL, NBL1, prospects and more.
Over 2,000 subscribers
Aussies in NBA: Thunder series shows Mills' need for further polish
With just over 12 seconds to go in regulation, and the San Antonio Spurs down by a solitary point, one of the strangest sequences in recent playoff memory occurred.
[gfycat data_id="ScornfulSparklingInsect" data_autoplay=true data_expand=true]
Did you see that?
Do you want to re-watch it again?
Whilst headlines immediately after the game drew attention to the Dion Waiters' elbow on Manu Ginobili --the should've-could've-been offensive foul that was never called-- something else occurred, something that was far more symbolic of the series.
That bizarre 12-second sequence actually featured Patty Mills, front and centre, in the ultimate portrayal of Spursian weirdness.
First, he declines the obvious layup, the type of mid-air contortion and finish that Mills has mastered in his time with the Spurs. One could reasonably argue that the angle wasn't there. Or that the hulking Steven Adams (who actually played like the Hulk in this series) was lurking for the block attempt. And I'd be perfectly fine in accepting those as plausible reasons for, you know, not taking the open shot attempt.
Failing that, there's also the drop-off pass to a trailing Ginobili that Mills somehow inexcusably misses. Never mind that.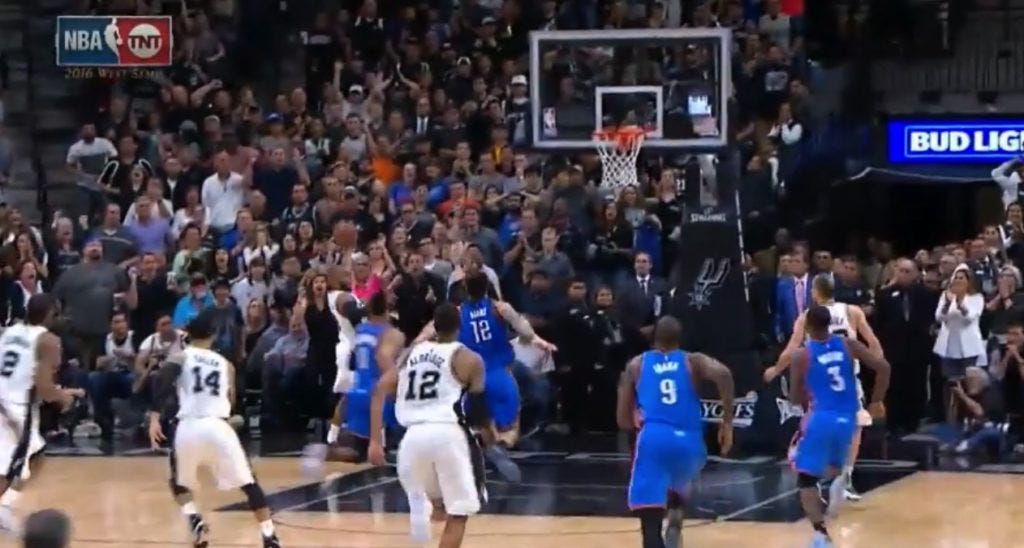 After waiting a beat too long to finally give up the ball to Manu, Mills does the right thing this time – he fans out to the corner as an outlet, and for an open 3-point look.
He airballs his attempt.
Those fateful 12 seconds perhaps encapsulated the Patty Mills experience in this year's playoffs.
The diminutive Aussie guard had an up-and-down postseason, tantalising supporters with exhilarating highs, and mixing in head-scratching lows, just for good measure.
Against an injury-ravaged Memphis --in which Mills would often match up with the likes of Xavier Munford-- he looked like a world-beater. Mills averaged almost 20 minutes a night, and shot 43.5 percent from 3-point range. The Spurs outscored the Grizz by 43 points in the 78 minutes with Mills on the court, per NBA.com, an astounding figure.
Against the Thunder? Yeesh.
In just under 15 minutes per game, Mills shot a ghastly 23.1 percent from 3-point territory and averaged 4 points per game, per NBA.com. The Spurs were a plus-12 in the 89 minutes in which Mills was on the court, but those numbers are slightly misleading.
Per NBAwowy, in the 19 minutes in which Ginobili, Parker and/or Leonard were not partnered with Mills during these playoffs --meaning the Aussie was the lone playmaker-- the Spurs were outscored. It's no wonder that Pop only used such a lineup for 4 minutes during the entire Thunder series.
Similarly, Mills' shooting was way off in the second round when the Spurs needed it the most against the Thunder's rangy defense.
Against the Grizz, 41.4 percent of Mills' shot attempts were classified as wide open, per NBA.com. That number dropped to 37.5 percent against the Thunder's long-limbed athletes. The Thunder defense seemed to frazzle the Spurs, spooking open shooters into overthinking and passing up great looks.
Look, against better competition it's always going to be tougher. Duh. But it was the Jekyll-and-Hyde manner in which Mills performed in the second round that was concerning.
Whilst Mills has undoubtedly improved his playmakng abilities, there's a sense that it's not yet at a level that stands up to the scrutiny of dialed-in playoff defenses.
In explaining why the Spurs offense descended into LaMarcus-Aldridge-bully-ball in crunch time, Zach Lowe recently wrote that part of the reason was because of Mills' lack of consistency in making the right reads in the pick-and-roll.
"That's the interesting yin-yang here: the Spurs noticed the Thunder abandoning Parker to muck up their spacing, so they went to Mills -- a better shooter -- more in the second half. But Mills isn't as polished a drive-and-kick guy on the pick-and-roll, and so the Spurs naturally leaned even more on Aldridge's post game." -- Zach Lowe, ESPN
I agree.
When I recently caught up with Spurs assistant coach, Chad Forcier, he praised the improvement in Mills' game: specifically his progress in game management and understanding the right plays to make. At the same time, he also emphasised that it was an ongoing process of improvement with the Aussie.
Mills' uneven performance in the playoff cauldron suggests that there is more work to be done.
His ballhandling needs to be tighter. His decision-making needs to be cleaner. His passing repertoire, and understanding of space, needs to improve in the heat of playoff basketball. It's one thing to excel against the likes of the Denver Nuggets in a meaningless January game, and another thing entirely in May, and with a bit of luck, hopefully in June.
If that 12 second sequence above encapsulated Mills' playoff struggles, it also represents an opportunity to get better. And with his proven track record of continual growth, and a tireless work ethic to match, don't be surprised if he comes back next season as a more complete player.