Aussies in NBA: Motum makes Jazz Summer League roster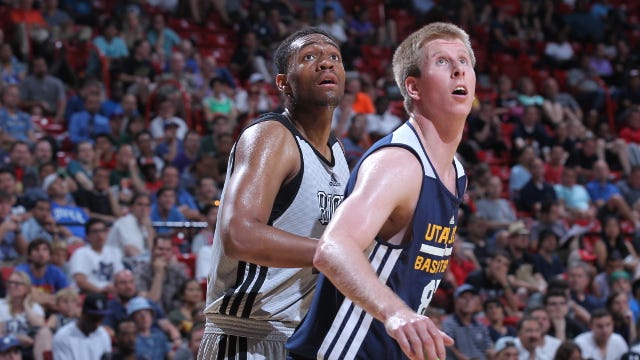 Brock Motum, who last played for the Adelaide 36ers, will be a part of the Utah Jazz's free agent mini-camp this year, linking up with the club again after almost making the opening day roster last season.
congrats/good luck to Brock Motum (@brockm12) w/ @utahjazz, Jordan Railey (@Bone_Capone) w/ @Sixers, & DaVonte Lacy (@25_Caliber) w/ @Pacers

— Tim Marrion (@TimMarrion) July 1, 2015
Motum will be joined by the siblings of Timberwolves star Andrew Wiggins and Jazz big man Trevor Booker: Nick Wiggins, and Devin Booker. Additionally, according to Tom Read of Believe the Hype, it seems that the Jazz familiarity with the big man and his talents has earned him a spot on their Summer League team:
Aussie Forward Brock Motum will be back with the Utah Jazz for Summer League this year.

— Tom Read (@traread) July 1, 2015
Motum was solid for the Jazz in the 2014 Summer League, averaging 8.0 points and 4.6 rebounds and shooting a solid 62% over five games. He was signed to a non-guaranteed contract, but was eventually waived before the regular season started, having played in one preseason game.
The Jazz are somewhat lacking in big men depth. With Jeremy Evans an unrestricted free agent, this leaves Trevor Booker as the only experienced reserve behind starters Derrick Favors and Rudy Gobert. Motum could be just what the Jazz need this coming season, giving them a fourth big man with professional experience.
A solid Summer League and preseason showing could seal the deal and add Motum to the growing list of Australians making an impact in the NBA. This includes prospective teammate Joe Ingles, who has already been given a qualifying offer from Utah, and Cleveland guard Matthew Dellavedova, who also received his qualifying offer from the Cavaliers earlier today.