Discover more from The Pick and Roll
We're all about Aussie hoops. Independent, objective analysis and commentary. Insightful narratives built around Australian basketball. Read about our men and women in the NBA, WNBA, NCAA, Europe, national teams, NBL, WNBL, NBL1, prospects and more.
Over 2,000 subscribers
Aussies in NBA: Mills vs Baynes
Patty Mills and Aron Baynes faced each other for the first time as opponents in the NBA, when the San Antonio Spurs defeated the Detroit Pistons 96 – 92 (boxscore).
With Tony Parker sitting out the game for management reasons, Mills had his second start of the preseason and again struggled with his shot beyond the arc.
On a whole Mills had an good game running the team and being a pest on defense, although it would obviously looked much better had his shot fallen.
He finished the match with 8 points on 2-of-10 shooting (1-of-5 on 3's), while adding 2 assists and 2 steals in 23 minutes.
Mills is now 2-for-11 from 3-point attempts throughout the preseason at a rate of 18%, putting him into Lance Stephenson bad shooting territory.
Watching him play he isn't taking bad shots, usually shooting when open and in the flow of the offence. The problem is his shot just won't go down:
[gfycat data_id="ImaginativeIlliterateAfricanparadiseflycatcher"]
After a few misses Mills was finally able to get on the end of some slick ball movement to hit his only 3 of the game, while again showing ability to get to good spots on the floor:
[gfycat data_id="LinearElasticAnemoneshrimp"]
On the positive side, he 'feels whole' again after shoulder surgery affected his performance last season, and inside the arc he is shooting well, making 11-of-19 during the preseason, at a very respectable 57%.
Shots come and go in the NBA, as long as Mills continues to take the right ones he'll be fine in the long run.
---
On the other side of the court, Baynes returned to San Antonio against the team he had spent the past three seasons. Early on he spent some time catching up with old teammate Tim Duncan by sharing a laugh.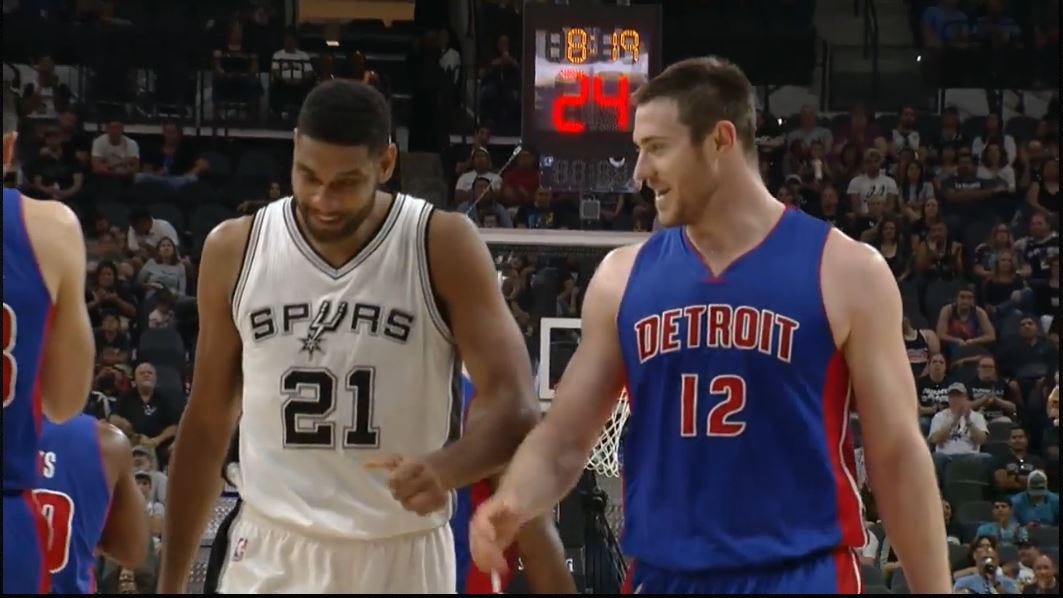 Baynes is on a preseason time limit restriction as he recovers from ankle surgery and entered the game at the start of the second quarter.
Baynes finished the game with 4 points (1-of-3 shooting), 2 rebounds and a 1 block in 13 minutes and while his numbers are similar to his last game against the Chicago Bulls, he failed to have the same impact.
He was less inclined to be physical with the Spurs players today (much to their relief I'm sure) and this took away his effectiveness. He also looked a bit out-of-step on offense, and the few times he got his hands on the ball he rushed the shot, such as this ugly attempt:
[gfycat data_id="HandmadeDeepAlbatross"]
Baynes admitted being lured to Detroit by coach Stan Van Gundy's reputation to get his big men involved offensively and a role that would see him with more freedom than he had with the Spurs. However, its clear he will experience some growing pains along the way.