Discover more from The Pick and Roll
We're all about Aussie hoops. Independent, objective analysis and commentary. Insightful narratives built around Australian basketball. Read about our men and women in the NBA, WNBA, NCAA, Europe, national teams, NBL, WNBL, NBL1, prospects and more.
Over 2,000 subscribers
Aussies in NBA: Is Dellavedova's floater a reliable weapon?
Cleveland guard Matthew Dellavedova was sidelined late last week against the Pacers, due to ankle soreness. He returned against the Raptors as a starter alongside Kevin Love. Delly saw 26 minutes of action, scoring 12 points on 5 of 12 shooting, and hit 2 of his 5 threes. He also recorded 1 rebound, 5 assists, 2 turnovers and 2 fouls in this 81-87 loss, Cleveland's sixth consecutive loss in the preseason so far (box score).
We have all seen Matthew Dellavedova use the floater (or teardrop), both as a replacement for the mid-range pullup, and also as a way to avoid the shot blocker.
[gfycat data_id="LargeContentCentipede" data_autoplay=true]
Let's not forget the confusion it generates, when a floater becomes a lob to the rolling big man, or vice versa.
[gfycat data_id="DistortedChiefAlleycat" data_autoplay=true]
How good is that weapon so far, and can it be counted on to deliver this season?
The third-year guard attempted a total of 12 shots today, easily his highest so far. This is more of a preseason aberration from resting key players than a hint of the season ahead; Dellavedova averaged only 4.6 attempts last season, and 6.8 in the playoffs. On top-heavy team team like Cleveland, Dellavedova was never intended to be a major contributor on offense, until severe injuries dictated otherwise. Mo Williams' appearance this season will only further limit the shot opportunities Delly gets.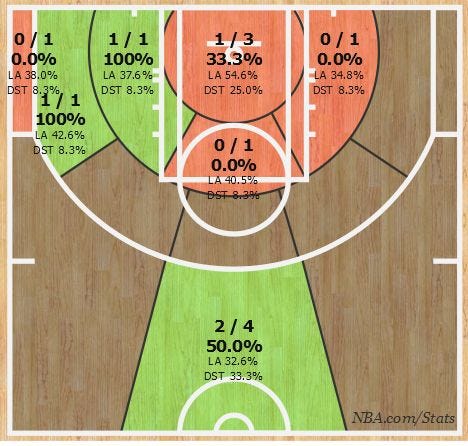 The interesting tidbit in today's Toronto game, were the amount of floaters he took (6 in total). Delly's first five attempts were all floaters. That either speaks of confidence, or a will to practice and clock game experience. (Or both.)
https://youtu.be/sT50q9i5FIw
As you can tell, only two floaters actually put points on the board. Delly swished one, and got a goaltending call on another teardrop, courtesy of Bismack Biyombo. The results aren't promising this time. There's probably a reason why floaters aren't used more often. While the floater is often harder to defend or anticipate, the shot mechanics are harder to replicate, compared to a jump shot.
Dellavedova's floater has been a constant work in progress. Will this offensive move achieve sufficient consistency, for him to use it effectively this season? If there's anything you can count on, it's that Delly will keep working at it, until the results speak for themselves. His three-pointer for one, has seen visible improvement this offseason. Expect the floater to follow suit, given sufficient time.
The ankle breaker
Lest anyone missed this tasty morsel, Dellavedova sent Kyle Lowry sprawling, and nailed an open three with ease.
[gfycat data_id="RegalConventionalKronosaurus" data_autoplay=true]
Matthew Dellavedova preseason performance against Toronto Raptors
https://www.youtube.com/watch?v=5UIyshRdkFg&feature=youtu.be