Aussies in NBA: Delly and Moreyball
I previously covered how Delly's impact on the basketball court cannot be quantified by numbers. Yet paradoxically, his game is flourishing this season thanks to a strict adherence towards "Moreyball", a statistically-stylised way of playing that calls for a steady diet of the most efficient shots in basketball: layups, free throws and 3s.
Digging into Delly's shot profile this season, thanks to data from Point After, it appears that he has embraced that philosophy.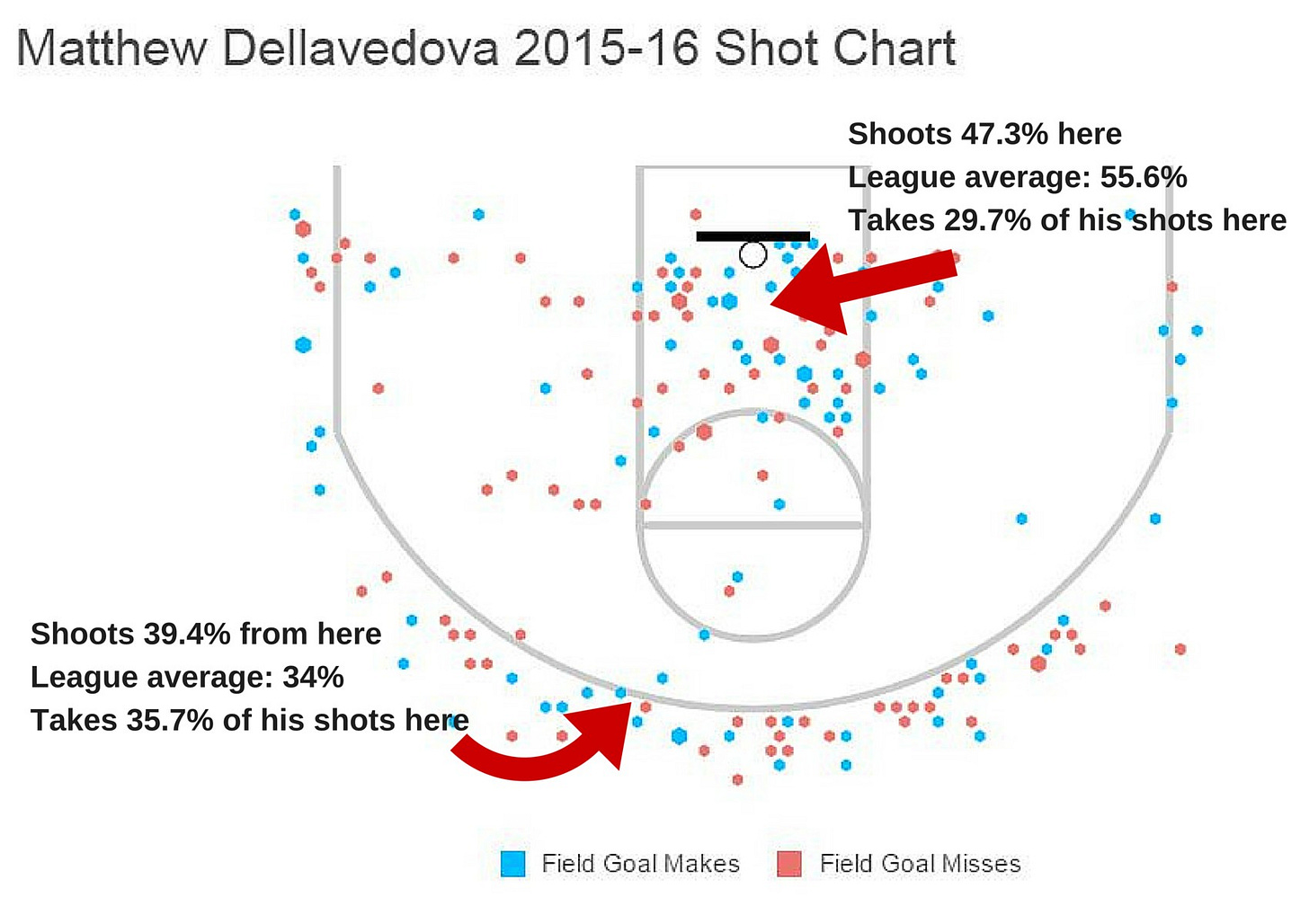 Delly takes a tonne of 3s, especially from above the break; those shots make up 35.7 percent of his shot profile, per Point After data. And he does it well, shooting 39.4 percent from that zone. Just to give you some context, the league average from above the break sits at 34 percent.
The other hot spot for Delly is inside the paint, an area in which he isn't so good. Those shots make up 29.7 percent of his attempts, and he only shoots it at a 47.3 percent clip. The league average is 55.6 percent.
A comparison versus Harden
If Delly has in fact embraced the Moreyball way of playing, who better to compare his shot profile with than James Harden, the ultimate Moreyball star?
Harden takes 37.7 percent of his shots from above the break, and shoots it at a relatively pedestrian 34.4 percent clip, right about the league average.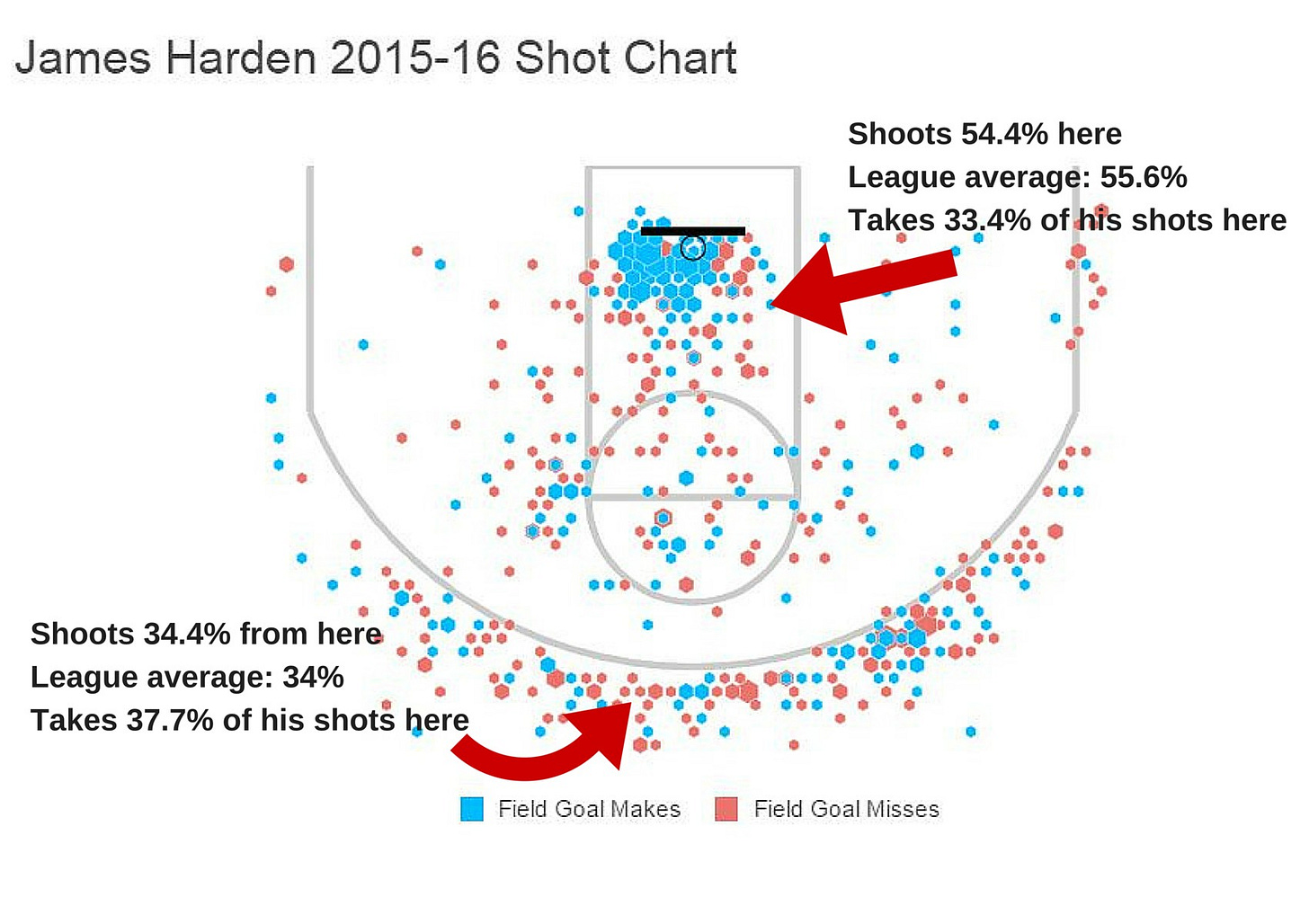 Harden does get to the rim far more frequently than Delly, 33.4 percent of his overall shot attempts, and converts at a 54.4 percent clip; he takes a whopping 36.1 percent from inside 10 feet, per NBA.com. Of course, Harden blends greater shot volume with a free throw extravaganza every night, balancing out all that chucking.
That seems like a terribly long-winded way to say that Delly mostly shoots 3s, or shuffles into the lane for a layup or floater attempt. Still, that's an instructive way to look at how Delly produces offensively for the Cavs, on a scoring perspective, and underlines how he has found a niche within the offensive system to contribute, apart from just being a table-setter and straight-up moocher.
Delly's production is almost guaranteed to eclipse his previous best, and at greater efficiency. Just past the quarter way mark of the season, and Delly has already jacked up almost half the number of 3-point attempts he chucked up last season, whilst shooting at a career-high 45 percent.
From those 80 attempts for the season, the bulk of Delly's 3-point bomb-fest has come from the above the break, but he's been positively elite in the corners, hitting 80 percent from the right corner, hitting 4/5 attempts, and 54.5 percent from the left corner, 6 makes from 11 attempts, per NBA Savant.
Dig a little deeper, and Delly's not simply mooching off of star players, whilst chilling above the break. He's amongst the league leaders for guards in unassisted 3-point makes, and for which 3-pointers form a high percentage of their shot profile. Basically, he's jacked up plenty of higher difficulty, off-the-bounce looks, all whilst shooting a career high of 45 percent.
Matching up against Beverley
A better comparison for Delly might be made with James Harden's backcourt mate, Patrick Beverley, whose game more closely aligns with Delly's responsibilities on the court. Delly uses 15 percent of Cavaliers possessions, when on the court, per NBA.com. By comparison, Beverley uses up 16.3 percent of possessions for the Rockets. Like Delly, Beverley isn't asked to do too much on offense – bring the ball up the court, space the floor for your All Star, and play pitbull-like defense on the other end.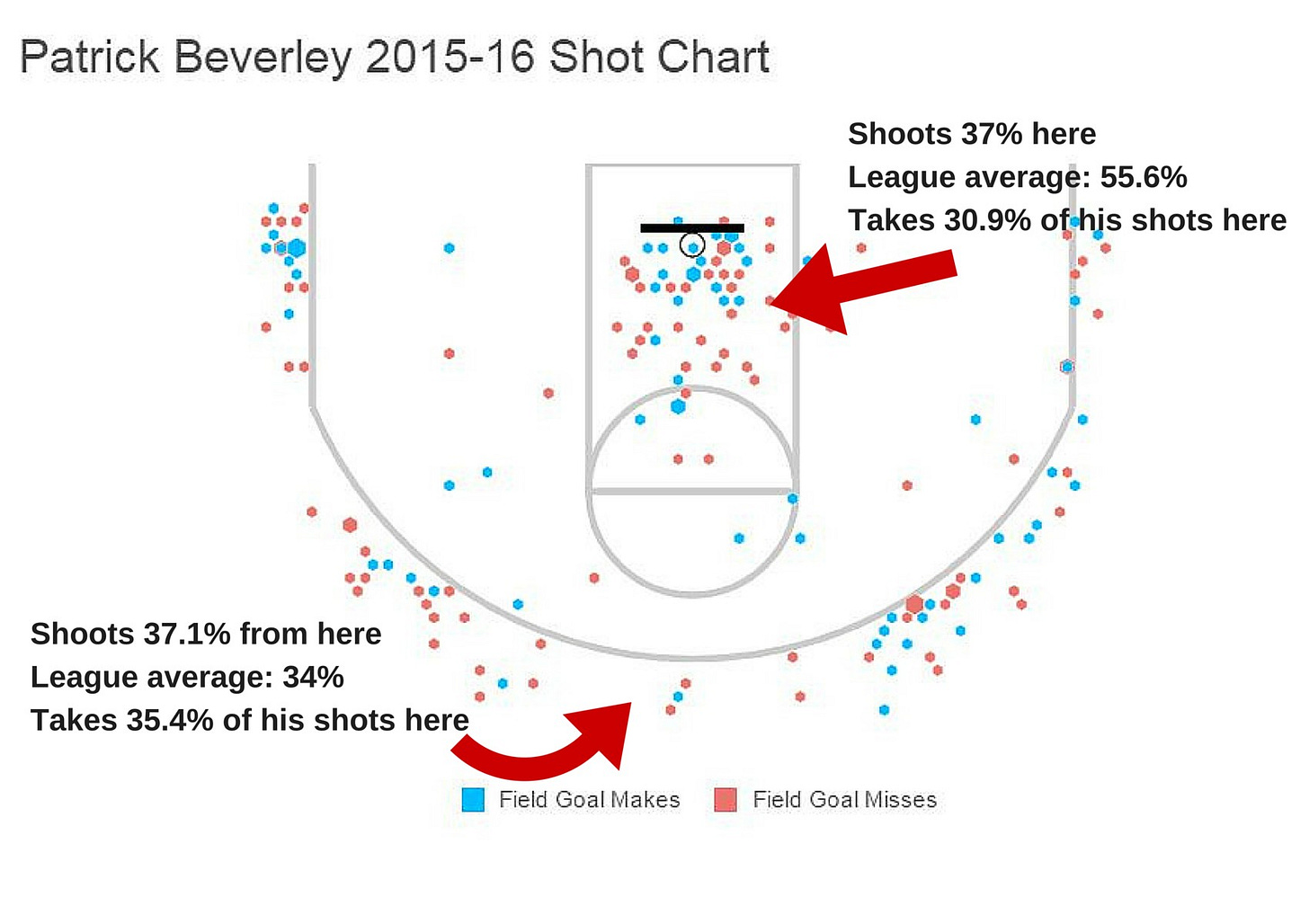 Beverley shoots at a decent 37.1 percent from above the break, a shot that makes up a whopping 35.4 percent of his attempts. He also takes a tonne of shots at the rim, but converts at a ghastly 37 percent within that zone.
Like Delly, Beverley is particularly ruthless from either corner, hitting at 46.2 percent from the right corner, and 42.9 percent from the left, per NBA Savant.
It's certainly an interesting comparison, and perhaps a poignant one in framing Dellavedova's fit with the Cavs, moving forward. The narrative surrounding Beverley is that he is an integral piece for the Rockets, the defensive linchpin on the perimeter who fits perfectly with the defensively-adverse James Harden, as a backcourt partner.
Couldn't we just see Delly fit alongside Kyrie Irving in a similar manner? Moreover, with only one basketball to share around, wouldn't a low usage player, like Delly, who hits 3s at an efficient rate be a perfect complement to Irving, Love and LeBron?
Time will tell, and David Blatt is experimenting with his line ups; even with a full roster intact, Delly still played 31 minutes recently against the Knicks. That Irving/Delly backcourt may very well eventuate. What seems certain though is that Delly's own version of Moreyball has placed him in a good position to help his team win – just the way Delly likes it.
https://youtu.be/hbRI3eX6kss