Discover more from The Pick and Roll
We're all about Aussie hoops. Independent, objective analysis and commentary. Insightful narratives built around Australian basketball. Read about our men and women in the NBA, WNBA, NCAA, Europe, national teams, NBL, WNBL, NBL1, prospects and more.
Over 2,000 subscribers
Aussies in NBA: Bogut debuts with impressive season opener
It was a busy and highlight-filled first game of the season for Andrew Bogut. First, the numbers; he finished with a perfect 6-for-6 from the field for 12 points, grabbed 5 boards and showed off his passing with an impressive 5 dimes.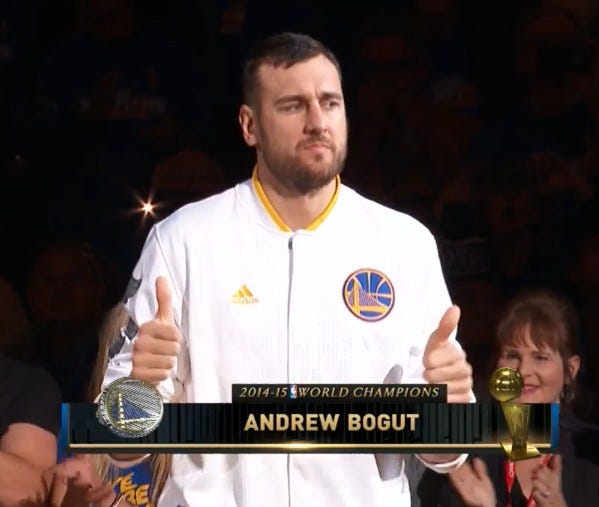 However, his on-court performance was just the middle portion of a very eventful night, which began with the Warriors' ring presentation ceremony and championship banner unveiling. Remember when Bogut said he'd had his ring fitted for his middle finger? Turns out he wasn't joking.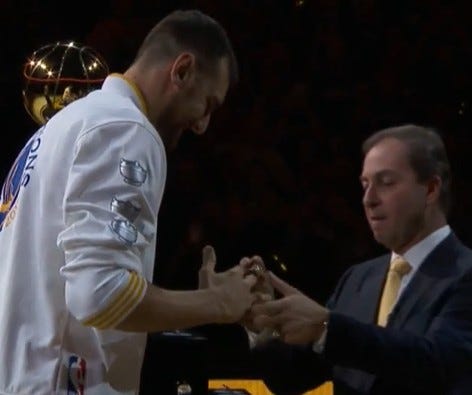 Bogey's perfect night from the field was largely due to some right-on-the-money passing from Curry, with almost all of his shots extremely simple affairs. This bucket was probably the only one where he had to do any work at all to put it in:
[gfycat data_id="RareEsteemedCollie"]
While his buckets weren't particularly flashy, his passing was, with a couple of sweet bounce passes to each of the Splash Brothers for easy scores.
[gfycat data_id="DecimalEsteemedBlackbear"]
[gfycat data_id="UnnaturalWatchfulErmine"]
However, Bogut's night was cut short after a facial injury sustained after colliding heads with Dante Cunningham. Even though he was wearing a face mask for his recently-recovered broken nose, Bogut suffered a gash at his right eyebrow area, which led to bleeding and an early return to the locker room. He likely could have continued, but the coaching staff probably saw no need to risk him in a game the Warriors would go on to win fairly comfortably.
All in all, a very good first game of the season for Bogey. The injury put a little bit of a dampener on affairs, but if a broken nose can't keep him down, what basically amounts to a small cut won't stop him in his tracks.
Golden State's next game will be against the Houston Rockets, and Bogey will no doubt have a busy night tackling Dwight Howard.