Discover more from The Pick and Roll
We're all about Aussie hoops. Independent, objective analysis and commentary. Insightful narratives built around Australian basketball. Read about our men and women in the NBA, WNBA, NCAA, Europe, national teams, NBL, WNBL, NBL1, prospects and more.
Over 2,000 subscribers
Asylum, Afrobasket and opportunity: South Sudanese-Australian basketball deserves a fair go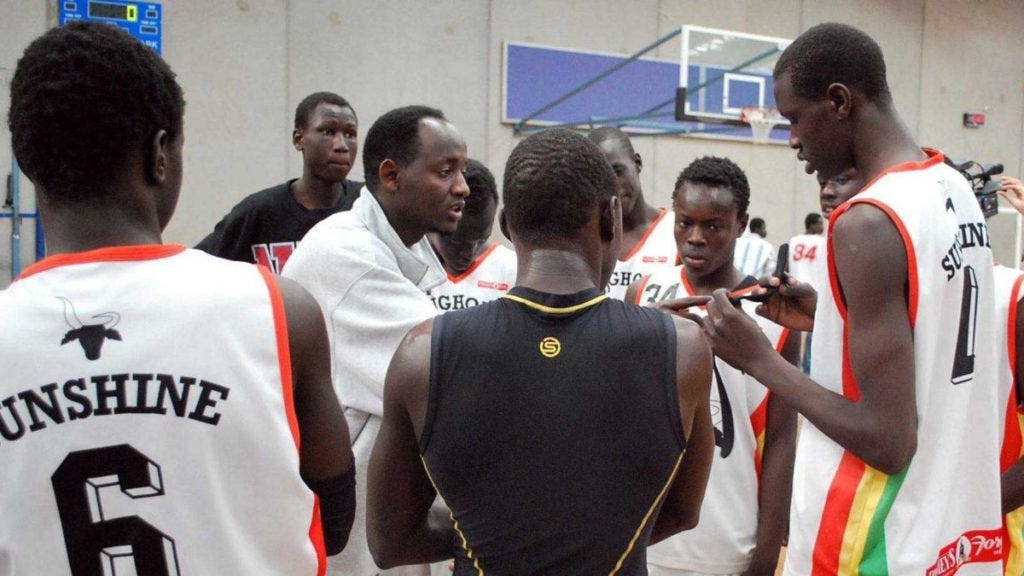 Credit: Manyang Berberi
---
Emmanuel Malou remembers that part of his life vividly, as if it was yesterday.
"The country was on fire. We were fleeing civil war."
In 1996, the Sudanese-Australian forward --who was two years old back then-- and his family left his birthplace of Kenya in search of a better life, after they were displaced from their homeland of Sudan. Both countries, like many throughout Africa, are still recovering from a history embroiled with colonialist influence. As a result of the early stages of democracy, political corruption and inter-communal violence have been significant issues in the continent.
Since gaining independence from Sudan in 2011, South Sudan has become the youngest country on Earth. Much like the time preceding its independence, the nation's short history has been marred by violence, with civil war claiming nearly 400,000 lives and displacing an estimated 2.5 million since 2013.
It was this displacement that resulted in families like Malou's making their way to Australia. It was their roots that found Sudanese-Australians Malou, as well as Kuany Kuany, Mathiang Muo, Mackuei Poundak, Bol Bak and Teny Puot, back representing their country earlier this year in an event that would put the country on the basketball map - the 2020 Afrobasket prequalifiers.
"We solidified our country. It was like a dream come true for a lot of us to represent our country and to play well," Malou shared with The Pick and Roll in June.
Given ongoing tribal conflicts in the region, their second place finish proved to be a welcome distraction, as well as a source of unity and national pride. For Manyang Berberi, founder of the wildly successful Longhorns Basketball Club of which Malou is an alumni, its impact was profound, even beautiful.
"It created a lot of energy! The impact that it had is just huge because the players are from different backgrounds, different tribes, and these are people that have come in together," Berberi shared in a recent interview with The Pick and Roll. "The fact that you've got these guys coming together and showing a sense of unity, playing together, and singing the national anthem - it's a proud moment for everybody."
Malou agreed. "If we can see past our differences, we're still one. We're still from South Sudan."
Despite falling to Kenya in the final, South Sudan's basketball team was finally relevant, jumping up 16 spots in the FIBA World Rankings. With the diaspora population within Kenya cheering on at games and a viewer count of almost 400,000 (according to Malou), the performance had certainly captured the nation's attention.
It was an opportunity that came out of nowhere for the group. After retiring from the NBA in October 2019, former NBA star Luol Deng surprised by putting his hand up for the Presidency of the South Sudanese Basketball Federation (SSBF), providing the program with an experienced and influential leader to guide them to new successes.
"No one ever thought that he'd put up his name to be the President of the SSBF," Berberi said. "To take on the role of an association that's pretty much starting from scratch and doesn't have any money, and then deciding to run the entire project from his own pocket… that doesn't happen everyday."
Deng's playing career also served as an inspiration to the playing group, as it has to many young South-Sudanese in Australia during his multiple visits down under.
"As a kid, watching him play for the Chicago Bulls, and then him coming to Melbourne, and seeing him in person and in the flesh to speak for us - it just gave all the kids hope and made us feel like anything is possible," Malou said. "[Deng] just being one of us and making it out. He's coming from a place where we all can relate. It's really motivating."
The South-Sudanese youth are taking that inspiration and running with it, empowered by the opportunities their new home affords them.
"Australia is easily one of the best countries in the world," Berberi said.
"There's been a lot of opportunities for me to do things," Malou expressed. "I've explored a lot of different things that, through schooling and education I was able to pick and choose the things I wanted to do with my life. I feel like in some other countries, especially from where we're from, you don't get that opportunity, so I'm grateful for that."
While that opportunity has been plentiful compared to back in Africa, it doesn't always come evenly. For many in the community, it is believed that more needs to be done to strive for inclusion and equal opportunity within the sport in Australia, particularly for those of African or Indigenous backgrounds. Earlier this month, following the lack of a statement from the NBL around the recent Black Lives Matters protests, Indigenous big man Nate Jawai took to Twitter and expressed his views.
"The NBL relies on Black American players coming in each season for league credibility, marketing, highlights, attendance," Jawai wrote. "African Australian & Indigenous Australian players are also represented & should play a larger part in the league's future. We need more than a black square.
"Please care about our fight for basic human rights as much as you cared about posting RJ Hampton and LaMelo Ball content. The league cannot leverage and benefit from black players, then be silent when their support in this matter is needed the most."
Criticism would also come from the Australian women's national team towards Basketball Australia. Liz Cambage, Tessa Lavey, Bec Allen, Sara Blicavs and Ezi Magbegor among others, posted on Instagram last Thursday with the following statement: "We as an Opals playing group stand in support of our Black and Indigenous players and will not be training until we see support and change from our sporting organization @basketballaus!! We say enough is enough!! #blacklivesmatter."
We as an Opals playing group stand in support of our Black and Indigenous players and will not be training. We want to see support and change from our sporting organisation. We say enough is enough
#blacklivesmatter
✊🏻✊🏼✊🏽✊🏾✊🏿 -
@basketballaus
Ben Simmons' sister, Liv, also voiced scathing criticisms online, calling the basketball system in Australia racist in a video posted on Twitter.
Basketball Australia and the NBL did release statements of support. (It is worth noting Basketball Australia's statement was actually published before online criticism surfaced, but was not publicised on socials earlier). Basketball Australia also released a Reconciliation Action Plan as well as a Diversity and Inclusion Action Plan. While these are positive steps, the concern is that the impetus for change has seemingly come from public pressure.
At times lost in the recent success of Australian basketball, is that a lack of initiative in advocating for marginalised communities has been a blemish on the reputation of the league's governing bodies, particularly for a sport that has such an outstanding representation of African, African-American and Indigenous players within its ranks. Following Basketball Australia's Black Lives Matter statement, criticism was voiced on Twitter by Sudanese-Australian swingman Akok "AK" Kuany on the lack of inclusivity and support in the sport, among other issues.
For the South-Sudanese basketball community, one particular instance stands out.
In 2018, at a time where fear mongering of "African gangs" was heightened, the prestigious South Sudanese Australian National Basketball Association (SSANBA)'s Summer Slam basketball tournament --which is run by Berberi-- could not proceed as planned, due to a "severity of external restrictions" according to Basketball Victoria. The statement acknowledges that the requirements are "scarcely demanded for other Victorian basketball tournaments and rarely required throughout the entirety of the sporting community." These restrictions meant that planning for the event was not feasible.
The restrictions stemmed from an incident in the year prior, when several teenagers (who did not play in the tournament) caused disruptions at an Airbnb the night following the tournament's conclusion.
Australian basketball legend Andrew Gaze condemned the axing decision, suggesting the stance taken by stadiums appeared to be "highly prejudicial" and declaring that "they [the stadiums] are doing an injustice to our sporting country. These kids are the future of Australian basketball."
In July 2019 the National Classic returned, though downsized. According to Berberi, the SSANBA Summer Slam was again unable to go ahead due to concerns. It's been an unfortunate hump in the road, for one of the most exciting events on Australia's junior basketball calendar.
"This is an event that's been going on for 15 years," Berberi said. "We've had no issues with it, so don't just assume because there's a bunch of African kids in one place that there's something wrong that's going to happen.
"One of the disadvantages of being a minority in a country, and it happens in any country in the world by the way, you can easily be put into a basket that you don't get out of. You're a tiny group, so you can easily be branded."
Both Malou and Berberi believe that negative stereotyping has evolved from unfavourable media narratives, and believe the best way forward is through discourse.
"Sometimes you just gotta educate people," Malou said. "We just need conversations. More conversations with ourselves, and more conversations with other people. I think a lot of people are ignorant, and I also think we shouldn't be so quick to blame and call out racism - I think we should look within ourselves also."
For Malou, perceptions about the African community have impacted him on the court as well.
"In the South Sudanese community, we have to approach the game differently - we have to not be who they think we are. We can't voice ourselves the way anyone else would. I feel like some of us can't be as loud, like speak back to the ref, without being tech-ed and stuff like that. I've seen it happen.
"With basketball, I try not to think someone's racist before I really evaluate it, but it's hard not to sometimes, you know. I'm not someone to just cry racism like that. But I've been here, I've dealt with it."
While domestic programs that are predominantly South-Sudanese-based --such as Berberi's Longhorns-- provide an inclusive and comfortable environment for youngsters to get into the game, Berberi encourages his players to try out for nearby representative programs to further develop their games. This pathway is not always straightforward for kids in the community, as several barriers present themselves.
Barriers against junior rep program participation
"The reason a lot of them don't even play rep is because of affordability," Berberi said. "A lot of parents have to work low paying jobs and long hours, and they're always battling to catch up with the bills. There's no luxury to pay $1,000 for rep for my child, that $1,000 is for rent."
Berberi is no stranger to the politics littered throughout junior Australian programs. While he firmly rejects the perception some of his young players have, that they may not be picked due to their background, he acknowledges the nepotism that permeates representative basketball is a factor that does not often fall in his players' favour, as migrant families are less likely to have the right connections.
"The kid might feel like they're not being given a chance, but that's part of being young and not understanding the way the whole system works with rep and the way it's set up here," Berberi said. "When you're mature enough and you've been running the team for a long time, you can understand where some of those coaches are coming from. It has nothing to do with racism, it just happens to anybody.
"Here's what I normally tell the kids - anywhere where you go, make sure you're an absolute standout. That's the only way you can guarantee that stuff is not going to get in the way."
For Malou, it seemed being a standout was not enough. Citing his inability to make any representative teams as a factor in his decision, Malou left Australia at the age of 16 to play for ABCD Prep in the United States, quickly establishing himself on college and NBA radars.
"It stuck out to me that you had to know people to get on a team. I know this is the honest truth, but no one really talks about it. I think it's one of the biggest problems here in Australia," Malou said. "It's gotta change big time."
These factors, particularly finances, continue to be a hurdle at the higher levels. One would hope elite talent such as Deng Adel, Mangok Mathiang, and Malou would have gone through the junior ranks to represent their states and possibly the country. But that was not the case - none of them even tried out, being very aware of the ensuing costs.
Where relevant, Berberi says he would like to see Basketball Victoria help facilitate sponsorship or fundraising, to support elite talent who should not be missing out. One such situation played out with former Collingwood All-Star Deng Dut, who through the team's fundraising, was able to play for Victoria both in Under 18s and Under 20's, winning two national championships.
Dut, now a player at Southern Idaho in the United States, has joined a long list of African-Australians playing in the USA. Many of them go over early, like Malou did, to join US high school programs. While Berberi is all for his players taking up exceptional opportunities at home --Longhorns player Bol Dengdit is currently with the NBA Global Academy in Canberra and speaks glowingly of the development he has made over his time there-- he encourages the rest to take up opportunities stateside over in the USA, whenever possible.
"The main reason is the level of competition in the States is much higher. We tried it in 2010 when Emmanuel Malou and Mangok Mathiang went, and we saw the difference it had on them. When they come back, they were like different players," Berberi said.
Malou concurs. "It's very special that a lot of them do go play over there, especially in groups so they can learn the game of basketball over there and bring it back over here."
Going forward, Berberi said he would like to see Australia's junior system provide more exposure to younger players, and encourage the competitive fuel for individual improvement.
For now, it appears Berberi and the Longhorns may have found part of the solution with AAU Australia, where they plan to play in October. With US-style rules, a high level of competition and an emphasis on college exposure, the venture, if successful, could provide the platform for overlooked or underprivileged kids to get noticed.
After all - all they need is a fair go.