Discover more from The Pick and Roll
We're all about Aussie hoops. Independent, objective analysis and commentary. Insightful narratives built around Australian basketball. Read about our men and women in the NBA, WNBA, NCAA, Europe, national teams, NBL, WNBL, NBL1, prospects and more.
Over 2,000 subscribers
Pre-Season All-Australian First Team #2 - Anthony Drmic, Boise State
In the lead up to the 2013/14 NCAA division 1 college basketball season, Damian Arsenis counts down his pre-season selections to The Pick and Roll All-Australian First Team in a series that includes interviews with all five players.
Securing the shooting guard position in the pre-season All-Australian First team is marksman Anthony Drmic of Boise State.
#2 | Anthony Drmic, Boise State
Position Guard / Forward Height 6'6"/ 198cm Weight 89kg Year Junior Hometown Endeavour Hills, VIC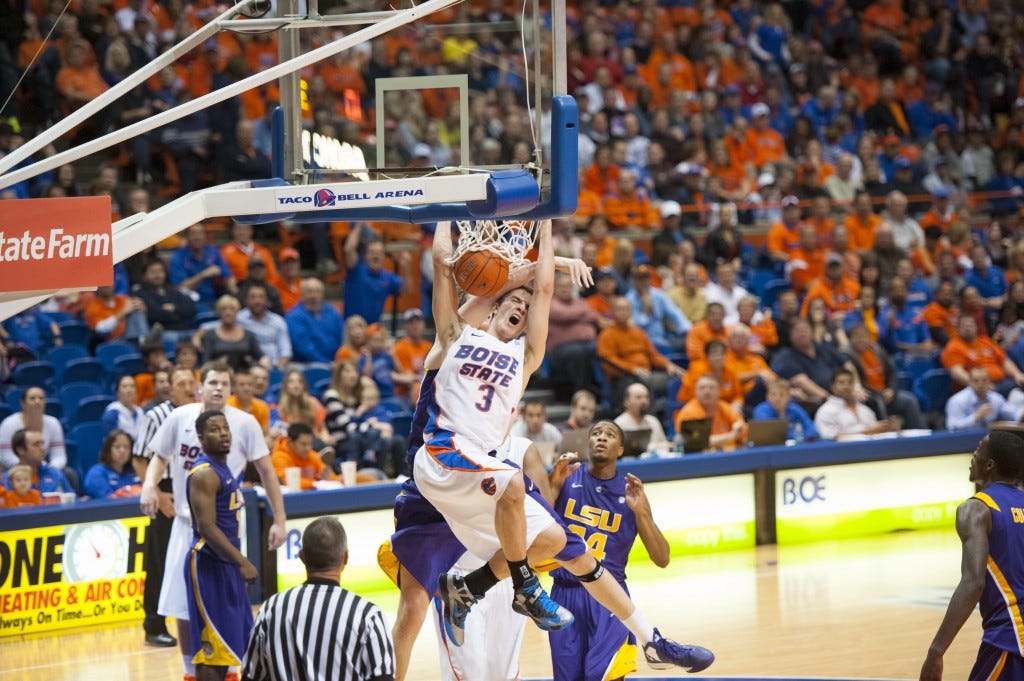 Drmic dunking in traffic against LSU - Courtesy Boise State Athletics
Anthony Drmic has high expectations in following in the footsteps of his older brother, yet is blazing a trail of his own in US college basketball. Like many talented players before him, Drmic attended the famed Australian Institute of Sport and has already represented his country with aplomb on the world stage. After committing to Boise State, Drmic drew worldwide attention for his exploits at the 2011 FIBA U19 World Championships where he averaged 15.4 points whilst shooting at an efficient 67.6% from the field and 43.8% from long range. He boasted a 34 point explosion against Chinese Taipei that included nailing 7/9 from beyond the arc and was instrumental in helping lead Australia to 6th place.
The sharp-shooting swingman from Dandenong carried his hot shooting to the Broncos, where as a freshman he started all 29 games he played. He averaged a team-leading 12.0 points and 5.0 rebounds per game, breaking a number of school freshman records along the way. Drmic was duly recognised by being named Mountain West Freshman of the Year and earned an honorable mention. He brought scoring to the team, but also carried with him a winning 'can-do' attitude.
Drmic elevated his game even further as a sophomore in helping lead the Broncos to the NCAA tournament. He once again started every game in averaging a team-high 17.7 points. He scored double figures in 27 games and scored more than 20 points in a league leading 16 games which further highlighted his consistency. The league once again recognised his achievements in naming him to the All-MWC Second Team. Given his rapid improvement over his first two years as a Bronco, the sky is the limit for Drmic and his team this coming season as they seek to dethrone league heavyweight New Mexico. With his exceptional shooting ability, Drmic will leave no stone unturned in his quest to lead the Broncos back to the big dance.
---
The Pick and Roll's
exclusive interview with: Anthony Drmic
Damian: With a surname like yours, it is quite hard to forget. I recall someone named Frank Drmic treading the hardwood in the NBL, Europe and with the Australian national team. There is a bit of an age difference between you and your brother. What influence did he have on your career?
Anthony: Yes, my family and older brother had a pretty big influence in me taking up basketball. I recall that I was just 3-4 years old and watching him play so I was really young. I have pretty much been around basketball all my life and it was pretty much a given that I would play basketball too. My parents were not actually that interested in basketball, whilst my family has a Croatian background. I guess just like Andrew Bogut, I have Croatian heritage and we also lived in the same Melbourne suburb in Endeavour Hills!
Damian: How's that for a coincidence; a pretty big comparison right there with Bogut! So in coming up through the Victorian junior ranks, where did you play and how did you end up at the Australian Institute of Sport (AIS)?
Anthony: I played at Dandenong as that is where my brother played. I actually demanded to play for the same domestic club and to wear the same number as Frank! Basically my whole family played representative basketball with the Rangers and I followed suit. From there I made some state teams and the AIS then eventually followed.
Damian: There have been some very good players such as Bogut and Patty Mills graduating from the AIS who are now both playing in the NBA. What was your experience at the AIS like?
Anthony: The AIS helped a lot with my game and life in general. I had to juggle school and basketball; there were extremely high demands basketball-wise and you basically had to organise your day around that. It will definitely help you later in life, and essentially it was 3-4 years of preparation before heading to college. It helped with life skills in being away from home, but also in improving my basketball skills. I was just 16 years old and away from home and I had to essentially fend for myself. You had great support and access to fantastic facilities. I grew as a person whilst living and breathing basketball, and being with and around the team all day. You got the opportunity to spend time with 5 other guys doing the same thing with you day in and day out. It was an amazing experience and something that I thoroughly enjoyed.
Damian: Sounds like it was an extremely challenging, yet rewarding environment.
Anthony: It was! And there were the camps – camps on camps! There was always something to do and a camp to attend, both at junior and senior level. There was always another set and another level of tests – both mental and physical. You always needed to be focused too; we had 3 training sessions per day, and we were always trying to outdo each other and impress the coaches.
Damian: So with the AIS and all the camps, when was the first time you represented Australia?
Anthony: The first time I represented Australia was when we played in an U17 tournament in Guam. It was a great experience for me as it was also the first time I had played with a national team and the first time I had played in another country. Even better was the fact that we came away without a loss! However my most favourite time to date was when I played for the Emu's (U19) at the Albert Schweitzer tournament in 2010. We had only 3-4 practice games which we lost them all prior to the tournament. The team was just not clicking and none of us thought we were going to do well. We had a team meeting after the last practice game against Japan and from there things turned around. Our first game of that tournament was against Greece who had a very good team and we ended up playing really well and beat them by 20 and from there as a team we got on a roll. It was just amazing to see difference between the practice games and the tournament as we grew so much as a team together. We just loved playing together and we ended up playing for each other. Credit to Coach Damian Cotter as he brought us all together and we all bought in.
Damian: That must have been an amazing feeling going through the team. You guys nearly carried that all the way through to the 2011 U19 FIBA World Championships where the team and you individually really did well despite not winning a medal.
Anthony: Yeah – I surprised myself at just how well I performed in that tournament. I was very motivated to go in and prove myself as I had been battling some niggling injuries. I actually didn't think I did too well at the selection camps. Coach Ian Stacker and Cotter challenged me to lift my game and step up a level. I didn't make the senior squad and that hurt, so I went into the U19 World Championships with a chip on my shoulder. I ended up doing really well, especially in the first half of the tournament.
Damian: So with all that success on the world stage already, I'm interested to find out what ambitions you had as junior? Was playing college basketball always high on your list of goals?
Anthony: As a kid I always wanted to play for my country! As for deciding to go to college, it was when I was at the AIS when I decided that's what I wanted to do. The National Basketball League (NBL) was an option and I had some interest from European teams. I actually have a dual passport (Croatian) given my family's background, so that is a potential opportunity down the track. However in working with my advisor, I decided on college, and from there I worked hard on my grades and made a big effort in the classroom. Everything clicked for me and college ended up becoming a reality.
Damian: So how did you come to land at Boise State? Did you have many schools after your services?
Anthony: I had an official visit at Boise State and everything felt easy and it just felt right. The transition for me was not that big. At the time they had 6 or 7 seniors graduating and I would be provided the opportunity to play straight away. I would be able to contribute and help the team immediately and that was attractive. One individual did help and that was John Rillie (JR), and was a big reason in choosing Boise State. Having JR there on the team definitely helps. He has helped me with his shooting – he was the best shooter in the NBL of all-time! Understand this; he would not miss a shot and he is just so competitive. There is this thing call "Noon Ball" which is played down at the rec centre which is basically just 5 on 5. JR is always there yelling and coaching the guys who are just playing casually! He can't play with the guys though during the season – but he can play in the off season. I beat him once in a 3-point shooting game and after that I will never play him again to keep my record intact!
Damian: Having that Aussie connection at the Broncos must help given you are now living on the other side of the world. What was the biggest adjustment you had to make? What do you like the most about your current home and what do you miss most about Australia?
Anthony: I was lucky enough to have travelled to the US a few times before. Australia is actually very similar in that it shares a multicultural heritage and things like that, so the transition for me was pretty easy. It really is a lot like Australia and there are not too many major differences. It's actually even easier given that Iggy (Hadziomerovic) is also here. That definitely helps as we hang out all the time and meet new people together. We actually share a similar background in that our families came from Europe. We have been friends since we were 11 or 12 years old, playing on the same state teams, we went to the AIS and were room-mates and have become best friends. Despite this I made the decision to head to Boise State on my own. I actually signed early, and he signed very late. Iggy decided it was best for him to head to the Broncos and he ended up joining me too!
Damian: Always good to share great experiences with a good mate. So how have you found playing basketball for a team such as Boise State in the ultra-competitive Mountain West Conference (MWC) which has really become an elite conference in recent years? Who has been the toughest player you have had to go up against to date?
Anthony: The MWC is just so tough right now. You get challenged each and every game but that is how you get better as a player. For me personally, without a doubt going head-to-head with Kendall Williams at New Mexico is really tough. He just takes it upon himself to try and shut me down. It has been fun though to play against and learn from him given his single-mindedness in trying to stop me! As for me guarding someone, it has to be Jamaal Franklin who played for San Diego State who got drafted to the NBA. He can change a game as he tries to get under people's skin. He is pretty good at the mental games but he also has the skillset to back it up.
Damian: That's some serious talent you have mentioned there, so how do you describe yourself as a player? What are your key strengths and what areas of your game do you need to keep working on?
Anthony Drmic in action against Colorado State - Courtesy Boise State Athletics
Anthony: I would consider myself a very good shooter however I would also like to think of myself as a good team player. I can also drive into the paint and I have been working on it. I have now had 20-point games without hitting a triple which has been my strength. I'm therefore becoming a better all-round offensive player. Defensively I need to make big improvements. For example in the NCAA tournament last year I scored 28 points against LaSalle but my defence let me down. I need to work hard on improving this area of my game and buy into it more and therefore add more value to the team.
Damian: So who would you compare your game to?
Anthony: It's always hard to compare yourself to great players. However it would be great to be able to play to the level of a Paul Pierce when he was at his athletic best, as he always finds a way to get things done. To be a great shooter like Ray Allen would also not be a bad thing.
Damian: You had a massive freshman season in being named MWC Freshman of the Year and Honorable mention. That's some decent recognition right there – well done!
Anthony: Thanks. In joining the team with the departure of all the seniors, I just had an opportunity to play immediately and I would like to think I made the most of that opportunity so far. I still have a long way to go.
Damian: You since followed up with an even more impressive sophomore year, leading the team with 17.7ppg and being named to the All-Mountain West Second Team. Your team made the NCAA tournament and you personally landed 28 against La Salle. Some pretty impressive stats and performances right there! Big things are expected on the Broncos this season; what are your expectations for yourself, and of course the team? What role are you expecting to play?
Anthony: I had a pretty good season last year offensively, and especially in the game against LaSalle which I knew was being televised back home in Australia, so I was pumped. It was a chance to show that Saint Mary's is not the only school over here! (Saint Mary's have a lot of their games shown on Australian television.) However as a team we did not show up and could not get the win as we did not get enough stops at the defensive end. As for making the MWC second team, I'm comfortable with it. I guess that's something in my career that has always happened to a degree as I never win the individual accolades! I have only ever received one MVP award and that was back in U16's. However every time that I personally don't win something as an individual or as part of a team that helps. I don't accept failure and I strive harder and further to be better. I guess it can be great to receive some individual recognition, but really it is all about the team. Right now it is all about the NCAA tournament. We need to win the MWC this season, make the NCAA tournament and do some damage. That's it right there and that's our goal.
Damian: So that means the target is on New Mexico and their Aussie duo?
Anthony: Definitely! We have a good rivalry with New Mexico and in particular Cam (Bairstow) and Hugh (Greenwood). We need to get them this year; we need to show that we can play and beat them. They are very good at closing out games and they play very good defence. You want to be great in March – nobody cares about what happens in November! After all is said and done out on the court, it is always good to hang out with our fellow countrymen afterwards.
Damian: Fellow Aussies Iggy, Nick Duncan and even Assistant Coach John Rillie are now all with Boise State. Is there a growing sense of 'Aussie' camaraderie and are the Bronco's trying to replicate the success of Saint Mary's College in recruiting players from Australia?
Anthony: Growing – it's already here! Once they know you are an Aussie over here, the students run with it. The "Aussie, Aussie, Aussie, Oi, Oi, Oi" mantra is now part of the place. Colleges over here seem to embrace Australia and they want to watch you play. There are always a lot of flags when the Gael's visit. The atmosphere at games is simply amazing, and the fans love it! Fans are legitimately crazy about your team, and the hype is now building around Boise State given our involvement with the team, but also the expectations given the talent we have on the roster. We have all embraced college life – it is crazy and amazing!
Damian: Good to see that the locals are being converted. Part of college life is about education; what are you currently studying and where do you see your qualification taking you for life after basketball?
Anthony: I'm majoring in business but chose communications. Personally if I was not into basketball, I would be in the IT department. I'm interested in software development and computers. They actually don't have that to study at Boise State though. It can be really hard to juggle studying and playing hoops, so it is a relatively easy degree from my perspective.
Damian: With basketball then being your focus, where do you think you may land after life as a Bronco? You have that dual passport up your sleeve too . . .
Anthony: My plan is definitely to turn professional once I graduate. Making the NBA is my ultimate goal; however Europe may turn out to be a more realistic option to begin with, especially given my dual passport as I would be considered a local.
Damian: You have already achieved so much as a player. Can you share with me your career highlight to date? What was it and why does it stand out for you?
Anthony: One game stands out for me and it was playing against Louisiana State last season. It was a big game in which I scored a career-high 34 points – I shot pretty well that night too and it was a definite career highlight. Winning the 2010 Albert Schweitzer Tournament was also a pretty big career moment for me as we were the underdog and not seen as the team to watch out for. Beating the US in the semi-finals was awesome; they had a pretty talented roster. I could also mention some other junior stuff like beating Iggy's team in the finals – that was always good too!
But the overall experience over here has been a career-highlight. Just recently I was at the water park and 10 people just rolled up and began to talk to me about the season ahead! It's pretty crazy, and given that Boise does not have a professional team, the focus is placed on college sports. Boise State football has always been big, but now basketball is too! I guess in a way it is similar to Australian Rules Football (AFL) back home. Boise State or no team – Boise State or die! There is just no other team for the locals to follow. Boise State or die! It may be hard to understand or appreciate back home in Australia just how it is here.
Damian: Celebrity status in downtown Boise, Idaho! Okay, now to the hard question; tell me one thing that not many people would know about you?
Anthony: I guess you could say that I'm a gaming nerd! I'm a PC gamer. League of Legends of my current game of choice – look it up! The World Championship's for that game is actually on right now and I'm watching. It's crazy to think that the winning team will win $1.5million! It only started 4 years ago and it has become one the most played games in the world. There have been 500,000 fans watching online at any one time.
Damian: I'll take your word for it! Good luck for the season ahead. Many people back home in Australia will be following Boise State with interest this year, especially when you play against New Mexico! I'm hoping they will show that game on TV. Thanks for your time in answering my questions.
Anthony: Thank mate. Yeah that would be nice for friends and family back home to be able to watch that game. No problem, it's been great.
---
The Pick and Roll's
pre-season All-Australian First Team
#5 | Centre: Angus Brandt, Oregon State
#4 | Forward: Venky Jois, Eastern Washington
#3 | Guard: Hugh Greenwood, New Mexico
#2 | Guard: Anthony Drmic, Boise State
#1 | Forward: TBA
Has Damian got it right so far? Share your thoughts on the selections to The Pick and Roll's pre-season All-Australian First Team to date.