Pre-Season All-Australian First Team #5 - Angus Brandt, Oregon State
In the lead up to the 2013/14 NCAA division 1 college basketball season, Damian Arsenis counts down his pre-season selections to The Pick and Roll All-Australian First Team in a series that includes interviews with all five players.
Holding down the center position in the pre-season All-Australian First team is Angus Brandt of Oregon State.
#5 | Angus Brandt, Oregon State
Position Center Height 6'10"/ 208cm Weight 112kg Year Red Shirt Senior Hometown Sydney, NSW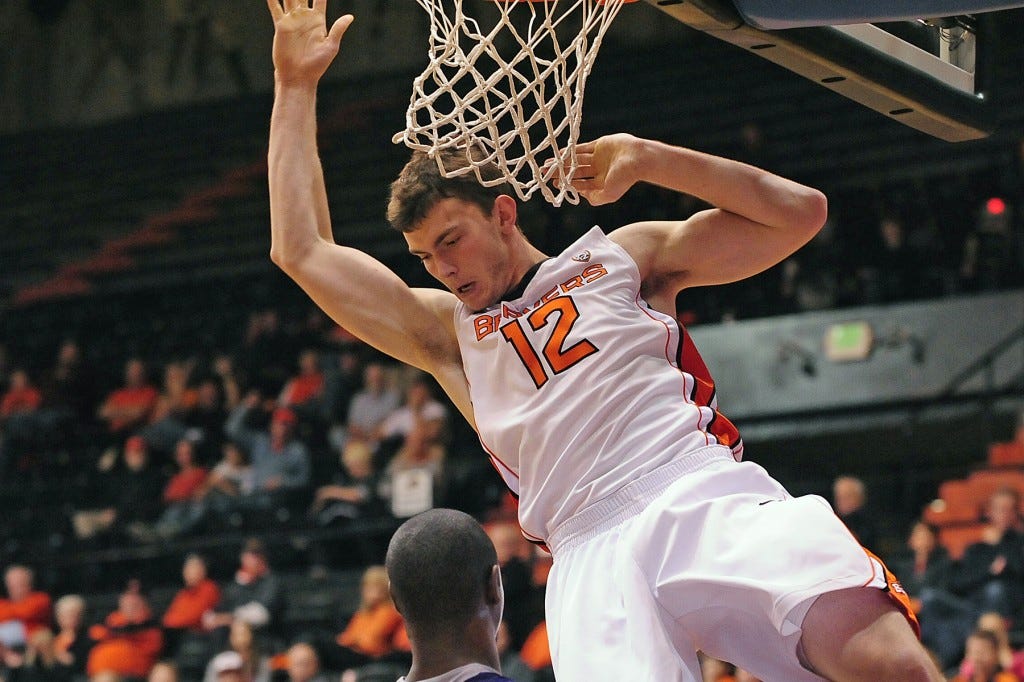 Brandt in action against Niagara - Courtesy of Oregon State Athletics
Brandt had a breakout junior season with the Beavers in 2011/12, averaging 9.1 points, 3.4 rebounds and 1.1 assists in 23.2 minutes per game in the competitive Pac-12 conference. With an imposing frame and an ability to extend defences with his range beyond the arc, Brandt led the team in three-point field goal percentage at 49.2% (29-for-59) whilst being ranked 9th in the Pac-12 for field goal percentage at 53.5% (122-for-228). He topped off his stellar rise throughout his third year with a new career-high 22 points against Texas Christian University in the College Basketball Invitational Tournament.
Oregon State toured Europe ahead of the 2012/13 season, and it was Brandt that elevated his game to a new level. He earned rave reviews for his scoring output but also his inside-outside style of play. His ability to stretch the defence was well suited to playing against European competition and he was a clear standout performer. The Beavers were set to run their offence through their sharp-shooting big man in his senior year before Brandt was forced out with a season-ending knee injury. Oregon State felt the pain of his loss throughout the season and were unable to obtain on court success without their imposing Australian starting center.
Brandt returns for his 5th year of college after being granted a medical red shirt due to missing last season due to injury. Fully recovered, Brandt is ready to resume where he left off, and shine once more.
---
The Pick and Roll's
exclusive interview with: Angus Brandt
Damian: Can you tell me what led to you taking up basketball and fill me in on where you played most of your junior basketball growing up? Did you represent your state in any national championships at any stage?
Angus: I really only took up basketball because my friends at school were playing it. I started when I was in the 6th grade but I didn't play representative basketball until I was in under 18's, playing with the Penrith Panthers in Western Sydney. I also played for my state (New South Wales) in the school basketball national championships, but not for any state representative team other than that.
Damian: What ambitions did you have as junior basketball player? Was playing college basketball always high on your list of goals?
Angus: Playing in college was not always in the forefront of my mind. It was something that I thought would be amazing to do, but I didn't think that I had the talent to do so. Mainly because I had not been selected for any state teams and hadn't had any coaches give me some time. Luckily I was introduced to Damian Cotter who brought me into New South Wales Institute of Sport (NSWIS) and coached me up. He was the one that made it possible for me to head to the USA.
Damian: I would love to know how you ended up in the USA and taking the pathway that seemingly an increasing number of junior players in Australia are taking. How did you ended up playing at a US high school, and how did you come to choose Oregon State University?
Angus: I was able to come to the US because Damian (Cotter) had many connections in America such as Steve Pratt and Nate Pomeday. Both were working out of Chicago when I was looking to head to America. From Damian's connection to these two, I was able to attend Lake Forest Academy and play AAU basketball for Full Package. From playing AAU I was lucky enough to be recruited by many schools including Arizona State, Washington State, Indiana, Michigan, Georgia Tech and Louisville, but I ultimately chose Oregon State. It was the best school and situation for me personally.
Damian: Moving to another country on the other side of the world is not exactly a small change. What was the biggest adjustment you had to make and what do you like the most about your current home?
Angus: At the time it was made much easier to adjust to American life because I came over with fellow NSWIS player Rhys Murphy. Having someone with me who was going through and experiencing the same things was great. It helped with being away from home and everything that comes with travelling to another country.
Damian: How have you found playing basketball for a team such as Oregon State University who play in a pretty competitive Pac-12 conference?
Angus: I have found playing for OSU great! Being able to play in a conference that is very competitive and has multiple teams each year in the NCAA tournament has made me stronger as a player because of the competition I play against every game.
Damian: How do you describe yourself as a player? What are your key strengths and what areas of your game do you need to keep working on?
Angus: As a player I am center who can play both inside and out. I can shoot very well in conjunction with being able to post up. My shooting is a strength and I would say that my post game, although getting better, still needs some work.
Damian: In following your career with the Beavers from afar, your star was on the rise following a great junior season on an individual level. You looked set for a big senior year before your injury, especially considering how well you performed on the Beaver's pre-season your of Europe. How bad was your injury, and how has your recovery progressed?
Angus: The injury was a very disappointing setback; I was ready for my senior year coming off the momentum from my junior year and the European tour. To go down like that was extremely tough. However watching from the sidelines has allowed me to pick up on aspects of the game that I could take advantage of when I come back, such as different times to cut and the timing of movement off the ball.
Damian: Did your injury take you back to when fellow Aussie teammate Rhys Murphy also blew out his knee? Do you guys keep in touch and if so, did he provide any support throughout your recovery?
Angus: Rhys and I are pretty close and we talk regularly. Being able to talk to him about my knee injury has been great. To be able to talk to someone who has been down the same road I'm on now has been very helpful in keeping my spirits up and ensure that I'm focused on getting healthy for the season ahead.
Damian: Everyone is hoping you can return bigger and better than ever. Given your return from a pretty serious injury, what are your expectations for the season ahead and how do you fit in with the team's plans? Will you be right back into the starting 5 like nothing ever happened, or will you be taking things slowly and building up?
Angus: As far as this season goes, I am expecting to start right out of the gate and play a lot of minutes. As a fifth year senior in an offense where the ball runs through the centre often, having me on the floor will help the team. From talking to my coaches they are expecting me to be fulfilling the same role I was before the injury.
Damian: That's great to hear! I also noticed you appear to be excelling off the court as much as you were on it. What are you currently studying and where do you see your qualification taking you for life after basketball?
Angus: Thank you for the compliment. I have always taken my studies seriously because I understand that basketball will not last forever and all it can take is an injury to end a career. I am currently studying pre-physiotherapy. In the future I intend to attend grad school in Australia to finish my degree and become a qualified physiotherapist.
Damian: All going well following a great season, what is next for you? Are you likely to head home to Australia to try and land an NBL gig, or will you explore options in Europe, especially given how well you performed on tour there before you injury?
Angus: As for after OSU, I am at this stage just waiting to see how I perform this season and from that I will make an informed decision as to where I play afterwards. I am very open to playing in Australia or anywhere else that may be relevant. When the time comes I will make a decision that is right for my future and me personally.
Damian: Your younger brother Louis has recently secured a development role with the Sydney Kings in the NBL. How is he going and did he ever consider heading to the US to attend college like you? Has it ever crossed your mind you could return to Australia and play alongside Louis for the Kings?
Angus: When I found out that he was going to be a development player for the Kings I was extremely happy for him. I know that he has worked very hard the last couple years and it was great to see it all pay off. He is doing really well from what I've heard from him and my parents. In terms of college he felt that going through the Australian route for basketball was a better fit for him than coming to the USA. I think whether it be the Kings or another team, playing with Louis one day would be amazing. We have only played local competition ball together, which we always had great chemistry in.
Damian: Can you share with me your career highlight to date? What was it and why does it stand out for you?
Angus: Personally one highlight that stands out for me is hitting a 3-pointer in overtime against Texas in my junior year. The shot put us in a comfortable position to go on to win the game.
Damian: Big shot Brandt! With all that you have accomplished to date both on and off the court, what do you want to achieve on court before you eventually hang up the high-tops?
Angus: Before ending my college career I would love to play in the NCAA tournament - the pinnacle of college basketball. After that I think to win whatever competition I play in would be great.
Damian: I like to try and keep things interesting, so in wrapping up, can you tell me one thing about you that not many people would know about?
Angus: Something that no one really knows about me is that I am a pretty decent artist. I can paint and draw, although I don't do it as often as I would like to it's something that I do enjoy doing.
Damian: Wow - can you provide a copy of your work that I can publish for you?
Angus: I think that can be arranged!
Damian: Great! All the best on what will hopefully be a big season ahead for both you individually in returning from injury, but also for the Beavers in your goal in making the NCAA tournament. Thanks for your time.
Angus: Thanks - no problem
Original Artwork Courtesy of Angus Brandt
An Angus Brandt original masterpiece - Courtesy of Angus Brandt
---
The Pick and Roll's
pre-season All-Australian First Team
#5 | Center: Angus Brandt, Oregon State
#4 | Forward: TBA
#3 | Guard: TBA
#2 | Guard: TBA
#1 | Forward: TBA
Has Damian got it right so far? Share your thoughts on the selections to The Pick and Roll's pre-season All-Australian First Team to date.