Discover more from The Pick and Roll
We're all about Aussie hoops. Independent, objective analysis and commentary. Insightful narratives built around Australian basketball. Read about our men and women in the NBA, WNBA, NCAA, Europe, national teams, NBL, WNBL, NBL1, prospects and more.
Over 2,000 subscribers
Alex Sharp: Set to make an impact at Wake Forest
Five years ago, Alex Sharp was like many other young people in Australia, playing a range of sports with no one focus. However one basketball disappointment at age 14 changed all that. Since then, the Wake Forest commit and #1 Australian recruit has made basketball the major part of her life. She has subsequently reaped the rewards for her dedication, playing for Australia in two under-age FIBA World Championships, and winning five straight Australian Junior Championships.
"I've always been a really active person and did a lot of sports up until when I was about 15 and knew that basketball was the game for me," Sharp explained in speaking with The Pick and Roll.
"It was at that point, after missing out on the Under 16 state team as a bottom age player, that I realised I wanted to be one of those girls wearing the Vic Metro singlet. That whole next year I locked down on basketball, and with help from Al McAughtry, we prepared for next year's tryouts. That's where the work paid off and I was able to make the team and deliver at nationals. That's when I was first scouted by the Australian coaches and from there it just took off!"
Sharp will be the fifth member of Australia's Under 19 women's team which won World Championship bronze in 2015 to play in college, following 2015 freshmen Alicia Froling (SMU), Alanna Smith (Stanford), Kristy Wallace (Baylor), and Madeleine Dennis (Dayton) in making the collegiate route part of their basketball journey. Sharp clearly has a great respect and knowledge of the privilege it is to wear the green and gold, first doing so in the 2013 Under 17 World Championship campaign.
"Representing my country means everything to me," explained Sharp. "There's absolutely no greater feeling than walking out onto the court and standing arm in arm with your teammates singing the national anthem, about to go to battle with the world. Once you've got a taste of that feeling, it's impossible not to want to do everything in your power to have it again."
Australian Gems in 2015 | Credit: Basketball Australia
Making the team once wasn't enough for the young Victorian though. Disappointed with a sixth place finish at the World Championships in 2013, Sharp quickly went back to work for a crack at Under 19 edition.
"After Under 17s I wasn't happy with how I performed and came back with an injury that only made me want Under 19s more," Sharp recalled. "Not only so I could be part of such an amazing group, but so I could prove to myself that I can perform and match it with the best girls from all over the world. Winning that bronze medal for Australia validated everything the Gems group believed we could be and achieve as individuals and as a team."
Upon her return from the World Championships, Sharp was faced with an important decision - move to the US to play college basketball, or stay home and try to make a WNBL roster.
"It [staying in Australia] was definitely an option I seriously considered, especially with the high level of basketball that is currently on display in Australia," Sharp explained. "However at the end of the day, college has always been a dream of mine and is a once in a lifetime opportunity to learn from the leading basketball nation in the world."
Sharp, as with many previous Australians who have played in college, spent their senior years of high school juggling studies at a new school with sport in Canberra at the AIS, a benefit that Sharp recognised as she came to her decision to make the move to Wake Forest.
"The student athlete journey was something that really began for me when I moved up to the Centre of Excellence on scholarship," outlined Sharp. "I went into that journey with the knowledge that I would be practicing the skills a student athlete needs for future experiences like college."
With that experience in tow, Sharp slowly gained the confidence to play in college.
"It's really all about learning on the go and being able to plan and prioritise on a daily basis around school, basketball and life," Sharp explained. "Once I was able to discover the perfect balance between these three outlets that worked best for me, I became a student-athlete who knew transferring from high school to college would be a challenge I could manage."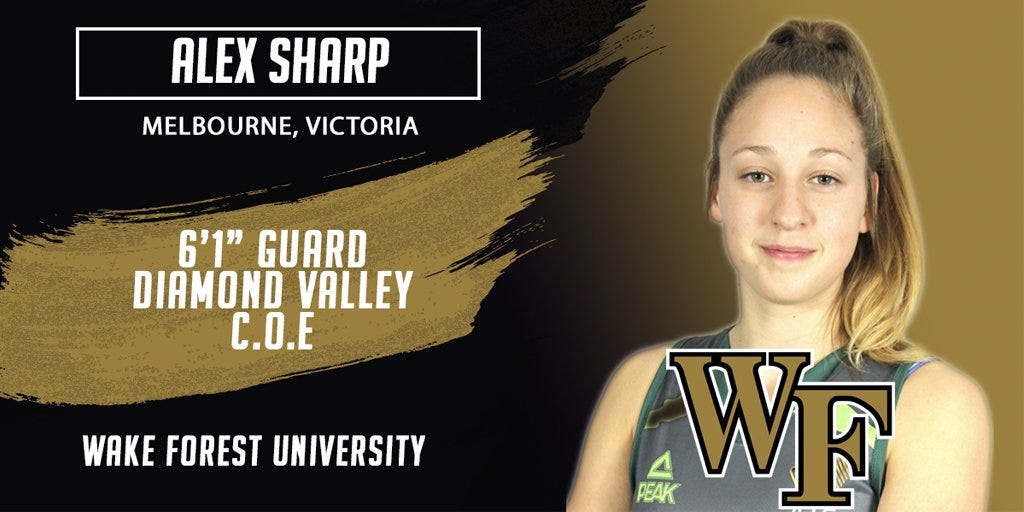 Wake Forest began recruiting Sharp early on in the process, and this early eagerness paid off for head coach Jen Hoover and the Demon Deacons.
"I built a relationship with Wake Forest very early on in my college recruiting journey, and this only got stronger as the years passed," added Sharp. "It has such a high academic standard and an amazing basketball program that I felt was exactly what I wanted. When I visited in April 2015, the coaches and team were so welcoming and made me feel at home in the short time we had together."
Several other programs, including some which already feature Australians on their roster, also recruited the #1 Australian in the class of 2016. Yet Sharp had her heart set on making the move to Winston-Salem.
"I also looked at Washington State and Virginia Tech, both of which were also great schools with amazing programs," Sharp further explained. "It was just that I felt Wake Forest was the perfect fit for me with the basketball, academic and social balance I was looking for."
Playing in the ACC pits Wake Forest against some of the most storied programs in college basketball, including North Carolina, Duke, Notre Dame and Syracuse, with the latter finishing as national runner-up in 2016 and Notre Dame reaching four of the last six national title games. Far from shying from the challenge, Sharp relishes the chance to come up against the some of the very best teams in college basketball.
"This was one of the key reasons I chose Wake Forest, because its position in the ACC means being able to go up against these schools every year," Sharp outlined. "It means that I can continually challenge myself to get better and an individual and teammate. Not only that, but we get to see what it takes to be a key contender at the end of the season, and take it to them."
Sharp comes to Wake Forest as the team looks continue its recent rise in the ACC pecking order. 2015/16 was the Demon Deacons' first winning season in four years, and 2015 saw the team produce its first WNBA Draft pick in school history when the San Antonio Stars picked Dearica Hamby (#6), a fact not lost on Sharp.
"I think seeing such a great player come from the Wake Forest women's program only confirms the hard work all the coaches have been putting in consistently from season to season to build the program and develop it further, which we certainly saw in their season just gone," enthused Sharp. "I'm hoping to be able to join the roster and bring what the Aussies do best into their style of play, something they haven't yet seen in their squad!"
It is an exciting time for women's basketball at Wake Forest, and Sharp is excited to bring her own flavour to the team. The Victorian has had a pretty good role model to base her game on.
"Definitely a huge role model for me would be Penny Taylor; her relentlessness on both sides of the court, ability to get to the rim, pull up and shoot the three are all benchmarks that I want to chip away at," Sharp gushed. "I love her ability to find a way, and her assertiveness is definitely something I want to transfer into my game."
"I'd say my style is versatile, if that makes sense. I'm a player who likes to come into the team and do the jobs that need to get done to get the 'W' - and usually a big part of this is getting on the boards. I think I won't be filling a gap at Wake as much as I'll be adding a new dimension to their game."
With that said, Sharp is well aware of the adjustments and challenges that come with moving to the United States to play basketball, especially at the college level.
"I think having the opportunity to go up against some of the greatest female athletes in the basketball world is both a blessing and a challenge," Sharp pondered. "By going to the US, I'm going to gain a greater understanding of how to play against the American style of basketball, something that I think will prove extremely valuable going into the future. I'm looking forward to being able to gaining new knowledge of not only my teammates but also my opposition."
And as for those adjustments?
"I think the biggest thing basketball-wise that I'll need to adjust to will be the different style of play technically, as well as the speed and physicality, said Sharp. "Otherwise obviously off the court, I'm going to have to re-adjust to the independent style of living!"
The Demon Deacons coaching staff will be enthused not only by Sharp's current ability, but also her desire to improve her game, having already pinpointed a couple of areas in which she feels she can get better.
"It's almost impossible to target one area of my game, because everything can always get better," shared Sharp. "But definitely defense is something I really want to lock down on. To be an impact player in the ACC, I'm going to need to be able to match the speed of smaller guards so that's something I want to focus on."
It's rare that a player gets anywhere in their chosen sport without setting a few goals to aspire to, and Sharp is no different, with the desire to pull on the green and gold again still burning inside her.
"I haven't set any really specific goals yet, but I want to build my way up over the four years and establish myself as a threat in the ACC," declared Sharp. "At the same time I want to work to make the Australian World University Games squad, and be able to represent my country again!"
https://twitter.com/meg_crupi/status/740417105938501633
And off the court? American colleges do give students two years to declare their major, but Sharp already has her one eye on a certain area of study. Nonetheless, she is keeping her options open.
"I'm still fairly open-minded, but I'm definitely swaying towards something in the area of psychology or medicine, maybe a mix of both depending on transferability back here [in Australia]!"
Sharp will no doubt come up against plenty of fellow Australians in her time at Wake Forest, but she will see even more of her Under 17 World Championship teammates, with Taylor Ortlepp and Georgia Pineau both headed to Boston College this year. Sharp already has those games circled on the calendar.
"There is 100% some friendly rivalry going on between us," Sharp advised. "Wake got the win last season and I'm going to have to make sure we get another 'W' when I come up against my fellow Aussies this season!"
When asked about her favourite Wake Forest star - Chris Paul or Tim Duncan - Sharp gave a diplomatic response.
"I'm going to be safe and say they are equally my favourite Wake Forest NBA stars, behind Dearica Hamby in the WNBA, who has a big future ahead of her," stated Sharp.
If Sharp can perform anywhere near the level that Hamby has, Sharp will make her own impact at Wake Forest.
---
Follow Alex Sharp on Twitter: @alexsharpyy