Discover more from The Pick and Roll
We're all about Aussie hoops. Independent, objective analysis and commentary. Insightful narratives built around Australian basketball. Read about our men and women in the NBA, WNBA, NCAA, Europe, national teams, NBL, WNBL, NBL1, prospects and more.
Over 2,000 subscribers
Adelaide 36ers Season Preview
Bad luck quickly turned to good fortune last season as Kenyon McNeail struggled with injury early on before Jerome Randle breathed life back into the team and proved himself an immediate difference maker. His relationship with Coach Joey Wright seemed like the perfect fit as he was given free rein to push the pace and create for himself and others at a high volume.
The end result had them finish 2nd in offensive efficiency (they were 4th defensively per spatialjam.com) on the back of the second highest pace, a league leading free throw total and more made baskets at the rim than any team outside of Perth.
Fast forward to the end of July and Adelaide were the first team to finalise their roster which includes plenty of intrigue and youth. Terrance Ferguson, Anthony Drmic and Majok Deng add some much needed shooting (the team was equal 8th in three point makes last season) and Eric Jacobsen gives them more size up front. Youth does however bring about some questions around consistency.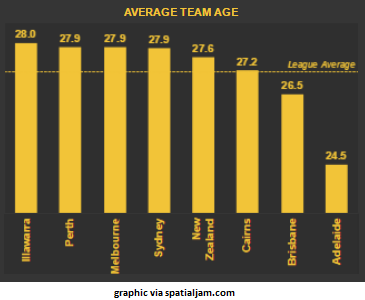 POINT GUARD
As mentioned in the opening, Jerome Randle found himself in the ideal playing environment for his talents with his confidence, shot making and capacity to thrive with a high workload pushing his name into MVP consideration. His ability to create points out of the pick and roll, in transition, and out of isolation plays through his paint penetration, pull up jumper or passing was devastating. Adam Gibson's departure takes away the other serious ball handler on the roster so the 36ers desperately need Randle to replicate last season's form (and be injury free).
Nathan Sobey has the size and athleticism that Randle doesn't, which is an upgrade on the defensive end, but he's more of a combo guard on offense who hasn't played many real minutes at this level at this stage of his career. If he can turn his energy into production and show some poise then a Jarrad Weeks type season could be his (Wright thinks Sobey has star potential).
Adam Doyle is the extra insurance as 11th man on the roster and he's in the Randle mould in terms of size which, along with his inexperience at this level, means he has some obvious limitations. If he can handle ball pressure, knock down some open shots and show some doggedness on defense then he might have a moment or two. He's likely not in the main rotation though so one of the wings such as Brendan Teys can also help out with ball handling against second units.
WINGS
Terrance Ferguson has an athletic profile and skill-set that screams '3 and D' prospect at the top level. His size and ability to defend the perimeter, run and finish easy looks in transition, as well as spot up from distance when Randle penetrates carries a lot of value. Outside of getting paid for the first time, the NBL offers him a terrific combination of off court lifestyle and on court minutes in a fast paced system under a coach that is raved about by players. With Adam Gibson departing there's some extra ball handling and shot creation opportunities for someone but how much Ferguson can contribute in the half court with the ball in his hands, outside of the odd straight line drive or pull up jumper, remains to be seen.
Anthony Drmic should be able to fill (and maybe even exceed the role) that Ebi Ere had last season. Ere came in out of shape and was patchy with his form as he finished with shooting splits of 40-35-68 (FG-3P-FT) playing mostly off the bench. Drmic is a strong outside shooter who will take around half of his total attempts from deep whilst he should be able to get some points as a cutter and make the odd play as a ball handler. Defensively he has some length and competes well so he has a chance to earn a chunk of minutes and take out the Rookie of the Year award.
The other two guys on the wing, Mitch Creek and Brendan Teys, are known commodities. Teys is decent depth that has enough competitiveness on defense, ball handling and shooting to be a versatile option off the bench. Creek is almost a non shooter compared with Ferguson and Drmic but he's a fine athlete who fits the style of this team and he's someone who is still young enough where he can take his game to a new level. He's quick, strong, can rebound and go in transition, and he can cover most guys from one through four on the defensive end which gives Adelaide plenty of line-up options.
BIGS
After playing as the main big last season, Daniel Johnson looks likely to spend more time at power forward with the arrival of Eric Jacobsen. Johnson's strengths as a scorer and rebounder are elite at this level although he doesn't move with quite the same purpose on the defensive end of the floor (which makes his front-court partner key).
Anthony Petrie's toughness and ability to defend pick and roll situations was an asset during his Adelaide tenure whilst Jacobsen brings youth and a bigger body which will change the mix up front on defense this season. The rookie American rebounds at a similar rate to Petrie but could join the list of imports who initially struggle with foul trouble in the NBL (he committed 5.3 fouls per 36 minutes last season). At first look he appears to be more of a positional defender on defense that will compete and make sound rotations rather than be a high level athlete (Wright did make note of his impressive speed testing though). Offensively, I'd expect him to get the odd post up but to be mostly a low usage player who does well around the rim (68% finisher last season) courtesy of a deep seal or a dump off pass from Randle. Matt Hodgson rounds out the center rotation with some legitimate size up front. He'll run hard, dunk and block shots in his limited minutes.
Majok Deng is the next rookie on the roster and he represents a lot of upside with such a unique ability to both shoot from range and block shots on defense. The degree to which he is ready to contribute right away is somewhat unknown though as he is super skinny for his height and will need to get stronger to log consistent front-court minutes. Until that happens though, we might even see a few minutes of him at small forward. If the match-ups allow it, a Deng and Johnson front-court pairing would open up the possibility of a five out offensive unit. Deng can get up and down the floor and is a shooter, whether that's spotting up on the perimeter, facing up in the post, or fading away with his length allowing him to get a shot off easily.
OUTLOOK
The youth on the roster, together with their pace of play and scoring power has them as a 'Fox Sports Alert' type of team but how many wins that turns into is hard to gauge. Offensively they should finish near their mark of last season (if Randle stays healthy) with the added influx of outside shooting adding to the rim and free throw strengths of last season. Defensively there's plenty to look at in the preseason with how the newbies perform and help cover the limitations of Randle and Johnson on that end. Jacobsen needs to be a difference maker if they are to put together an average or above average defense. Right now they look like a fun team with plenty of talent and question marks that will be floating around the cusp of the playoffs.